Your world at 9am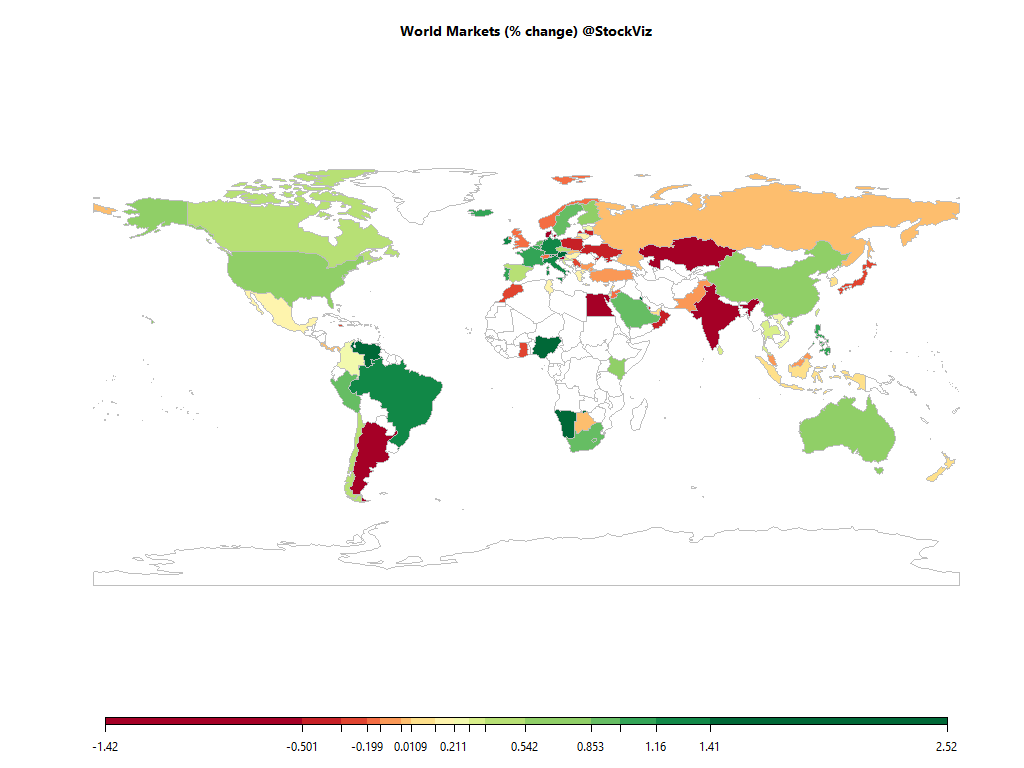 Equities
Commodities
Energy
Heating Oil

-0.40%

Ethanol

+0.39%

RBOB Gasoline

-0.12%

Natural Gas

-8.24%

WTI Crude Oil

-0.67%

Brent Crude Oil

-0.49%
Metals
Platinum

+0.26%

Silver 5000oz

+0.00%

Copper

+0.00%

Gold 100oz

+0.00%

Palladium

+0.19%
Agricultural
Cocoa

+0.00%

Feeder Cattle

-0.26%

Orange Juice

+1.06%

Cattle

+0.42%

Coffee (Arabica)

+0.28%

Lumber

+0.26%

Soybean Meal

-0.06%

Soybeans

-0.16%

White Sugar

+0.00%

Coffee (Robusta)

+0.00%

Corn

+0.00%

Cotton

-0.12%

Sugar #11

-3.93%

Wheat

+0.48%

Lean Hogs

-2.42%
Out of 43 world ETFs listed in NYSE that we track, 39 are trading above their 10-day SMA and 42 are trading above their 50-day SMA.
Must Reads
Opinion | The Gandhis and the power of the second-best choice
The formal entry of Priyanka Gandhi into electoral politics has reaffirmed an old conviction of Indians that the most powerful members of the Congress consider themselves subordinate to the Gandhi family and that they believe the family is the best bet to lead them. This is a wrong hypothesis today.
Indian growth muddled, no clear vision in foreign policy: Fareed Zakaria tells India Today at Davos
India's economic growth has not lived up to the mark in terms of sustained economic growth, foreign affairs analyst Fareed Zakaria told India Today TV at the sidelines of the World Economic Forum in Davos, Switzerland.
Will China's Economy Hit a Great Wall?
The case for crisis seems compelling – but I said that in 2011, too. The other day I issued a warning about the Chinese economy. It is, I wrote, "emerging as a danger spot in a world economy that really, really doesn't need this right now."
The Biggest Valuation Spread in 40 Years?
Earlier this week, I was in line at my local coffee shop. Ahead of me were two young mothers chatting as their toddlers swirled about underfoot.
'It could be on the scale of 2008': Expert sends warning on China downturn
China is in the grip of a dangerous downturn and may be forced to rescue large parts of its financial and economic system, the world's leading expert on debt crises has warned.
Owning Quant Funds is Not Easy
2018 was a horrendous year for many quantitative funds and their investors (I speak from personal experience).
Fishing where the cod is, and Munger's stunning rebuke of many 'value' investors
I've been thinking a lot over the past few years about some of the things I seem to be doing differently to the vast majority of self-described value investors. I just look at companies all day and try to value them, and I buy the ones I think are the cheapest.
Short-term Luck Versus Long-term Skill
Daniel Kahneman, one of the fathers of behavior economics, said one of his favorite papers was "On the Psychology of Prediction (1973)." He claims in the paper that intuitive predictions are often unreliable because people base their predictions on how well an event fits a story.
"Venture capital money kills more businesses than it helps," says Basecamp CEO Jason Fried
Some tech companies are worth billions of dollars. But the vast majority are not, and should stop raising money like they could be, says Basecamp CEO Jason Fried. "Raising a bunch of money, and raising way more than you need, it ends up stunting people's actual growth as businesses.
Check out our Global Macro Dashboard for currency, commodity, bonds and credit charts.
Good luck!