Your world at 9am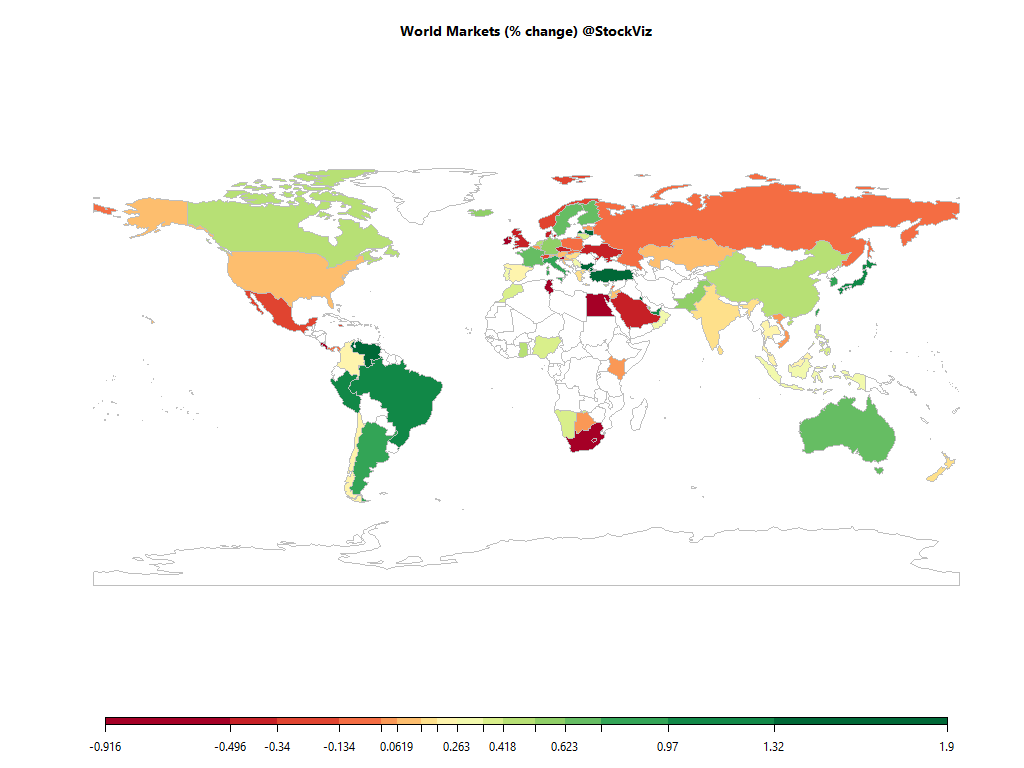 Equities
Commodities
Energy
Brent Crude Oil

+1.18%

Heating Oil

+1.02%

RBOB Gasoline

+1.03%

WTI Crude Oil

+1.34%

Natural Gas

+2.19%

Ethanol

+0.00%
Metals
Copper

+0.00%

Palladium

+0.07%

Gold 100oz

+0.00%

Platinum

+0.21%

Silver 5000oz

+0.08%
Agricultural
Coffee (Arabica)

+0.00%

Cotton

+0.36%

Wheat

-0.05%

Lumber

+0.00%

Cattle

+0.00%

Cocoa

+0.00%

Corn

+0.00%

Lean Hogs

+0.00%

Orange Juice

+0.00%

Soybean Meal

-0.16%

Soybeans

-0.05%

Sugar #11

+0.00%

White Sugar

+0.00%

Coffee (Robusta)

+0.00%

Feeder Cattle

+0.00%
Out of 43 world ETFs listed in NYSE that we track, 29 are trading above their 10-day SMA and 36 are trading above their 50-day SMA.
Must Reads
Australia has dodged many banana skins. Is it about to come a cropper?
THERE ARE two ways to film the banana-skin joke, said Charlie Chaplin. The first begins with a wide shot of a man walking down Fifth Avenue. Cut to the banana skin on the pavement. Go to a close-up as foot meets peel. Then pan out to reveal the man landing on his backside. Ha ha ha.
Mukesh Ambani wants to be India's first internet tycoon
FOR A GLIMPSE of how the internet is taking hold in India, catch one of Mumbai's double-decker buses.
Opinion | How changes in family law can improve household finance
Indian households' financial arrangements are unique in the international context. As the Reserve Bank of India's (RBI) committee on household finance report highlights, many aspects of these financial arrangements can be altered in a manner that is beneficial to households.
A check on unregulated deposits
With bank deposit interest rates nothing to write home about, the promise of higher returns which many alternative investment options provide, is too tempting to resist. But while instruments from non-banking finance companies, corporates, housing finance companies, etc.
Is Netflix screwed?
Netflix has become a darling stock over the past decade (despite a moderation in the euphoria of late), and is an honourary member of the FANG club. It is seen as one of the new breed of incumbent online monopolies, and trades at more than 100x current earnings.
The Case for Investing—Year In, Year Out
If you had an extra $2,000, would you invest it in the stock market today? Should you? These are two very different questions. But the answer to each has a lot to do with history—both the history of the person answering the question and the history of the market.
Check out our Global Macro Dashboard for currency, commodity, bonds and credit charts.
Good luck!