Your world at 9am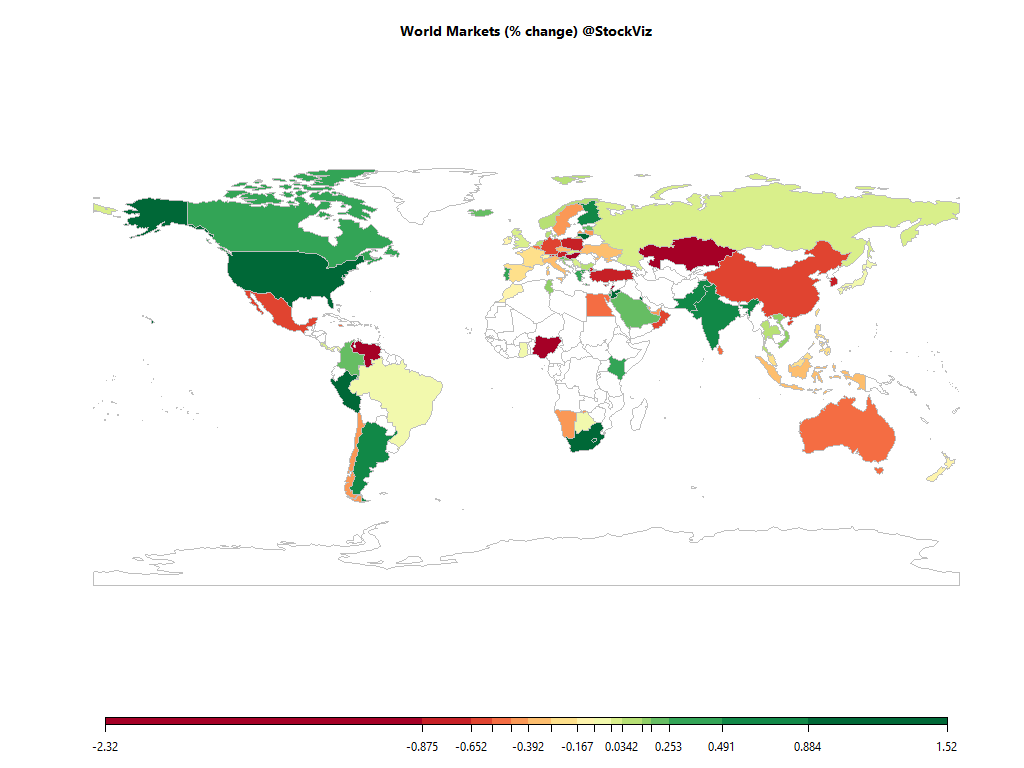 Equities
Commodities
Energy
Brent Crude Oil

-0.67%

Ethanol

-0.16%

Heating Oil

-0.33%

RBOB Gasoline

-0.96%

WTI Crude Oil

-0.76%

Natural Gas

-4.57%
Metals
Silver 5000oz

-0.46%

Gold 100oz

+0.00%

Copper

-1.04%

Palladium

-1.58%

Platinum

-0.67%
Agricultural
Coffee (Robusta)

+0.00%

Feeder Cattle

-0.12%

White Sugar

+0.00%

Cattle

-0.26%

Cocoa

+0.00%

Coffee (Arabica)

+0.00%

Cotton

-0.15%

Orange Juice

+0.00%

Soybean Meal

-0.41%

Sugar #11

+0.00%

Wheat

-0.14%

Lean Hogs

+0.62%

Corn

-0.39%

Lumber

-1.56%

Soybeans

-0.08%
Out of 43 world ETFs listed in NYSE that we track, 40 are trading above their 10-day SMA and 40 are trading above their 50-day SMA.
Must Reads
Opinion | India's bankruptcy code had teeth. Now it's got dentures
Errant debtors are forever looking for ways to undermine creditor protection; but when lenders themselves start making a mockery of a fledgling insolvency law, nobody can save it.
Opinion | IT analysts are missing three elephants in the room
Information technology (IT) analysts are largely a happy bunch.
Schumpeter on Strategy
It's Friday and I'm procrastinating, so here you go. Let's talk about Joseph Schumpeter. Good old John Joseph Jingleheimer Schumpeter, as he wasn't called. Schumpeter once wrote in his diary that he aspired to be the greatest economist, horseman, and lover in the world1.
Know Your Customers' "Jobs to Be Done"
Innovation success rates are shockingly low worldwide, and have been for decades. Marketers and product developers focus too much on customer profiles and on correlations unearthed in data, and not enough on what customers are trying to achieve in a particular circumstance.
Debt instruments on the exchanges
Those who invest in the equity market have to brace themselves for volatility this year, as the general elections, tightening liquidity conditions, slowing corporate earnings and uncertainty surrounding Brexit and other global events are likely to make stock prices whipsaw.
One of the hottest investment styles might be 'financially unviable'
Robo-advising is one of the hottest trends in fintech. Over the last five years, hundreds of startups have launched digital platforms that use algorithms to manage investment portfolios — offering low fees and automated, user-friendly experiences.
Check out our Global Macro Dashboard for currency, commodity, bonds and credit charts.
Good luck!