Your world at 9am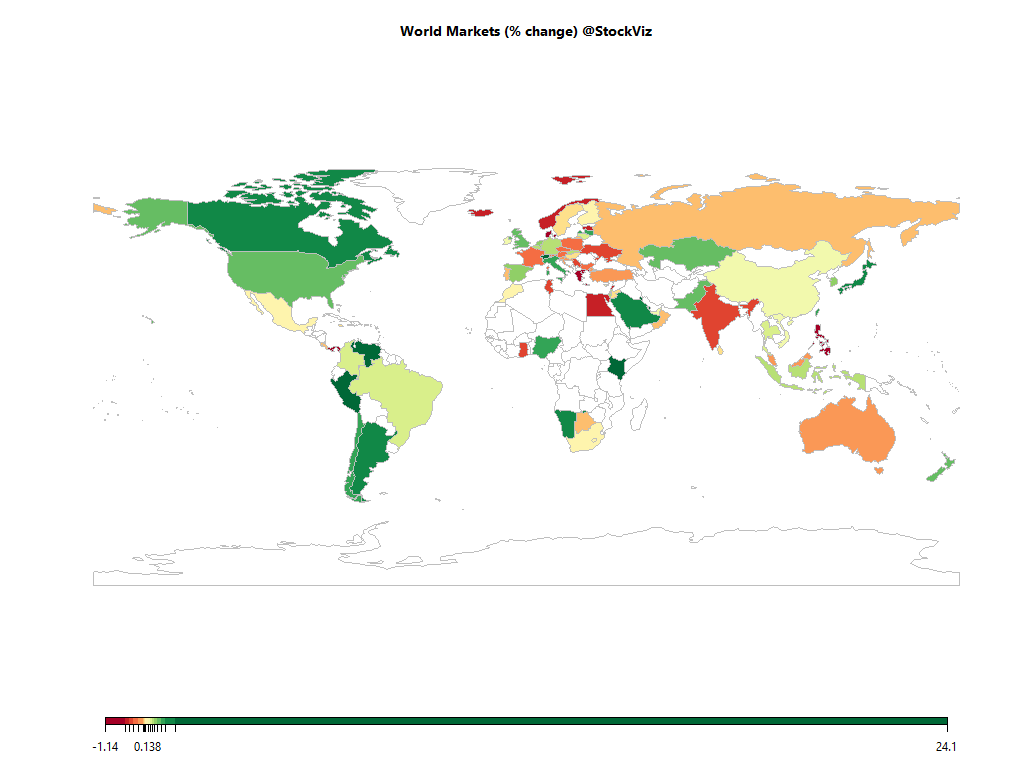 Equities
Commodities
Energy
Heating Oil

-0.33%

RBOB Gasoline

-0.36%

Ethanol

+0.00%

Natural Gas

+1.62%

WTI Crude Oil

-0.29%

Brent Crude Oil

-0.36%
Metals
Platinum

-0.02%

Copper

+0.00%

Palladium

+0.60%

Gold 100oz

+0.00%

Silver 5000oz

+0.00%
Agricultural
Cattle

+0.00%

Soybean Meal

+0.00%

Soybeans

+0.22%

Coffee (Robusta)

+0.00%

Corn

+0.66%

Cotton

+0.10%

Sugar #11

+0.00%

White Sugar

+0.00%

Feeder Cattle

+0.00%

Lean Hogs

+0.00%

Orange Juice

+0.00%

Wheat

+0.88%

Cocoa

+0.00%

Coffee (Arabica)

+0.00%

Lumber

+0.00%
Out of 43 world ETFs listed in NYSE that we track, 41 are trading above their 10-day SMA and 35 are trading above their 50-day SMA.
Must Reads
Almost all Indians will soon qualify for affirmative action in India
AFFIRMATIVE ACTION, as Americans confusingly call it, has been a defining feature of modern India. The constitution allows the government to make "special provision for the advancement of any socially and educationally backward classes of citizens".
For emerging markets, a more fearful Fed is a less frightful one
SPARE A THOUGHT for emerging markets. When America's economy falters, they often share the pain, because America is an indispensable market for their goods.
Research finds heavy Facebook users make impaired decisions like drug addicts do
Researchers at Michigan State University are exploring the idea that there's more to "social media addiction" than casual joking about being too online might suggest.
Nation obsessed with quotas isn't putting right emphasis on policy: Abhijit Banerjee
Massachusetts Institute of Technology economist Abhijit Banerjee. Photo: Saumya Khandelwal/HT Mumbai: India is at the risk of falling into a middle income trap with poor human capital and low-quality infrastructure, according to Massachusetts Institute of Technology economist Abhijit Banerjee.
NBFC liquidity crisis hits India's auto industry hard
New Delhi: Automakers, hit by the liquidity crisis among non banking financial companies (NBFCs), want the government to take measures to stem the reduction in credit for dealers and customers.
Two Skills That Normally Don't Go Together
In the lead up to World War II, the French developed an intricate series of concrete fortifications along their borders to prevent the Germans from invading. The Maginot Line was something of an underground fortress created in response to the brutal trench warfare of the first World War.
Things I'm Pretty Sure About
Market behaviors feed on themselves. Daniel Kahneman once said: There is one class of problems with groups and the wisdom of crowds where averaging really works: When the errors that people make are completely uncorrelated.
Delusions
There are several Connecticut-based birthday party clowns selling retail investors and the Hedge Fund Hopeful crowd a market analytics and data subscription product via email.
Check out our Global Macro Dashboard for currency, commodity, bonds and credit charts.
Good luck!