Your world at 9am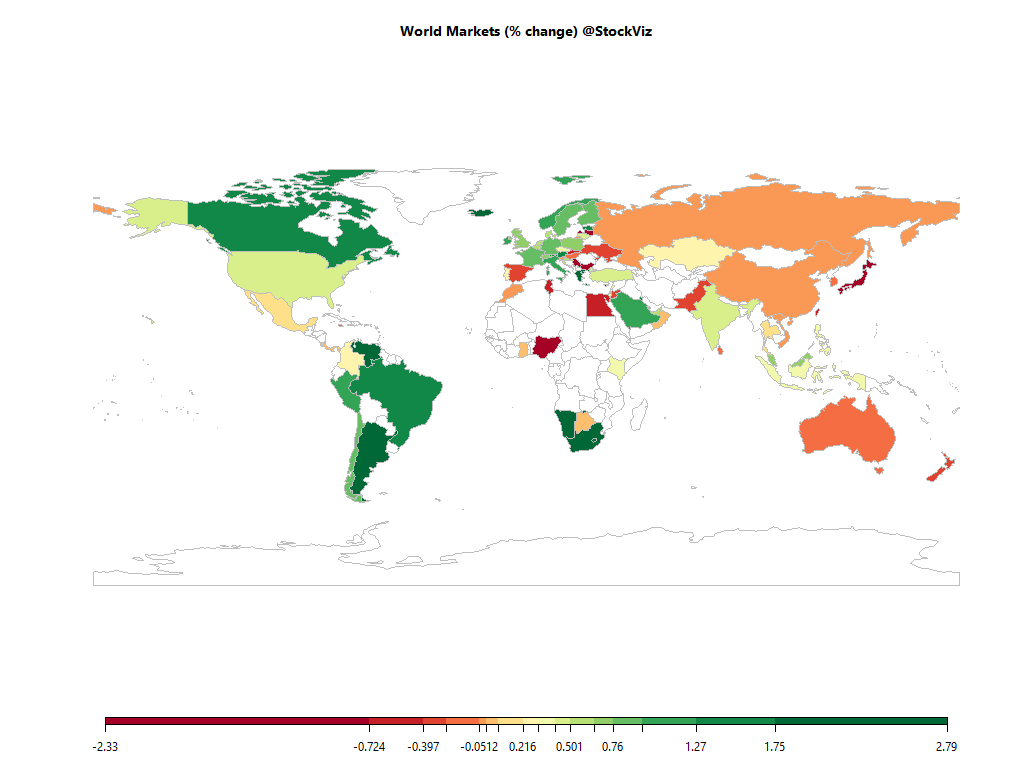 Equities
Commodities
Energy
Ethanol

+0.00%

Heating Oil

-0.35%

Natural Gas

+0.50%

WTI Crude Oil

-0.95%

Brent Crude Oil

-0.85%

RBOB Gasoline

-0.38%
Metals
Gold 100oz

+0.00%

Palladium

-0.29%

Platinum

+0.45%

Silver 5000oz

+0.00%

Copper

+0.00%
Agricultural
Cotton

+0.21%

Soybean Meal

+0.00%

Soybeans

-0.38%

Sugar #11

+0.00%

Wheat

-0.10%

White Sugar

+0.00%

Cattle

+0.00%

Feeder Cattle

+0.00%

Lean Hogs

+0.00%

Orange Juice

+0.00%

Cocoa

+0.00%

Coffee (Arabica)

+0.00%

Coffee (Robusta)

+0.00%

Corn

-0.07%

Lumber

+0.00%
Out of 43 world ETFs listed in NYSE that we track, 39 are trading above their 10-day SMA and 25 are trading above their 50-day SMA.
Must Reads
Economics as a moral tale
Think of human development as a long journey. At the beginning, we live at the mercy of nature. Dependent on its bounty, we pray for rains and freedom from natural disasters and plagues. At the end of the journey, nature lives at our mercy.
Opinion | Five fiscal messes India can't blame on the RBI
Instead of blaming the central bank at every opportunity for its poor stewardship of the economy, the finance ministry should reflect on its own record, especially its five failures of fiscal policy in almost as many years. The most obvious is the goods and services tax (GST).
7 learnings from Ray Dalio
Hedge fund billionaire Ray Dalio of Bridgewater Associates has started the year on a good note. His flagship fund is said to have posted a return of 14.6% last year, net of fees. Not only is this a massive victory at a time when volatile markets wrongfooted many others.
The Price of Greed
The man who once made cotton the most traded commodity on Earth didn't make any money off of it.  Eli Whitney, the creator of the cotton gin, got a little too greedy.
Herding and Mutual Fund Performance
Does Herding Behavior Reveal Skill? An Analysis of Mutual Fund Performance Hao Jiang and Michela Verardo The Journal of Finance, Fall 2018 A version of this paper can be found here Want to read our summaries of academic finance papers? Check out our Academic Research Insight category.
Check out our Global Macro Dashboard for currency, commodity, bonds and credit charts.
Good luck!