Your world at 9am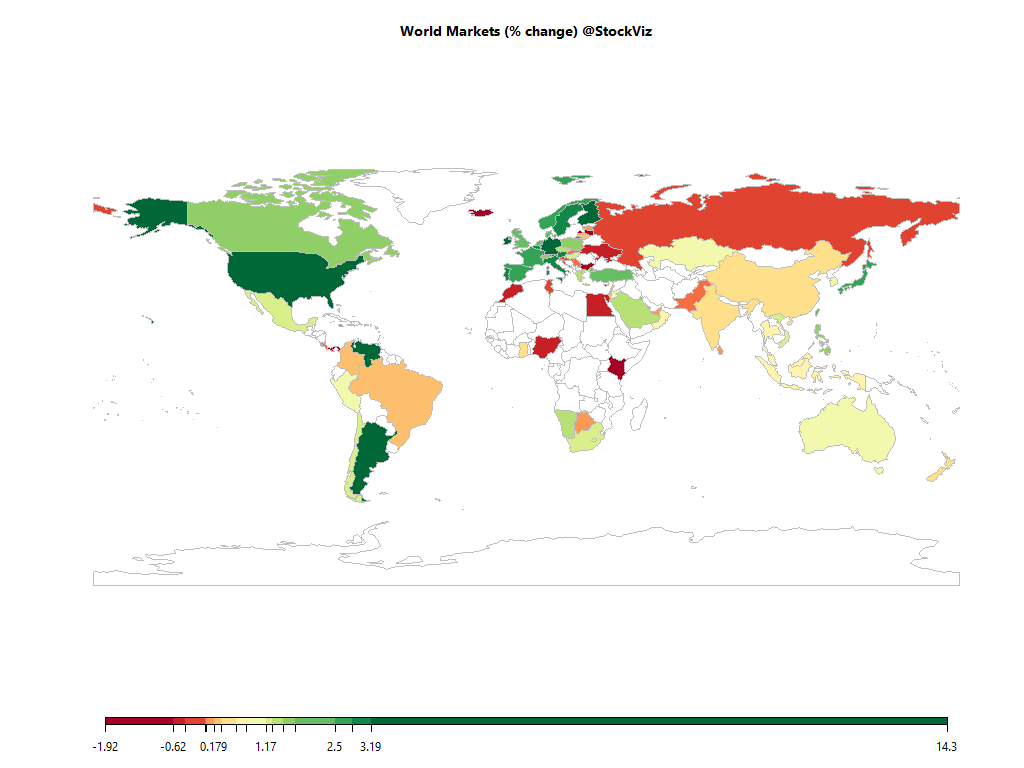 Equities
Commodities
Energy
Ethanol

+2.20%

Heating Oil

+1.10%

Natural Gas

-3.65%

RBOB Gasoline

+1.56%

Brent Crude Oil

+1.16%

WTI Crude Oil

+1.44%
Metals
Gold 100oz

+0.00%

Palladium

+0.45%

Platinum

+0.13%

Silver 5000oz

+0.00%

Copper

+0.00%
Agricultural
Coffee (Arabica)

-0.49%

Lean Hogs

-0.92%

Soybeans

+0.38%

Wheat

+0.05%

Cattle

-1.06%

Coffee (Robusta)

+0.00%

Corn

-0.07%

Cotton

+0.26%

Feeder Cattle

-1.04%

Orange Juice

-2.94%

Lumber

+0.06%

Soybean Meal

+0.32%

Sugar #11

+1.88%

White Sugar

+0.00%

Cocoa

+0.00%
Out of 43 world ETFs listed in NYSE that we track, 32 are trading above their 10-day SMA and 11 are trading above their 50-day SMA.
Must Reads
Opinion | The stars of populist-nationalism may be waning
Prime Minister Narendra Modi. File Photo: Pradeep Gaur/Mint As the page turns on 2018 and a new year is born, anti-establishment politicians in power around the world have themselves become part of the establishment.
UDAN faces turbulence as regional airlines flounder
The first two rounds of RCS bidding have covered more than 450 routes, including 160 airports.
10 Things Investors Can Expect in 2019
I have no idea what's going to happen — in world events, politics, or the market — in 2019 (and neither does anyone else). This baked in uncertainty is what makes the financial markets equal parts maddening and fun to prepare for. 1.
Seduction, Inc
Striding from the back of the conference room, the trainer calls for our attention. He asks everyone to explain why they're here. The first student stands up: 'I've come to get hands-on experience.' After a pause, he adds: 'Obviously, if I get laid that's a big bonus.
The YKarma experiment
Blockchains are boring now. It's been ten years since Bitcoin launched, and cryptocurrencies have almost exclusively been used to recapitulate existing monetary systems in slightly new forms. This is boring.
A Nobel Prize-winning psychologist says most people don't really want to be happy
We think we want to be happy. Yet many of us are actually working toward some other end, according to cognitive psychologist Daniel Kahneman, winner of the 2002 Nobel Prize in economics. Kahneman contends that happiness and satisfaction are distinct.
India Lawmakers' Panel Seeks Gas Subsidy to Revive Power Plants
Imported gas for the plants was subsidized for two years through March 2017. Photo: Reuters India needs to resume subsidies on imported natural gas to help revive power plants that have been stranded for want of fuel and could turn into bad assets for banks, according to a lawmakers' report.
Check out our Global Macro Dashboard for currency, commodity, bonds and credit charts.
Good luck!