Your world at 9am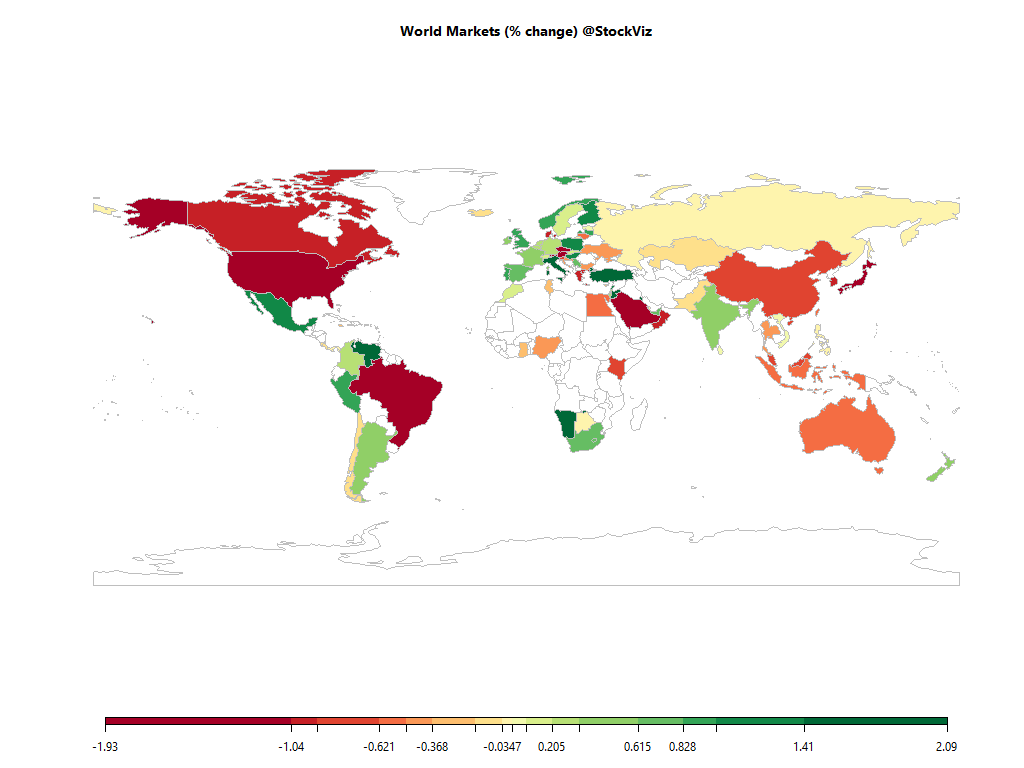 Equities
Commodities
Energy
RBOB Gasoline

-1.32%

Brent Crude Oil

-1.31%

Natural Gas

-0.19%

WTI Crude Oil

-1.70%

Ethanol

+0.00%

Heating Oil

-0.66%
Metals
Platinum

-1.24%

Silver 5000oz

+0.00%

Copper

+0.00%

Gold 100oz

-0.71%

Palladium

-0.65%
Agricultural
Sugar #11

+0.00%

White Sugar

+0.00%

Cattle

-0.06%

Coffee (Robusta)

+0.00%

Lumber

+0.45%

Orange Juice

+0.00%

Soybean Meal

-0.03%

Soybeans

-0.36%

Wheat

+0.33%

Cocoa

+0.00%

Coffee (Arabica)

+0.00%

Corn

+0.00%

Cotton

-0.07%

Lean Hogs

+0.04%

Feeder Cattle

-0.17%
Out of 43 world ETFs listed in NYSE that we track, 5 are trading above their 10-day SMA and 8 are trading above their 50-day SMA.
Must Reads
RBI's monetary policy committee cautious on inflation: Minutes
The RBI preferred to wait for more data to see for how long price pressure and growth momentum would remain soft.
50 Reasons Why We Don't Invest for the Long-Term
Investment is a long-term endeavour designed to meet our long-term financial objectives, so why do we spend so much of our time obsessing about the short-term and almost inevitably taking decisions that make us worse off?  Well, here are 50 reasons to start with: 1: Because it is boring.
Quit Chasing Unicorns: Consistent Fund Performance Is Overrated
Every six months, S&P Dow Jones puts out a "persistence scorecard" that measures the consistency of active funds.
Next Year
Ben Graham once said, "Nearly everyone interested in common stocks wants to be told by someone else what he thinks the market is going to do. The demand being there, it must be supplied." Over the weekend, Barron's obliged.
Why credibility of India's fiscal math is under strain
With 2019 Lok Sabha elections around the corner, expect more creative proposals on managing India's fiscal deficit in the coming weeks and months.
TV viewers won't have to pay more in new regime: Trai
Trai chairman R.S. Sharma. Photo: Ramesh Pathania/Mint New Delhi: Putting consumer fears to rest, broadcast regulator Telecom Regulatory Authority of India (Trai) has assured viewers they will not have to pay more for television channels under the new regulation.
Elections 2019: India Shining V 2.0 surfaces in Rural India
New Delhi: When residents gather around the fire on foggy winter evenings in Rampura, a village in Uttar Pradesh's Bareilly district, the conversation often veers toward the declining fortunes in agriculture.
Three celebrity weddings and Middle India's cry of angst
How many of those calling such high-decibel weddings 'vulgar' opt for a simple registered wedding for their children? The amount spent on the wedding of the daughter of India's richest man, how much the bride's clothes cost, what the invitation boxes contained have been the subject of almos
Check out our Global Macro Dashboard for currency, commodity, bonds and credit charts.
Good luck!