Your world at 9am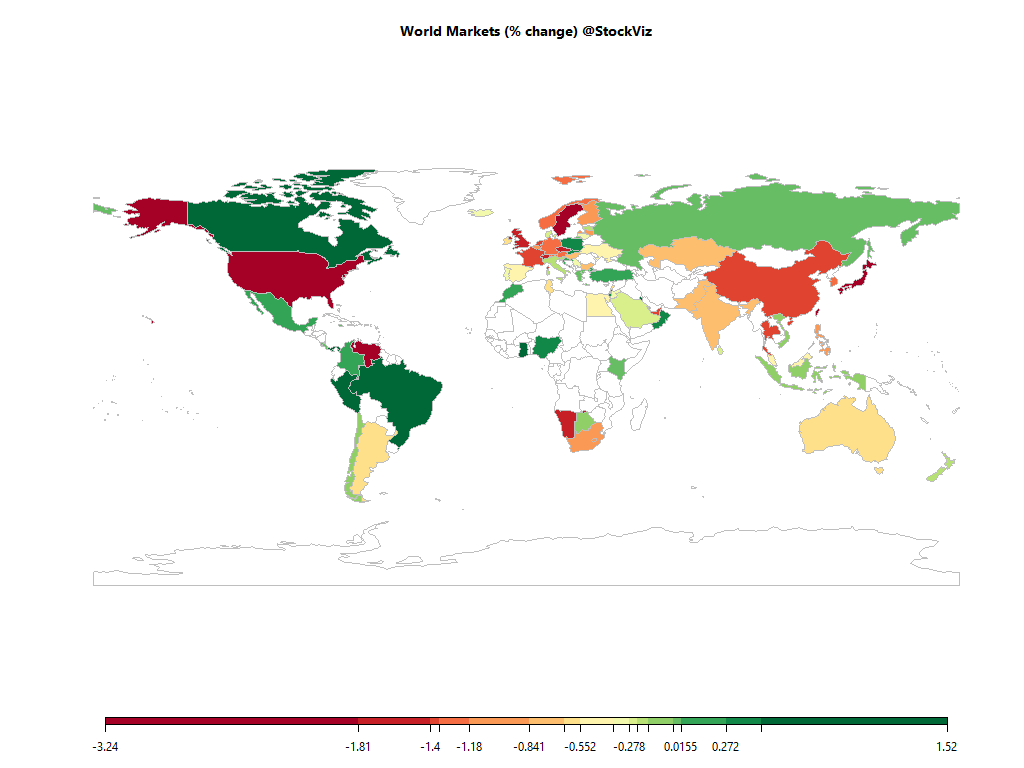 Equities
Commodities
Energy
Brent Crude Oil

-0.34%

Ethanol

+0.00%

Heating Oil

-0.24%

Natural Gas

-1.07%

RBOB Gasoline

-0.46%

WTI Crude Oil

-0.53%
Metals
Platinum

-0.32%

Gold 100oz

+0.21%

Silver 5000oz

+0.00%

Copper

-0.96%

Palladium

+0.14%
Agricultural
Cotton

+0.00%

Lumber

+0.00%

Orange Juice

+0.00%

Cocoa

+0.00%

Coffee (Robusta)

+0.00%

Soybeans

-0.57%

Corn

-0.07%

Sugar #11

+0.00%

White Sugar

+0.00%

Cattle

+0.00%

Coffee (Arabica)

+0.00%

Feeder Cattle

+0.00%

Lean Hogs

+0.00%

Soybean Meal

+0.00%

Wheat

+0.00%
Out of 43 world ETFs listed in NYSE that we track, 36 are trading above their 10-day SMA and 18 are trading above their 50-day SMA.
Must Reads
Hoteliers warn nationwide protests against MakeMytrip and Goibibo
Federation of Hotel & Restaurant Associations of India said it has put MakeMytrip and Goibibo on notice in response to grievances expressed by several of its hotel members.
The bad news on human nature, in 10 findings from psychology
It's a question that's reverberated through the ages – are humans, though imperfect, essentially kind, sensible, good-natured creatures? Or are we, deep down, wired to be bad, blinkered, idle, vain, vengeful and selfish? There are no easy answers, and there's clearly a lot of variation betwe
Royal Enfield maker in the hunt for a magic bullet
Royal Enfield accounts for nearly 90% of Eicher Motors' earnings and dominates over 95% of the premium motorcycle category in India (250cc and above).
Squandering India's Greatest Opportunity
"There is a tide in the affairs of men. Which, taken at the flood, leads on to fortune . . ." Shakespeare used a sailing metaphor of tides for what in modern terminology we call "a window of opportunity" or " an inflection point".
Check out our Global Macro Dashboard for currency, commodity, bonds and credit charts.
Good luck!