Your world at 9am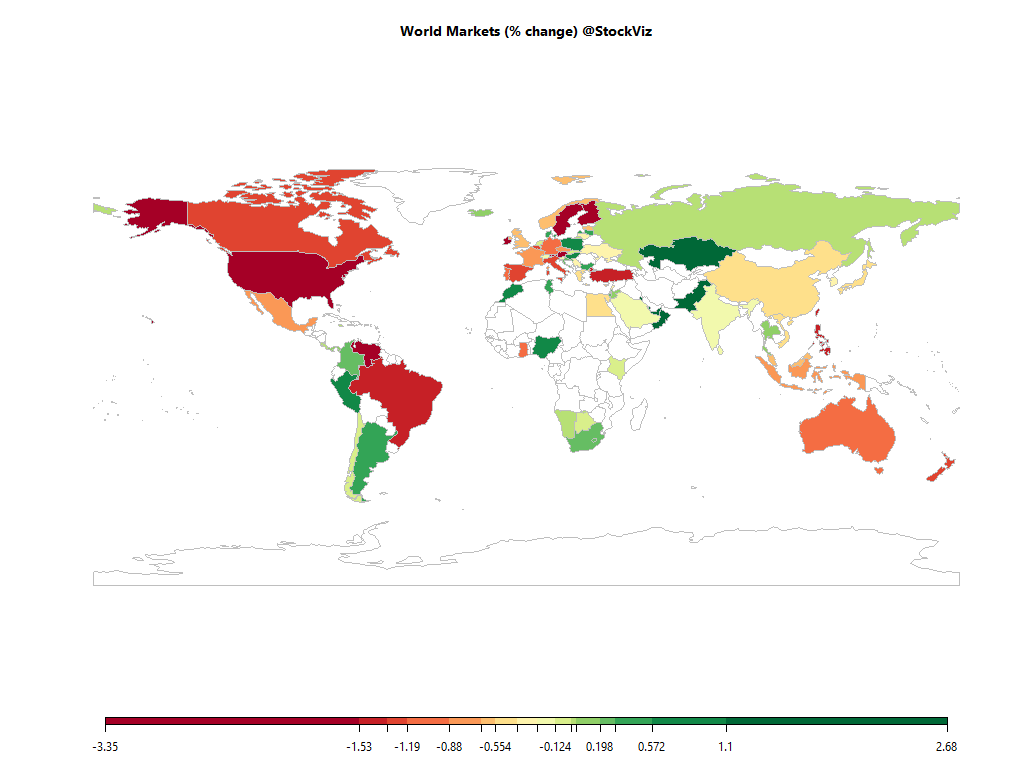 Equities
Commodities
Energy
Ethanol

+0.00%

Brent Crude Oil

-1.26%

Heating Oil

-0.63%

Natural Gas

+1.75%

RBOB Gasoline

-1.49%

WTI Crude Oil

-1.13%
Metals
Platinum

-1.03%

Gold 100oz

-0.50%

Palladium

-0.18%

Copper

+0.04%

Silver 5000oz

-0.21%
Agricultural
Coffee (Robusta)

+0.00%

Corn

-0.47%

Soybeans

+0.08%

Lean Hogs

+0.00%

Soybean Meal

-0.03%

White Sugar

+0.00%

Cocoa

+0.00%

Cotton

+0.00%

Lumber

+0.00%

Sugar #11

+0.00%

Cattle

+0.00%

Coffee (Arabica)

+0.00%

Feeder Cattle

+0.00%

Orange Juice

+0.00%

Wheat

+0.00%
Out of 43 world ETFs listed in NYSE that we track, 39 are trading above their 10-day SMA and 19 are trading above their 50-day SMA.
Must Reads
Corporate tax cuts in US, EU not sufficient to sway India: CBDT official
India has in recent past introduced anti-tax evasion rules including GAAR and POEM.
Concerns on credit supply to small businesses a myth: SBI report
The SBI report pegged the share of credit from NBFCs at 10% of the overall MSME pie. Mumbai: Economists at the country's largest lender SBI Tuesday termed concerns on credit supply to small businesses as a "myth" and said the sector has had a "stupendous" loan growth since GST.
Opinion | The farmer needs tough love, not more coddling
The Indian farmer is a tough species. For generations, he has weathered drought, floods, pestilence and adversities of every kind. He has picked himself up after every fall and survived, even if barely. If there is entrepreneurship in the Indian DNA, it comes from the humble farmer.
The Friendship That Made Google Huge
One day in March of 2000, six of Google's best engineers gathered in a makeshift war room. The company was in the midst of an unprecedented emergency. In October, its core systems, which crawled the Web to build an "index" of it, had stopped working.
Centralization vs Decentralization – AVC
Decentralization is one of, if not the most, discussed features of the crypto tech stack. In a decentralized system, no single body controls the system.
Lessons from the wealth-destroyers
There are stories aplenty on the top wealth-creating stocks in India and what made them tick. But what about the wealth-destroyers?
Why the Pundits Are Wrong About Hedge Funds—Again
Whenever a particular asset class suffers through a period of difficult performance, the financial pundits set off their warning sirens and announce that the end has come. These headline-grabbing predictions make for good press, but they're almost always wrong.
Check out our Global Macro Dashboard for currency, commodity, bonds and credit charts.
Good luck!