Your world at 9am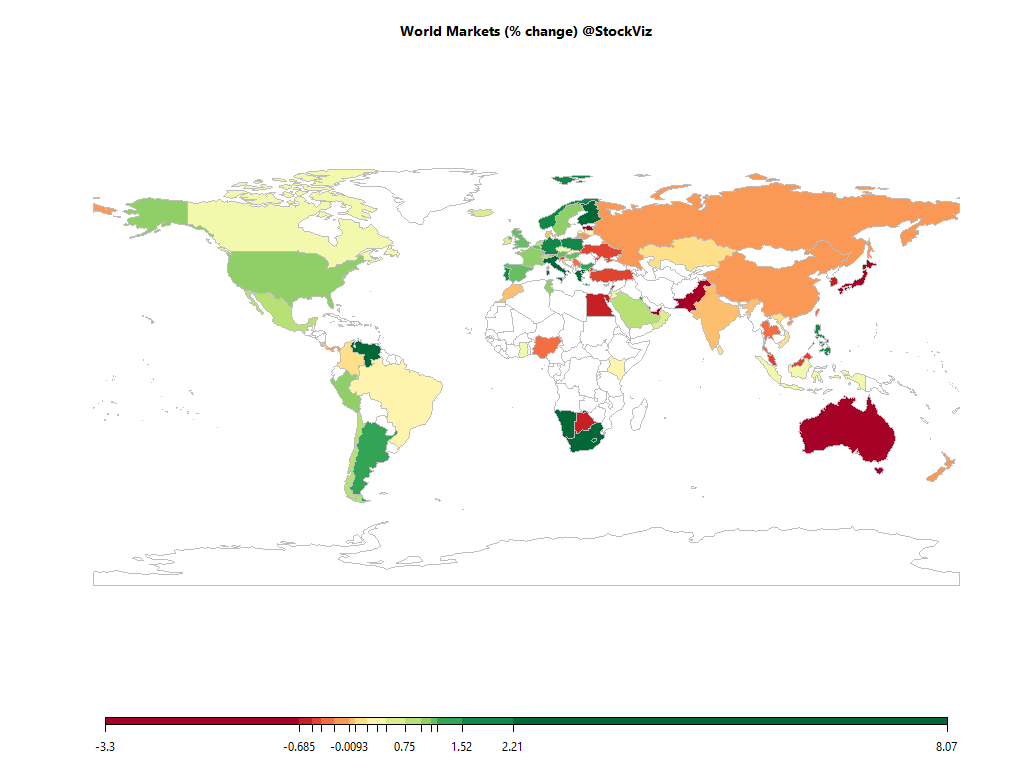 Equities
Commodities
Energy
Ethanol

+0.00%

Natural Gas

+1.98%

Brent Crude Oil

+0.96%

Heating Oil

+0.94%

WTI Crude Oil

+1.04%

RBOB Gasoline

+1.00%
Metals
Copper

-0.14%

Gold 100oz

+0.06%

Platinum

-0.38%

Silver 5000oz

+0.06%

Palladium

+0.08%
Agricultural
Sugar #11

+0.00%

Cocoa

+0.00%

Coffee (Arabica)

+0.00%

Coffee (Robusta)

+0.00%

Corn

-0.34%

Feeder Cattle

+0.00%

Lean Hogs

+0.00%

Wheat

+0.00%

Cattle

+0.00%

Orange Juice

+0.00%

Soybeans

-0.55%

Cotton

+0.00%

Lumber

+0.00%

Soybean Meal

+0.00%

White Sugar

+0.00%
Out of 43 world ETFs listed in NYSE that we track, 37 are trading above their 10-day SMA and 19 are trading above their 50-day SMA.
Must Reads
In rare move, Edelweiss, India's top bad-debt buyer, eyes consumer loans
While India's soured debt is still among the biggest in the world, fresh bad loan formation for the top five banks has levelled off since earlier this year after the regulator's push to clean up lender balance sheets.
Taking a health insurance cover can protect your wealth
Adversities hit you without a warning. Especially if they are to do with a catastrophic illness. Most people have that one family member who has been diagnosed with a dreaded illness and finds it challenging to manage financially.
Truce: He Said, Xi Said
The stock market is in a festive mood as December gets underway.
When Companies Don't Know When to Stop
I've been wondering whether some of the major high-tech companies among the FAANG gang, don't know when to stop their "continuous improvement," a term revered by the Japanese in the 90s when they continually improved their products.
Psychology's Replication Crisis Is Running Out of Excuses
Over the past few years, an international team of almost 200 psychologists has been trying to repeat a set of previously published experiments from its field, to see if it can get the same results. Despite its best efforts, the project, called Many Labs 2, has only succeeded in 14 out of 28 cases.
Centralization vs Decentralization – AVC
Decentralization is one of, if not the most, discussed features of the crypto tech stack. In a decentralized system, no single body controls the system.
Commodity Derivatives 2.0
While 2.0 fever is raging in the tinsel town, the commodity market is not far behind.
Welcome to the stochastic age
In 1990, Kleiner Perkins rejected 99.4% of the proposals it received, while investing in 12 new companies a year.
Check out our Global Macro Dashboard for currency, commodity, bonds and credit charts.
Good luck!