Your world at 9am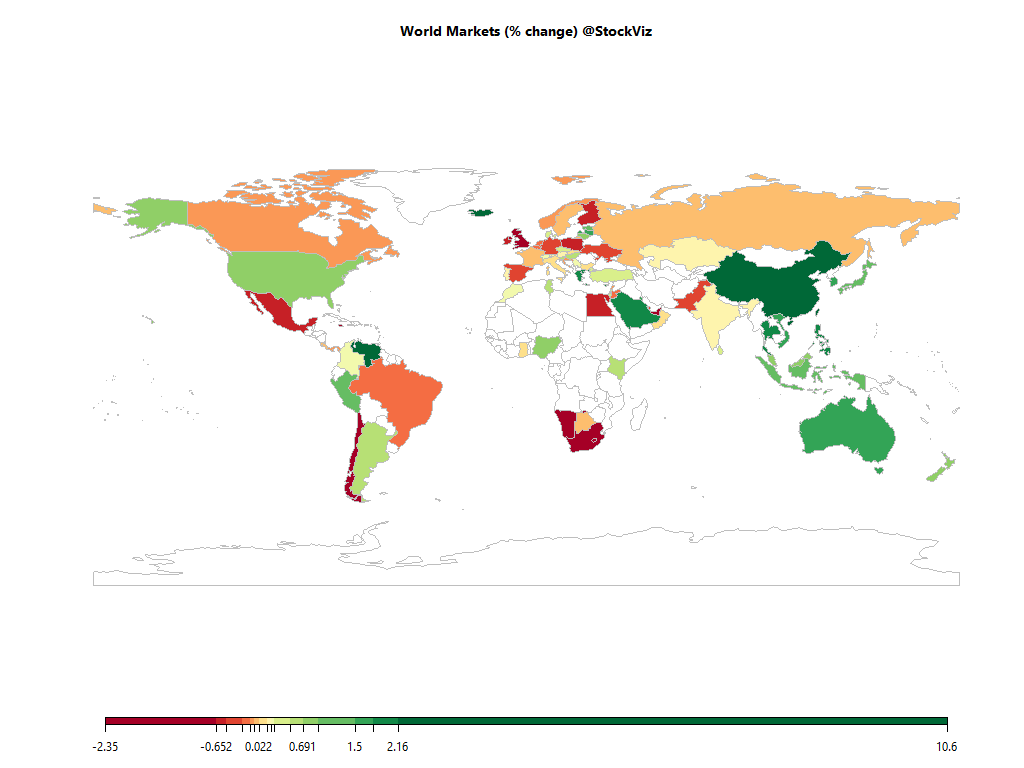 Equities
Commodities
Energy
Heating Oil

+3.80%

Natural Gas

-2.91%

RBOB Gasoline

+4.70%

Brent Crude Oil

+4.83%

WTI Crude Oil

+5.32%

Ethanol

+1.75%
Metals
Copper

+2.00%

Silver 5000oz

+1.00%

Gold 100oz

+0.29%

Palladium

+1.01%

Platinum

+1.30%
Agricultural
Cotton

+0.00%

Orange Juice

+0.87%

Sugar #11

-0.31%

Cattle

+0.32%

Coffee (Arabica)

-4.85%

Corn

+1.36%

Feeder Cattle

-0.82%

Lean Hogs

-1.49%

Soybean Meal

+1.91%

Wheat

+1.26%

Cocoa

+0.00%

Soybeans

+1.79%

Coffee (Robusta)

+0.00%

Lumber

-1.22%

White Sugar

+0.00%
Out of 43 world ETFs listed in NYSE that we track, 32 are trading above their 10-day SMA and 12 are trading above their 50-day SMA.
Must Reads
Welcome to the stochastic age
In 1990, Kleiner Perkins rejected 99.4% of the proposals it received, while investing in 12 new companies a year.
4 Clear Signs of Short-Term Thinking
This piece was adapted from my latest book The Laws of Human Nature. Most of us imagine that we engage in some form of long-term thinking; after all, we have goals and plans. But really we are fooling ourselves.
Fake Diversification: The Skeuomorph Portfolio
Imagine this: you're in a car leaving town for a lengthy road trip. You reach the highway and push down on your gas pedal to accelerate. You can feel the car picking up speed, but something's missing. There's an eerie silence as the car begins to move faster and faster.
NBFC-led India liquidity crisis may nip green shoots in real estate
Commercial real estate and housing sectors comprise nearly two-fifths of the total NBFC portfolio. Graphic: Mint The liquidity crisis faced by non-banking financial companies (NBFCs) has triggered concerns for property developers.
India's Q2 GDP growth rate falls to 7.1%, still fastest in the world
Indian economy had expanded at 8.2% pace in the June quarter. Photo: Mint New Delhi: India's GDP growth rate moderated to 7.1% in the September quarter (Q2) of 2018-19, from 8.2% in the June quarter (Q2). The Q2 GDP data has fallen short of analyst estimates.
Companies should disclose manufacturing cost with MRP: RBI board member
Mumbai: In a unique suggestion, an RBI central board member said Friday a company should disclose the manufacturing cost of a product along with the maximum retail price so that a consumer gets to know the margins the company is pocketing.
Passenger vehicle sales decline in Nov due to adverse macro-economic factors
New Delhi: Domestic passenger vehicle sales in November were in a slow lane with major manufacturers Saturday reporting either marginal increase or decline in offtake during the month as adverse macro-economic conditions failed to drive festive season purchases.
Opinion: Why Indian airlines keep struggling to take off
Jet Airways Ltd., the oldest private airline in India. Photo: Reuters Anyone puzzled by how the Indian economy manages to grow swiftly while somehow failing to be prosperous could do worse than look at the state of India's airlines.
The End of Windows
The story of Windows' decline is relatively straightforward and a classic case of disruption: The Internet dramatically reduced application lock-in PCs became "good enough", elongating the upgrade cycle Smartphones first addressed needs the PC couldn't, then over time started taking over PC
Is Financial Advice Conflicted…Or is it Simply Misguided?
The Misguided Beliefs of Financial Advisers Juhani T. Linnainmaa, Brian Melzer and Alessandro Previtero Kelley School of Business Research Paper No.
Check out our Global Macro Dashboard for currency, commodity, bonds and credit charts.
Good luck!