Your world at 9am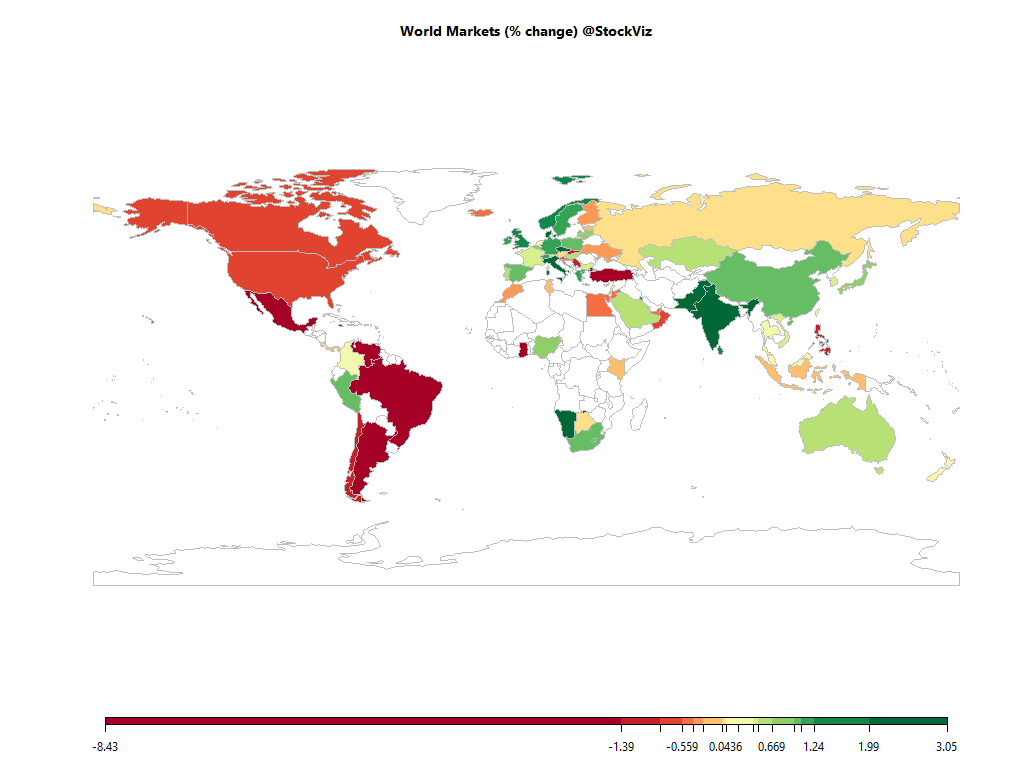 Equities
Commodities
Energy
Brent Crude Oil

-0.37%

Natural Gas

-0.56%

WTI Crude Oil

+0.07%

Ethanol

+0.00%

Heating Oil

-0.09%

RBOB Gasoline

-0.45%
Metals
Gold 100oz

+0.16%

Palladium

+0.40%

Platinum

+0.20%

Silver 5000oz

+0.48%

Copper

-1.10%
Agricultural
Corn

-0.07%

Orange Juice

+0.00%

Soybean Meal

+0.10%

Wheat

-0.39%

White Sugar

+0.00%

Coffee (Arabica)

+0.00%

Cotton

+0.00%

Soybeans

-0.03%

Cattle

+0.00%

Cocoa

+0.00%

Coffee (Robusta)

+0.00%

Feeder Cattle

+0.00%

Lean Hogs

+0.00%

Lumber

+0.00%

Sugar #11

+0.00%
Out of 43 world ETFs listed in NYSE that we track, 1 are trading above their 10-day SMA and 3 are trading above their 50-day SMA.
Must Reads
What to Expect in a Bear Market for Global Stocks
Stock markets around the world seem to be retracing their usual late cycle path and may be signaling a recession and bear market right around the corner, as you can see in the chart below of the MSCI World Index.
Dussehra shock for auto firms as car sales crater in October
An increase in vehicle insurance premiums and high petrol and diesel prices have clearly roiled consumer sentiment.
IBM's Old Playbook
The best way to understand how it is Red Hat built a multi-billion dollar business off of open source software is to start with IBM. Founder Bob Young explained at the company's All Things Open conference in 2014: There is no magic bullet to it.
After years of global success, Reliance Industries faces oil shock at home
Reliance took more interest in the country's retail fuel sector and has opened more than 1,300 service stations.
Property developers next in firing line from NBFC liquidity crisis
Mumbai: India's banking liquidity crunch is extending to the nation's property developers, threatening to derail a nascent recovery in the property sector.
Check out our Global Macro Dashboard for currency, commodity, bonds and credit charts.
Good luck!