Your world at 9am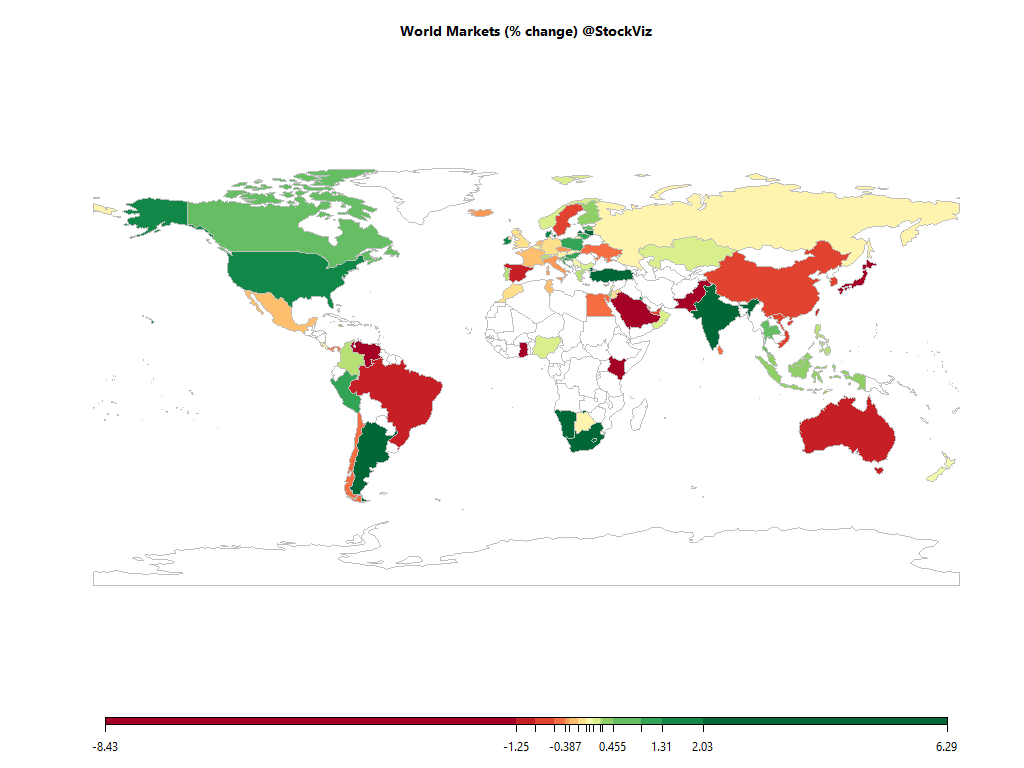 Equities
Commodities
Energy
Ethanol

+0.08%

Natural Gas

+1.30%

Brent Crude Oil

+1.24%

Heating Oil

+1.03%

RBOB Gasoline

+0.89%

WTI Crude Oil

+1.08%
Metals
Gold 100oz

+0.00%

Platinum

+0.55%

Copper

+0.00%

Palladium

+0.19%

Silver 5000oz

+0.00%
Agricultural
Cocoa

+0.00%

Corn

-0.40%

Orange Juice

+0.91%

Soybean Meal

-0.47%

Cattle

-0.42%

Feeder Cattle

-1.40%

Lean Hogs

-20.11%

Wheat

-0.14%

White Sugar

+0.00%

Coffee (Arabica)

+2.69%

Coffee (Robusta)

+0.00%

Lumber

-0.83%

Sugar #11

+1.47%

Cotton

+0.48%

Soybeans

-0.17%
Out of 43 world ETFs listed in NYSE that we track, 4 are trading above their 10-day SMA and 4 are trading above their 50-day SMA.
Must Reads
The land challenge underlying India's farm crisis
Since the first agriculture census over 45 years ago, the number of farms in India has more than doubled from 71 million in 1970-71 to 145 million in 2015-16.
Why you have (probably) already bought your last car
I'm guessing you are scoffing in disbelief at the very suggestion of this article, but bear with me.
Your Work Is the Only Thing That Matters

The banana is dying. The race is on to reinvent it before it's too late
During the summer of 1989, Randy Ploetz was in his laboratory just south of Miami, when he received a package from Taiwan.
Retail inflation rises to 3.77%, IIP hits three month low of 4.3%
The IMF on Tuesday called for further tightening of monetary policy in India to anchor expectations since inflation was expected to pick up. Photo: Abhijit Bhatlekar/Mint New Delhi: India's retail inflation accelerated to 3.77% in September from 3.
Passenger vehicle sales decline 5.6% to three-month low in September
Commercial vehicle sales rose 24.1% year on year to 95,867 units in September. Photo: Ramesh Pathania/Mint New Delhi: Passenger vehicle sales fell 5.6% year-on-year to 292,658 units in September, with demand hit by rising auto fuel prices, along with the high base in the year-ago period.
Fossil Discoveries Challenge Ideas About Earth's Start
In the arid, sun-soaked northwest corner of Australia, along the Tropic of Capricorn, the oldest face of Earth is exposed to the sky. Drive through the northern outback for a while, south of Port Hedlund on the coast, and you will come upon hills softened by time.
Lessons from Annie Duke (Author of "Thinking in Bets: Making Smarter Decisions When You Don't Have All the Facts") 

Why Our Beliefs Don't Predict Much About the Economy
The more we learn about how people really think, the more we must rethink economic theory. Changes in fundamental beliefs play a major role in the fluctuations of the economy.
Check out our Global Macro Dashboard for currency, commodity, bonds and credit charts.
Good luck!