Your world at 9am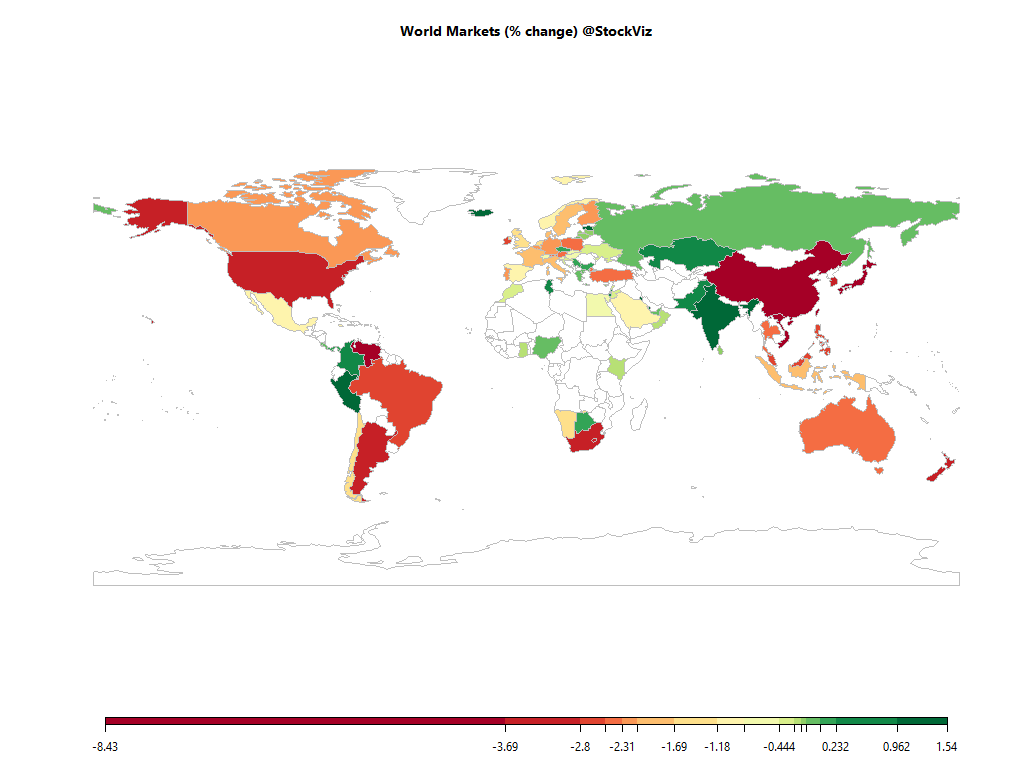 Equities
Commodities
Energy
Brent Crude Oil

-1.90%

Natural Gas

-1.10%

Heating Oil

-1.22%

Ethanol

-0.76%

RBOB Gasoline

-1.88%

WTI Crude Oil

-1.75%
Metals
Palladium

-0.54%

Silver 5000oz

+0.04%

Copper

-1.41%

Gold 100oz

+0.00%

Platinum

-0.92%
Agricultural
Cattle

+0.00%

Coffee (Robusta)

+0.00%

Cotton

-0.10%

Feeder Cattle

+0.00%

Lean Hogs

+0.00%

Orange Juice

+0.00%

Soybean Meal

+0.00%

Wheat

-0.34%

Cocoa

+0.00%

Lumber

+0.00%

Soybeans

-0.35%

Sugar #11

+0.00%

Coffee (Arabica)

+0.00%

Corn

-0.21%

White Sugar

+0.00%
Out of 43 world ETFs listed in NYSE that we track, 1 are trading above their 10-day SMA and 5 are trading above their 50-day SMA.
Must Reads
At last – Paul Romer got his 'Nobel prize'​
Among Swedish economists, Paul Romer has for many years been the favourite candidate for receiving the 'Nobel Prize' in economics. This year the prediction turned out right. Romer got the prize (together with William Nordhaus).
Why religion steps in, when the state steps back
Children at Swaraswati Sishu Mandir, a school run by the RSS, and (right) children studying at a Madrasa.
Logistics woes drive Essar, JSW, Aditya Birla group, others to buy iron ore overseas
Inbound cargoes from April through July, the first four months of the current financial year, were 5.5 million tonnes, more than three times shipments in the year ago period, according to the commerce ministry.
How self-love got out of control
Once upon a time, Love Island contestant Adam Collard would simply have been called a player.
What Are You Expecting From Gold In Your Portfolio Strategy?
Gold is deemed an essential piece of the asset allocation pie in some corners. The reasons vary, depending on the investor, although it's not uncommon to hear rationales that sound more like religious sermons on the mystical properties of the yellow metal.
'The current correction is a very healthy one'
As panic-stricken investors look for clues in the market swings amid a sliding rupee, higher crude prices and governance issues in corporate groups, Raamdeo Agrawal, Chairman, Motilal Oswal Asset Management Company (MOAMC), says the current correction provides a rare decadal opportunity for inves
Why The Best Predictor of Future Stock Market Returns is Useless
On the Importance of Supply and Demand In one of my favorite animal experiments, researchers wanted to see how pond cichlids would change their mating behavior as the sex ratio (number of males relative to females) was altered in a controlled environment.
The Case for International Diversification
The United States' equity market has been on a tear. US stocks have outperformed international stocks over the past one year, three years, five years, 10 years, and 20 years.
Check out our Global Macro Dashboard for currency, commodity, bonds and credit charts.
Good luck!