Your world at 9am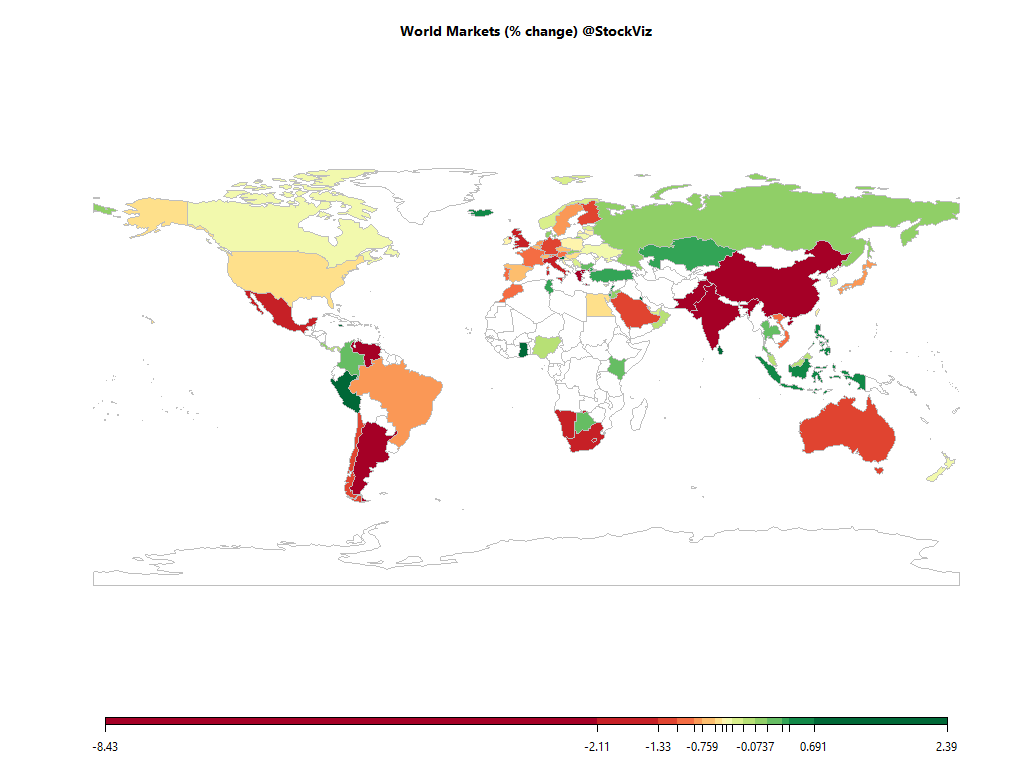 Equities
Commodities
Energy
Ethanol

+0.38%

Heating Oil

-0.83%

Natural Gas

+1.53%

RBOB Gasoline

-0.79%

WTI Crude Oil

-0.78%

Brent Crude Oil

-1.08%
Metals
Gold 100oz

-0.38%

Platinum

-0.39%

Copper

+0.00%

Palladium

+0.23%

Silver 5000oz

+0.00%
Agricultural
Lumber

-2.51%

Soybean Meal

+0.63%

Wheat

+0.58%

Cattle

+0.29%

Feeder Cattle

+0.57%

Lean Hogs

+1.15%

Corn

+0.20%

Soybeans

+0.37%

Cocoa

+0.00%

Coffee (Arabica)

+2.20%

Coffee (Robusta)

+0.00%

Cotton

+0.00%

Orange Juice

-0.69%

Sugar #11

+2.27%

White Sugar

+0.00%
Out of 43 world ETFs listed in NYSE that we track, 2 are trading above their 10-day SMA and 6 are trading above their 50-day SMA.
Must Reads
Risk Management
Risk management starts with what Jeff Bezos calls the "regret minimization framework." Project yourself to age 80, or age 90. "Looking back on your life, you want to minimize the number of regrets you have," he says.
I'm very sorry, but you're going to have to learn to love the blockchain
I apologize. I get it.
Welcome to Airspace
Igor Schwarzmann is the German co-founder of Third Wave, a strategy consultancy based in Berlin that works with small-scale industrial manufacturers.
Opinion | The MPC's decision increases uncertainty
The monetary policy committee (MPC) of the Reserve Bank of India (RBI) surprised the market by keeping policy rates unchanged. Most financial market analysts expected the rate-setting committee to raise policy rates by 25 basis points. This newspaper had also argued in favour of a rate hike.
Opinion | RBI's surprise status quo is well thought out
According to RBI projection, inflation in Q4 will be at 4.5% and even for Q1FY20, it will stay below 5%. Photo: Aniruddha Chowdhury/Mint Monetary policy best works on unanticipated surprises and possibly this reflects the hallmark of today's Reserve Bank of India (RBI) policy announcement.
Budget Busting
WHO SHOULD DIET? This isn't exactly a tough one: It's people who need to lose weight. Who should budget? If you listen to conventional wisdom, this is another easy one: It seems we all should.
The Power of 'AND', and the Walmartization of Advice
Growing up in the beautiful swamp that is Brazoria County, Texas, you learned quickly that you took entertainment where you could get it. I'm not saying that it was boring, but having fun did require a certain amount of creativity.
Fifth column: Rahul Gandhi helps Narendra Modi again
Rahul Gandhi has said two things in recent days that reveal that his advisors spend more time in Delhi drawing rooms than among 'the poor' whom he claims so passionately to represent. The first is his charge that Narendra Modi is not a 'chowkidar' but a 'thief'.
Railway Mania
When steam engines first appeared in the 1820s, they were met with widespread hostility. It was feared that they would prevent hens from laying eggs and cattle from grazing, that their noxious fumes would blacken the fleeces of sheep, and that passengers travelling at breakneck speeds of 12.
Check out our Global Macro Dashboard for currency, commodity, bonds and credit charts.
Good luck!