Your world at 9am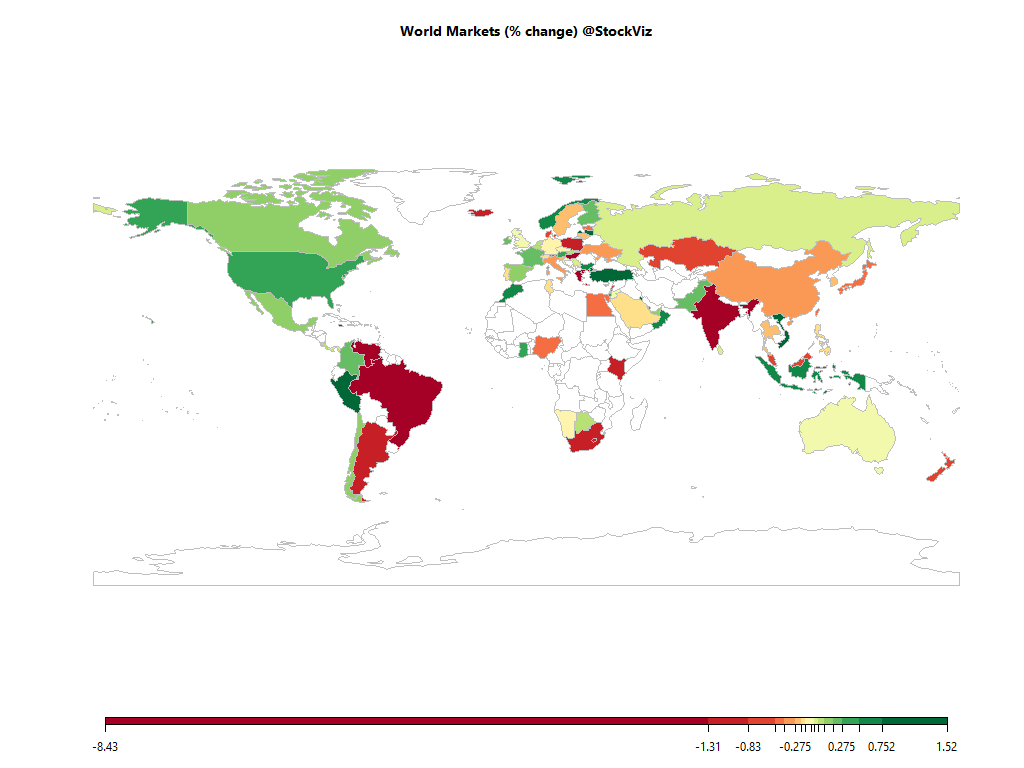 Equities
Commodities
Energy
Natural Gas

+0.28%

RBOB Gasoline

+0.54%

Brent Crude Oil

+0.39%

Ethanol

+0.00%

Heating Oil

+0.32%

WTI Crude Oil

+0.97%
Metals
Copper

+0.00%

Gold 100oz

+0.00%

Silver 5000oz

-0.12%

Palladium

-0.14%

Platinum

+0.03%
Agricultural
Orange Juice

+0.00%

Cocoa

+0.00%

Lean Hogs

+0.00%

Sugar #11

+0.00%

Cattle

+0.00%

Coffee (Robusta)

+0.00%

Cotton

+0.00%

Lumber

+0.00%

Soybeans

+0.00%

Coffee (Arabica)

+0.00%

Corn

+0.00%

Feeder Cattle

+0.00%

Soybean Meal

+0.00%

Wheat

+0.00%

White Sugar

+0.00%
Out of 43 world ETFs listed in NYSE that we track, 5 are trading above their 10-day SMA and 7 are trading above their 50-day SMA.
Must Reads
Young blood could be the secret to long-lasting health: study
Drinking young people's blood could help you live longer and prevent age-related diseases, a study has found. Blood factors taken from younger animals have been found to improve the later-life health of older creatures.
Moody's sees no immediate risk to India's credit profile on rupee fall
Moody's last year raised India's sovereign rating from the lowest investment grade of Baa3 to Baa2, and changed the outlook from 'stable' to 'positive'.
Bitcoin crash: This man lost his savings when cryptocurrencies plunged
An estimated $400 billion has been wiped off the value of major cryptocurrencies since January. Sean Russell's life savings were among them. Russell rarely played the stock market and had little investing experience when he put around $120,000 into bitcoin in November 2017.
The Other Failure Risk in VC
Venture capital is one of the most unique forms of investing in the asset management industry. The business model is predicated on the fact that the majority of the early-stage investments made by these funds will fail. In fact, multiple failures are expected.
Nothing Into Something
No one knows exactly how Sam Zemurray came across his first banana in 1893, but he knew it was special.  In fact, Sam became so obsessed with the yellow fruit that he traveled to Mobile, Alabama two years later in hopes of entering the banana trade.
10 Years Since Lehman Collapse: What India Didn't Learn From The Global Financial Crisis
One of my more enduring memories of the global financial crisis is the stark contrast in the views of policymakers and that of the market in the initial days about the potential damage the crisis could wreck. At that time, I was between jobs, shifting from the public to the private sector.
UIDAI's Aadhaar Software Hacked, ID Database Compromised, Experts Confirm
NEW DELHI—The authenticity of the data stored in India's controversial Aadhaar identity database, which contains the biometrics and personal information of over 1 billion Indians, has been compromised by a software patch that disables critical security features of the software used to enrol new A
The Misleading Lessons of History
This post is available as a PDF download here. Is it possible to create an asset allocation that has never lost money over rolling 6-month periods?
The curious effect of mutual fund SIPs on Sensex, Nifty
Even though flows from non-SIP sources into equity mutual funds continue to gyrate, based on market conditions, SIP flows provide hope. Graphic: Mint Retail flows into equity mutual funds have historically followed a predictable pattern.
Check out our Global Macro Dashboard for currency, commodity, bonds and credit charts.
Good luck!