Your world at 9am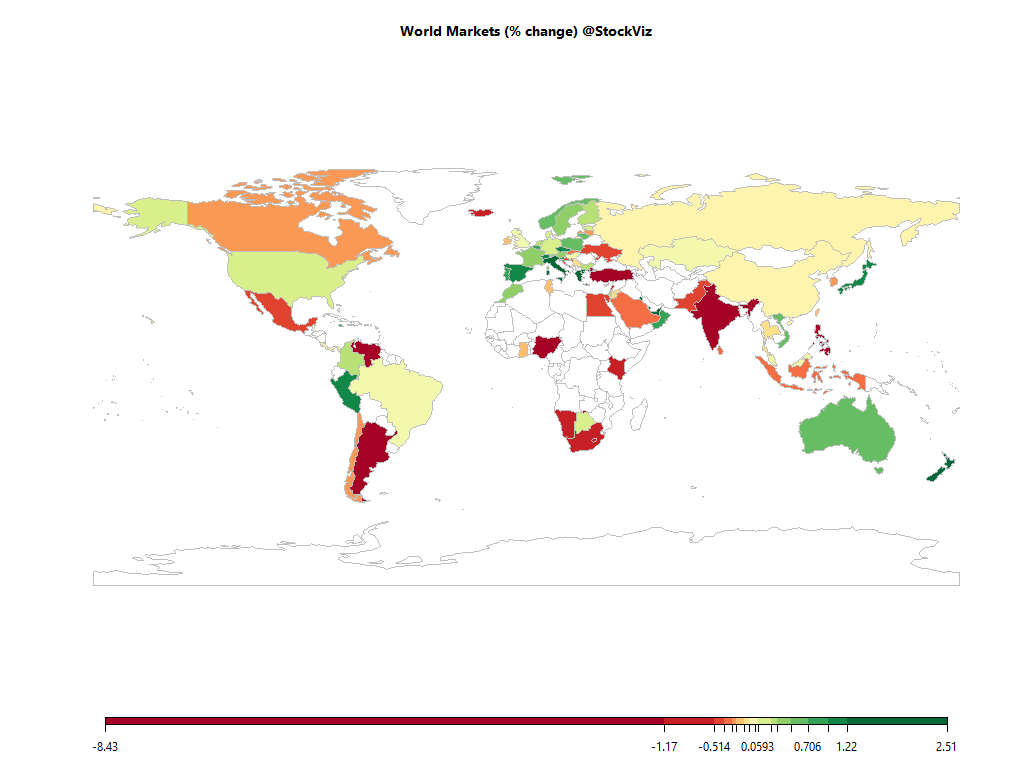 Equities
Commodities
Energy
RBOB Gasoline

+0.11%

Ethanol

+0.00%

Heating Oil

+0.12%

Natural Gas

+0.36%

Brent Crude Oil

+0.21%

WTI Crude Oil

+0.12%
Metals
Platinum

-0.29%

Copper

-0.17%

Silver 5000oz

+0.22%

Palladium

-0.20%

Gold 100oz

+0.00%
Agricultural
Coffee (Robusta)

+0.00%

Lumber

+0.00%

Soybeans

+0.39%

Cattle

+0.00%

Cocoa

+0.00%

Coffee (Arabica)

+0.00%

Corn

+0.00%

Feeder Cattle

+0.00%

Lean Hogs

+0.00%

Sugar #11

+0.00%

Wheat

+0.00%

White Sugar

+0.00%

Orange Juice

+0.00%

Soybean Meal

+0.00%

Cotton

+0.00%
Out of 43 world ETFs listed in NYSE that we track, 2 are trading above their 10-day SMA and 7 are trading above their 50-day SMA.
Must Reads
India is standing still as global trade changes
Donald Trump, Nitin Gadkari and Suresh Prabhu have vastly different remits. Between them, however, they summed up India's trade dilemmas last week. It makes for a worrying scenario. On 7 September, the US President signalled his intention to go all in in his trade war with China.
Solutions beyond farm loan waivers
Among all the states in India, Rajasthan has one of the lowest farmer suicide rates. However, this does not mean that farmers in Rajasthan have been immune to increasing levels of agrarian distress. And last year's farmer protests highlighted the extent of India's nationwide agrarian distress.
eNAM: Sowing seeds for future
Since its launch in April 2016, many States have joined the electronic national agriculture market (eNAM) platform by reforming their APMC (Agricultural Produce Market Committee) Act and taking a hard stance with arhityas (commission agents) who had been resisting e-auctioning and online payment.
Check out our Global Macro Dashboard for currency, commodity, bonds and credit charts.
Good luck!