Your world at 9am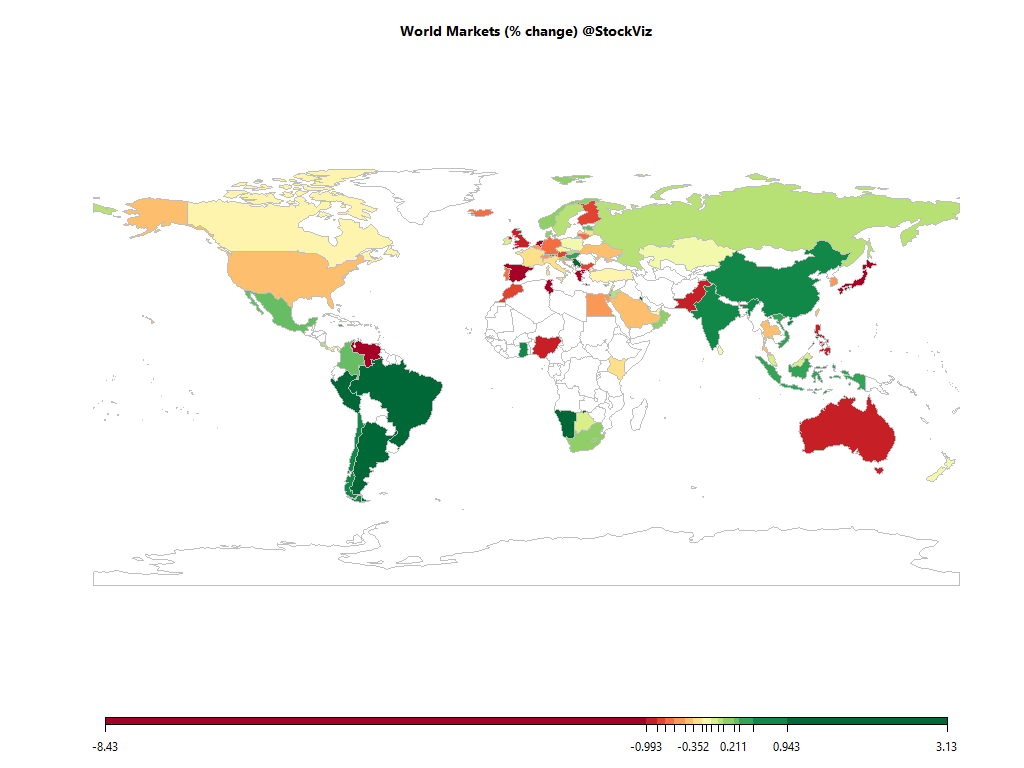 Equities
Commodities
Energy
RBOB Gasoline

+0.33%

WTI Crude Oil

+0.04%

Heating Oil

+0.00%

Brent Crude Oil

-0.03%

Ethanol

+0.00%

Natural Gas

+0.14%
Metals
Copper

+0.00%

Silver 5000oz

+0.18%

Gold 100oz

+0.00%

Platinum

+0.19%

Palladium

-0.03%
Agricultural
Cocoa

+0.00%

Cotton

+0.00%

Feeder Cattle

+0.00%

Soybeans

+0.00%

Lumber

+0.00%

Wheat

+0.00%

Coffee (Arabica)

+0.00%

Orange Juice

+0.00%

Sugar #11

+0.00%

Cattle

+0.00%

Coffee (Robusta)

+0.00%

Corn

-0.28%

Lean Hogs

+0.00%

Soybean Meal

+0.00%

White Sugar

+0.00%
Out of 43 world ETFs listed in NYSE that we track, 2 are trading above their 10-day SMA and 10 are trading above their 50-day SMA.
Must Reads
Britain's equilibrium of incompetence
IT IS common for one of Britain's great parties to be in crisis while the other is in clover. Labour tore itself apart in the Thatcher era and the Tories did the same during the Blair years.
Bitcoin Bleeds Value As Investors Notice Nobody Uses It
The price of bitcoin has fallen more than $100, or 10%, since Wednesday, leading a sharp drop in the value of cryptocurrencies like ether and ripple as well.
'We're for ensuring there's no perception of wrongdoings'
Mauritius has been in the news recently as foreign fund managers have been up in arms, protesting about SEBI's circular regarding foreign funds with persons of Indian origin as the beneficial owners.
Check out our Global Macro Dashboard for currency, commodity, bonds and credit charts.
Good luck!