Your world at 9am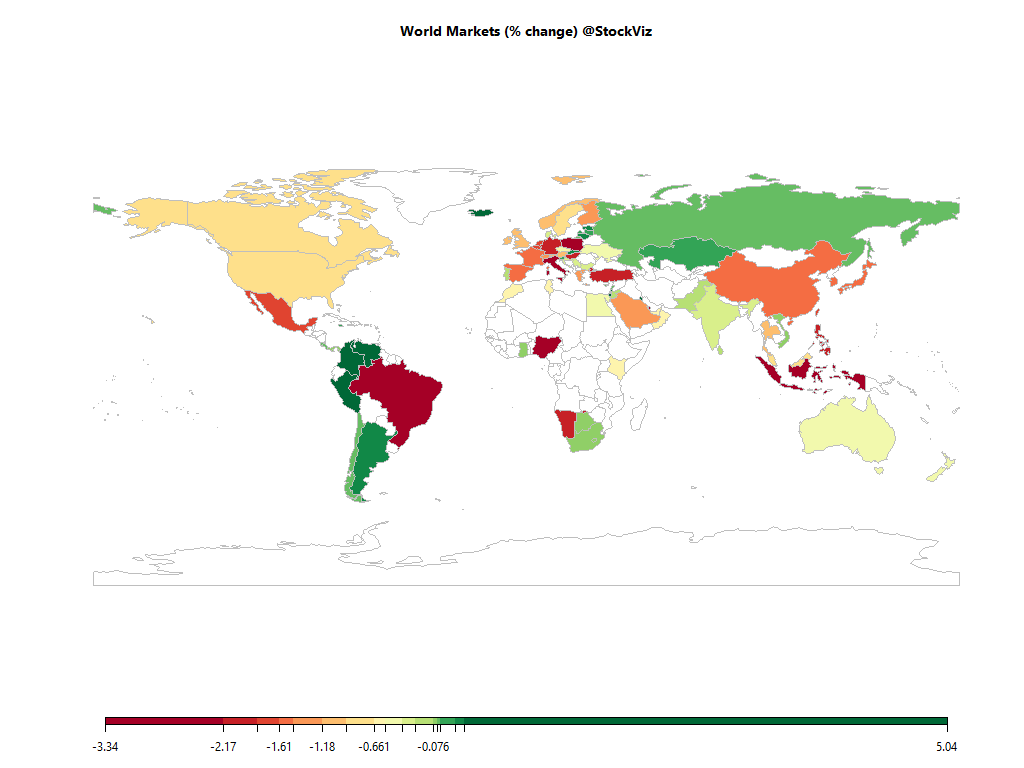 Equities
Commodities
Energy
Brent Crude Oil

-0.26%

Ethanol

-1.04%

Natural Gas

-0.85%

Heating Oil

-0.13%

RBOB Gasoline

-0.15%

WTI Crude Oil

-0.06%
Metals
Palladium

-0.63%

Platinum

-1.43%

Copper

+0.00%

Gold 100oz

+0.00%

Silver 5000oz

+0.00%
Agricultural
Cotton

+0.00%

Orange Juice

-1.78%

Soybeans

+0.00%

Cocoa

+0.00%

Corn

-0.70%

Feeder Cattle

+0.42%

Lean Hogs

-0.41%

Sugar #11

-2.31%

Wheat

-0.37%

Coffee (Arabica)

-0.23%

Coffee (Robusta)

+0.00%

Lumber

-0.36%

Soybean Meal

-0.65%

Cattle

+0.18%

White Sugar

+0.00%
Out of 43 world ETFs listed in NYSE that we track, 2 are trading above their 10-day SMA and 12 are trading above their 50-day SMA.
Must Reads
The Double Edged Sword of Avoiding Value Traps – Validea's Guru Investor Blog
Value investing is full of pitfalls. It is easy to think that as a value investor all you need to do is buy cheap stocks and eventually the market will come around to your way of thinking, but that just isn't the way things work in the real world.
Monsanto fined $289 million in world's first Roundup cancer trial
Monsanto denies that glyphosate, the world's most widely used herbicide, causes cancer and says decades of scientific studies have shown the chemical to be safe for human use.
Can You Build a Quant VC Fund?
Public market: Rich. Long historical record of continuous, machine readable and easily accessible data. Private market: Sparse. Various sources offering incomplete data (missing data; missing founding rounds, conflicting reports etc.
Trump is mad that Turkey's economic crisis has made their currency weaker, so now he's making it even weaker
President Trump seems to think that Turkey has been trying to take advantage of us by having an economic crisis that's sent their currency tumbling . . . so he's taken steps to make it tumble even more? Why, yes. Yes, he has.
Check out our Global Macro Dashboard for currency, commodity, bonds and credit charts.
Good luck!