Your world at 9am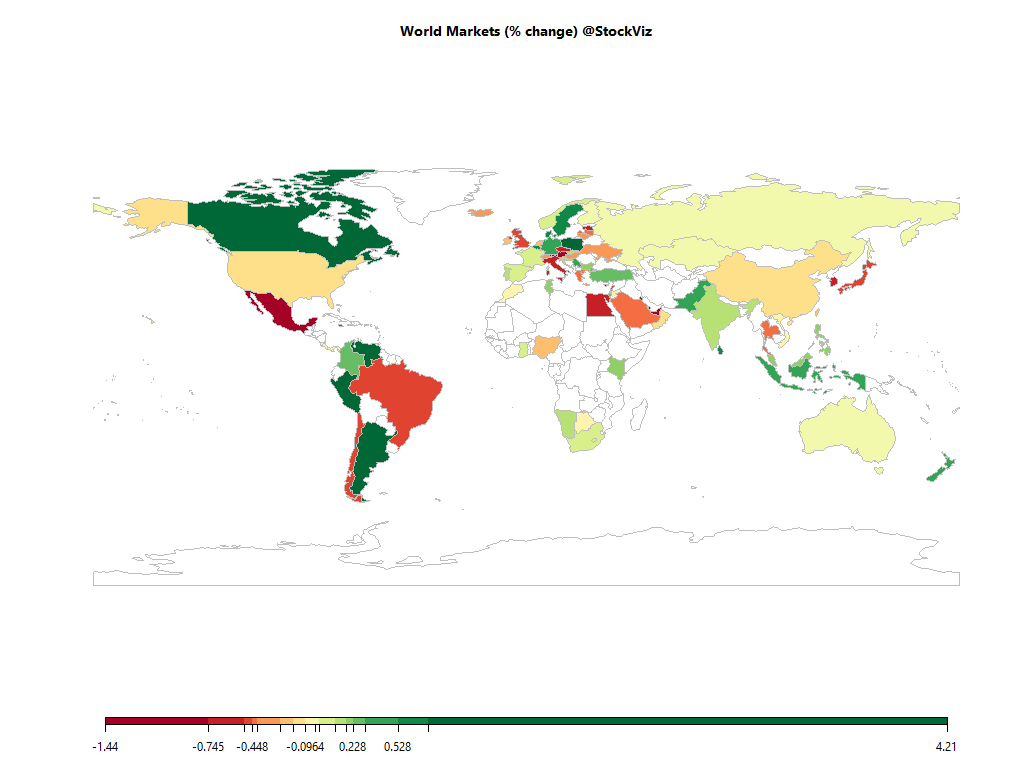 Equities
Commodities
Energy
RBOB Gasoline

+0.54%

Natural Gas

-0.41%

Brent Crude Oil

+0.00%

Ethanol

+0.00%

Heating Oil

+0.17%

WTI Crude Oil

-0.01%
Metals
Gold 100oz

+0.02%

Platinum

+0.04%

Copper

+0.00%

Palladium

-0.11%

Silver 5000oz

+0.04%
Agricultural
Feeder Cattle

-0.02%

Lumber

+1.53%

Sugar #11

+0.00%

Coffee (Arabica)

+0.00%

Coffee (Robusta)

+0.00%

Soybeans

+0.00%

Cattle

+0.05%

Corn

-0.34%

Cotton

+0.00%

Orange Juice

+0.00%

Cocoa

+0.00%

Lean Hogs

+0.23%

Soybean Meal

+0.00%

Wheat

-0.35%

White Sugar

+0.00%
Out of 43 world ETFs listed in NYSE that we track, 15 are trading above their 10-day SMA and 23 are trading above their 50-day SMA.
Must Reads
Tarpits and Antiflocks
Computers used to be the size of buildings. Today my computer gets lost between the seat cushions. But two parts of the computer didn't become a million times smaller and faster: the display and keyboard. They are the low speed, power hungry, monkey-compatible data ports.
GST: Short-term pain but long-term gain for the Indian economy
GST has a broader tax base as compared to the erstwhile indirect tax laws.
Biggest reform in 30 years! Modi govt to soon unveil new industrial policy
The long-awaited industrial policy, which in the words of Commerce Minister Suresh Prabhu will "make India ready for the fourth industrial revolution and beyond", is nearly ready for Cabinet approval.
Five challenges for Ikea in India
Ikea will sell products tailored for India's market, such as kitchen appliances for making traditional rice cakes.
Check out our Global Macro Dashboard for currency, commodity, bonds and credit charts.
Good luck!