Your world at 9am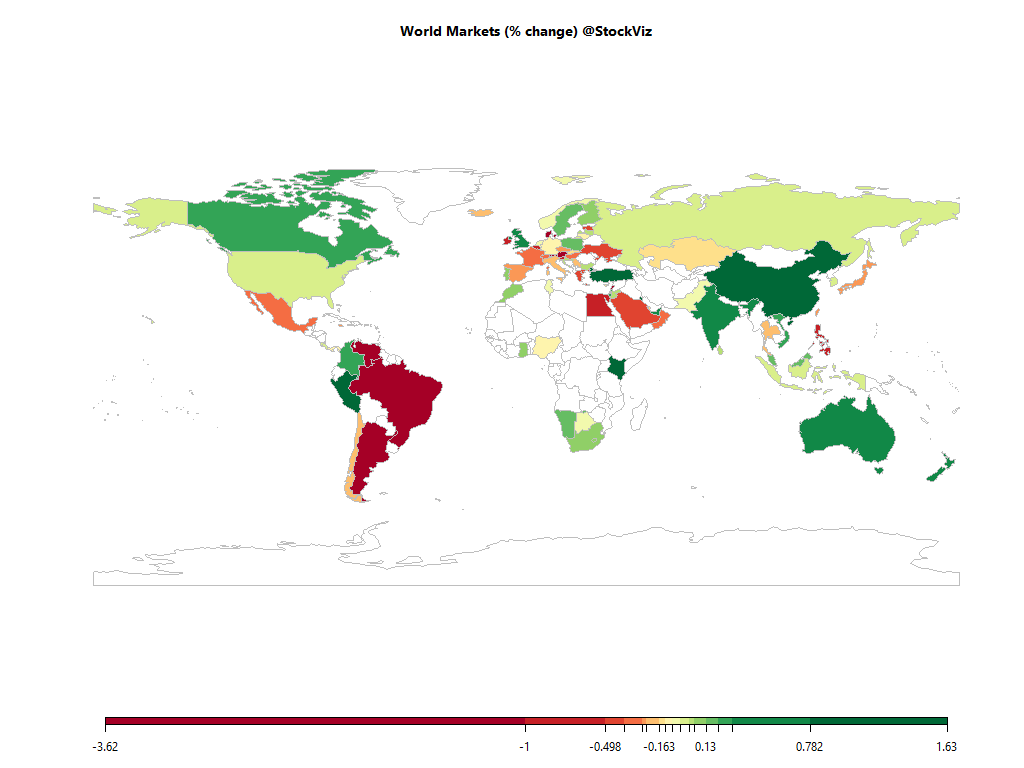 Equities
Commodities
Energy
Ethanol

+0.00%

Natural Gas

-0.10%

Brent Crude Oil

+0.36%

Heating Oil

+0.21%

RBOB Gasoline

+0.04%

WTI Crude Oil

+0.15%
Metals
Copper

+0.00%

Gold 100oz

+0.00%

Palladium

+1.32%

Platinum

+0.83%

Silver 5000oz

+0.00%
Agricultural
Cocoa

+0.00%

Orange Juice

+0.00%

Sugar #11

+0.00%

Coffee (Arabica)

+0.00%

Corn

-0.07%

Lean Hogs

+0.00%

Coffee (Robusta)

+0.00%

Cotton

+0.00%

Soybeans

+0.00%

White Sugar

+0.00%

Cattle

+0.00%

Feeder Cattle

+0.00%

Lumber

+0.00%

Soybean Meal

+0.12%

Wheat

+0.35%
Out of 43 world ETFs listed in NYSE that we track, 19 are trading above their 10-day SMA and 23 are trading above their 50-day SMA.
Must Reads
Your vegetables are going to be picked by robots sooner than you think
In the very near future, robots are going to be picking the vegetables that appear on grocery store shelves across America. The automation revolution that's arrived on the factory floor will make its way to the ag industry in the U.S.
10 things the IMF numbers tell us about the Indian economy
India's strong economy continues to lead global growth, says the international Monetary Fund (IMF) in its latest report on the Indian economy.
Opinion: The urgent need for states to get fiscally fit
The recent report, "State Finances: A Study of State Budgets 2018" by the Reserve Bank of India (RBI) confirms what has been observed for a while; that the state of state finances is in "deep trouble" territory.
Rethinking public budget
The balanced budget paradox is probably one of the most devastating phenomena haunting our economies. The harder politicians — usually on the advice of establishment economists — try to achieve balanced budgets for the public sector, the less likely they are to succeed in their endeavour.
Check out our Global Macro Dashboard for currency, commodity, bonds and credit charts.
Good luck!