Your world at 9am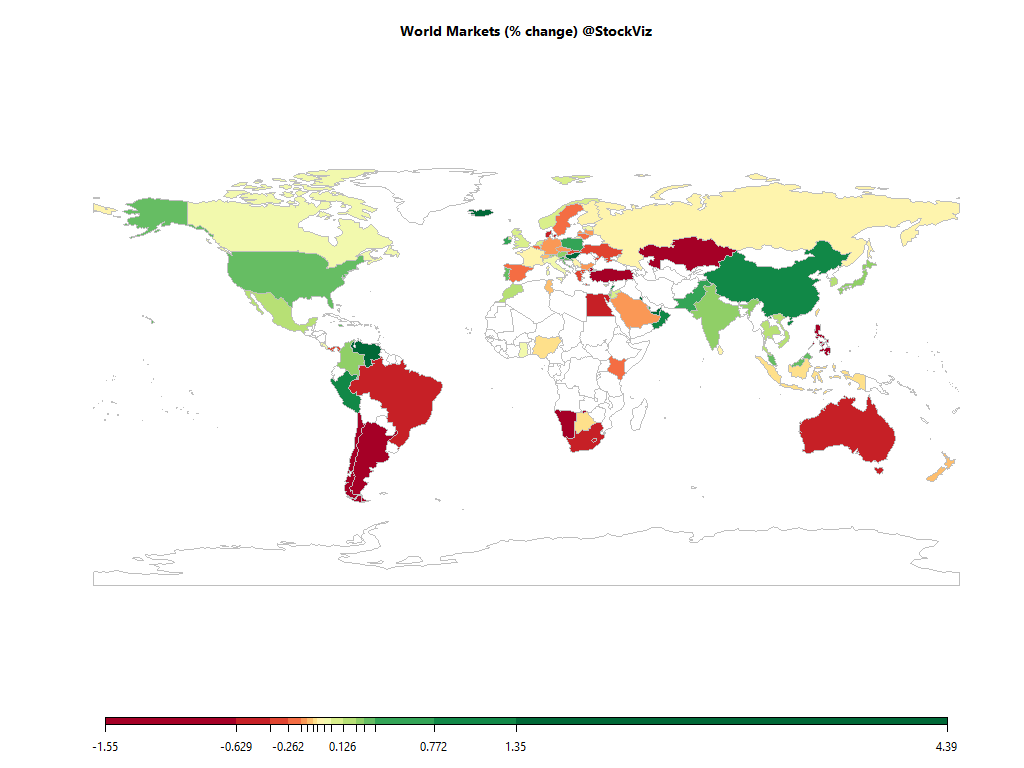 Equities
Commodities
Energy
RBOB Gasoline

+0.21%

Brent Crude Oil

+0.34%

Ethanol

+0.07%

Natural Gas

+0.21%

WTI Crude Oil

+0.09%

Heating Oil

+0.27%
Metals
Silver 5000oz

+0.00%

Platinum

-0.04%

Gold 100oz

-0.07%

Copper

+0.00%

Palladium

-0.18%
Agricultural
Coffee (Arabica)

+0.00%

Corn

+0.13%

Lumber

+0.00%

Cattle

+0.00%

Cocoa

+0.00%

Coffee (Robusta)

+0.00%

Cotton

+0.58%

Lean Hogs

+0.00%

Soybean Meal

+0.36%

Soybeans

+0.00%

Sugar #11

+0.00%

White Sugar

+0.00%

Feeder Cattle

+0.00%

Orange Juice

+0.00%

Wheat

+1.35%
Out of 43 world ETFs listed in NYSE that we track, 13 are trading above their 10-day SMA and 22 are trading above their 50-day SMA.
Must Reads
The Expensive Education of Mark Zuckerberg and Silicon Valley
They have weaponized social media, and we are all paying the price. Ms. Swisher covers technology and is a contributing opinion writer.
Appealing Fictions
The documentary How to Live Forever asks that innocent question to a centenarian who offered an amazing response. Something you want to be true.
Sashakt will not solve the NPA problem
"When I told my doctor that I couldn't afford the operation, he offered to touch up my X-rays." This sort of sums up the thrust of the government-appointed Sunil Mehta committee report for yet another structured solution to the non-performing assets (NPAs) plague afflicting our economy.
Perfectly free trade is neither likely nor good
US President Donald Trump recently suggested the removal of all tariffs and non-tariff barriers to global trade. Sounds intriguing, but free trade is rare and it's certainly no utopia.
Auto parts makers report highest sales in 6 years on robust demand
Sales began to revive as companies launched new models and banks offered easier financing. Bloomberg New Delhi: Auto parts makers in India posted the highest sales in six years buoyed by robust demand for cars, trucks and motorcycles in the world's fourth-largest automobile market.
Psychologist : "Better than Self-Esteem Is Reality-Esteem" : Barry Brownstein
Many want to build their self-esteem and confidence. A Google search reveals over 500 million entries on confidence building. Self-help books and scholarly articles abound.
Why the RBI cannot afford to pause
In the run-up to the monetary policy announcement, there were heated debates on RBI's policy action. Surprisingly though, the deliberations were not on whether the central bank would hike rates once again — almost everyone seemed to be in accord with a 25 bps hike in repo rate.
Check out our Global Macro Dashboard for currency, commodity, bonds and credit charts.
Good luck!