Your world at 9am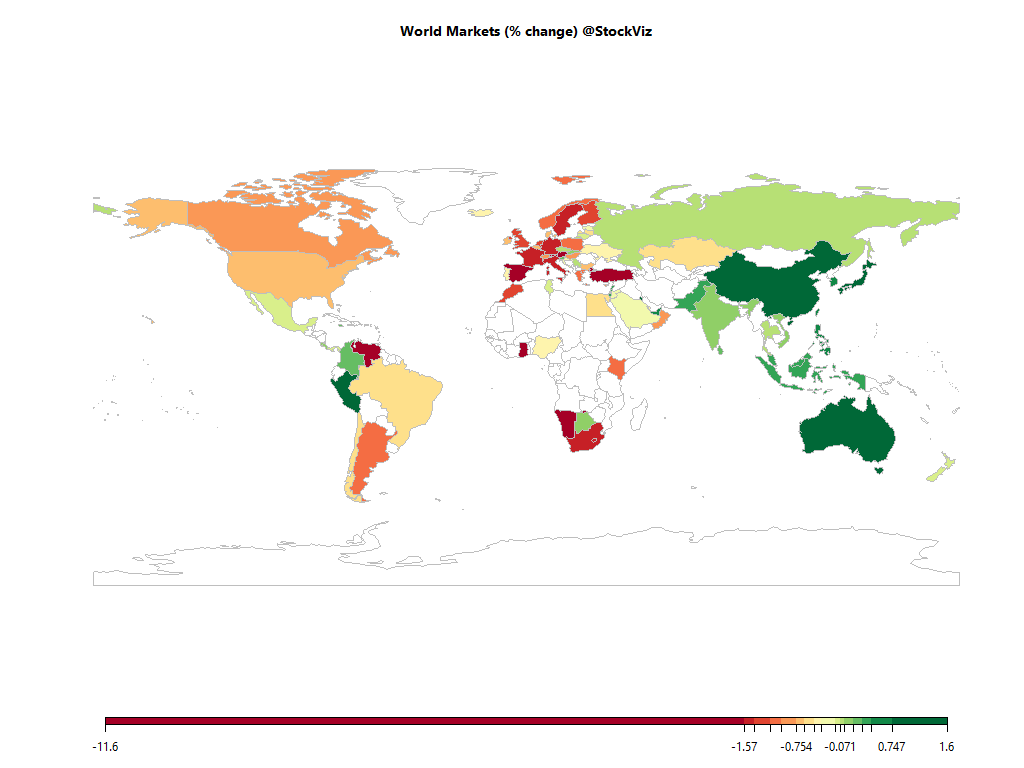 Equities
Commodities
Energy
RBOB Gasoline

+0.79%

Heating Oil

+1.33%

WTI Crude Oil

+0.57%

Brent Crude Oil

+1.70%

Ethanol

-0.14%

Natural Gas

-0.18%
Metals
Silver 5000oz

+0.00%

Palladium

-0.31%

Platinum

-0.26%

Copper

-0.42%

Gold 100oz

-0.15%
Agricultural
Cotton

+0.00%

Feeder Cattle

+0.00%

Lumber

+0.00%

Coffee (Arabica)

+0.00%

Sugar #11

+0.00%

Cattle

+0.00%

Coffee (Robusta)

+0.00%

Soybean Meal

+0.00%

Wheat

+0.00%

Cocoa

+0.00%

Corn

+0.30%

Lean Hogs

+0.00%

Orange Juice

+0.00%

Soybeans

+0.00%

White Sugar

+0.00%
Out of 43 world ETFs listed in NYSE that we track, 40 are trading above their 10-day SMA and 18 are trading above their 50-day SMA.
Must Reads
Here's the strategy behind Trump's dangerous trade war with China
If you look at the trade numbers with China, you can discern what President Trump might be thinking as he drags the United States into an escalating trade war.
Is insurance a rich enough game to disrupt?
For the last decade, the largest technology companies have increasingly looked outside of tech to grow their operations.
RIP Tata Nano. World's cheapest car goes up in smoke
The much-touted Tata Nano—hailed as a 'milestone in frugal engineering'— fell short on safety, ran behind schedule and produced questionable crash test results. Photo: AP A moment of silence, please, for the world's cheapest car, which has all but died in India.
Six Lies on Trade
After 500 days of Donald Trump's presidency, it is clear that any relationship between his statements and the truth are purely coincidental.
Industrial Robot Sales Hit Record in China
China purchased 141,000 industrial robots in 2017, up 58.1 percent year-on-year, but foreign brands accounted for nearly three quarters of that, showing that the gap is still widening between Chinese robot makers and their foreign peers.
Check out our Global Macro Dashboard for currency, commodity, bonds and credit charts.
Good luck!