Your world at 9am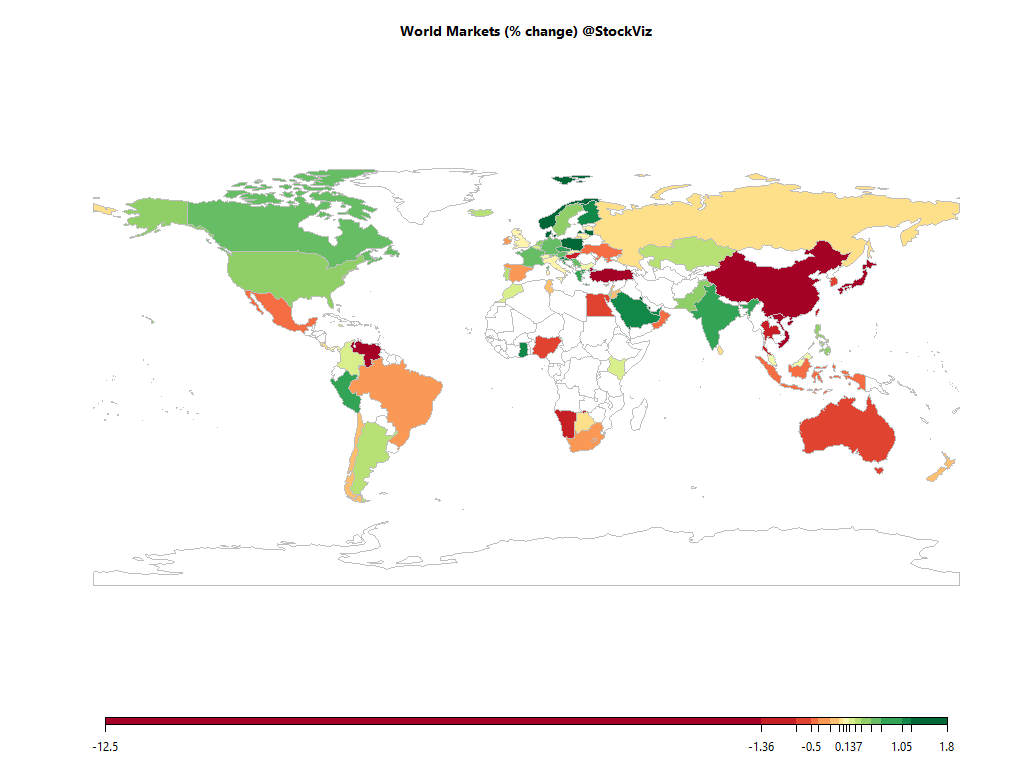 Equities
Commodities
Energy
Brent Crude Oil

-0.98%

Ethanol

+0.00%

Natural Gas

-0.14%

Heating Oil

-0.79%

RBOB Gasoline

-0.56%

WTI Crude Oil

-0.80%
Metals
Silver 5000oz

+0.00%

Palladium

-0.06%

Copper

-2.93%

Gold 100oz

-0.26%

Platinum

-0.56%
Agricultural
Orange Juice

+0.00%

Soybeans

-1.55%

Cocoa

+0.00%

Corn

+0.00%

Sugar #11

+0.00%

Wheat

+0.00%

Cotton

-2.08%

Feeder Cattle

+0.00%

Lean Hogs

+0.00%

Lumber

+0.00%

Soybean Meal

-0.84%

White Sugar

+0.00%

Cattle

+0.00%

Coffee (Arabica)

+0.00%

Coffee (Robusta)

+0.00%
Out of 43 world ETFs listed in NYSE that we track, 40 are trading above their 10-day SMA and 18 are trading above their 50-day SMA.
Must Reads
Petrol, diesel cars may be taxed more to push electric vehicle sales
Industry experts say higher tax on petrol and diesel cars may discourage people from buying them, even as electric cars lack favour among buyers.
How the Singh brothers squandered their business legacy
Mumbai/New Delhi: "But, how could they…
Netflix Isn't Being Reckless, It's Just Playing a Game No One Else Dares (Netflix Misunderstandings, Pt. 3)
Even when underestimated, Netflix's ever-escalating, industry-leading content spend remains a point of fear and fascination in the media industry.
People who think their opinions are superior to others are most prone to overestimating their relevant knowledge and ignoring chances to learn more
We all know someone who is convinced their opinion is better than everyone else's on a topic – perhaps, even, that it is the only correct opinion to have. Maybe, on some topics, you are that person.
The End of the Brexit Illusion
Both resigned for the same reason: to protest Prime Minister Theresa May's plan to preserve some of the benefits of EU membership for Britain in a post-Brexit world. That plan is not a very realistic or workable plan. But that's not why the two ministers have resigned.
Once Symbols of Hope, India's Ghost Engineering Colleges Now Tell Stories of Broken Dreams

Anoop Bhaskar on being a relevant money manager
Anoop Bhaskar, Head of Equity at IDFC Mutual Fund, chats with Larissa Fernand, Editor at Morningstar India, on his investing style. You have completed two years at IDFC. Name a significant change you brought about during this time frame.
Check out our Global Macro Dashboard for currency, commodity, bonds and credit charts.
Good luck!