Your world at 9am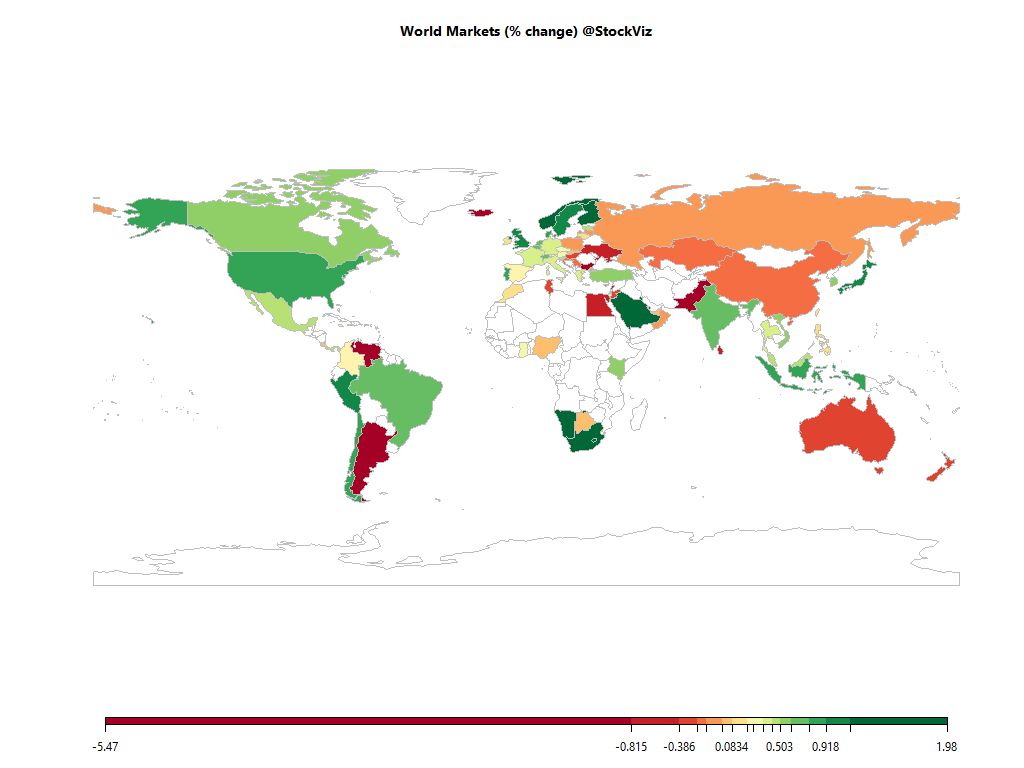 Equities
Commodities
Energy
Ethanol

+0.00%

Heating Oil

+0.37%

RBOB Gasoline

+0.40%

Natural Gas

+0.07%

WTI Crude Oil

+0.19%

Brent Crude Oil

+0.46%
Metals
Gold 100oz

+0.00%

Platinum

+0.52%

Silver 5000oz

+0.00%

Palladium

+0.12%

Copper

+0.00%
Agricultural
Cocoa

+0.00%

Lumber

+0.00%

Orange Juice

+0.00%

Sugar #11

+0.00%

Cattle

+0.00%

Coffee (Robusta)

+0.00%

Cotton

-0.31%

Soybean Meal

+0.00%

Wheat

-0.94%

Coffee (Arabica)

+0.00%

Corn

-0.43%

Feeder Cattle

+0.00%

Lean Hogs

+0.00%

Soybeans

+0.00%

White Sugar

+0.00%
Out of 43 world ETFs listed in NYSE that we track, 34 are trading above their 10-day SMA and 15 are trading above their 50-day SMA.
Must Reads
Formalization of the economy is a form of coercion
One of the biggest challenges facing the Indian economy is the size of the informal sector. The present government, more than any other, has taken upon itself to punish those in the informal economy.
The Nine Essential Conditions to Commit Massive Fraud
On October 28th, the day before Black Tuesday, the crescendo moment of the Crash of 1929, Time Magazine had a financier on its cover. At that time, virtually everyone in the international community had known his name all too well, although investors today probably wouldn't recognize it.
Only reason why Narendra Modi will return in 2019 is Rahul Gandhi
The Congress president is not even trying to win the next Lok Sabha elections. In a one-to-one war, neither side has to be the world's best army. Both could be uninspiring. The better one will win.
Check out our Global Macro Dashboard for currency, commodity, bonds and credit charts.
Good luck!