Your world at 9am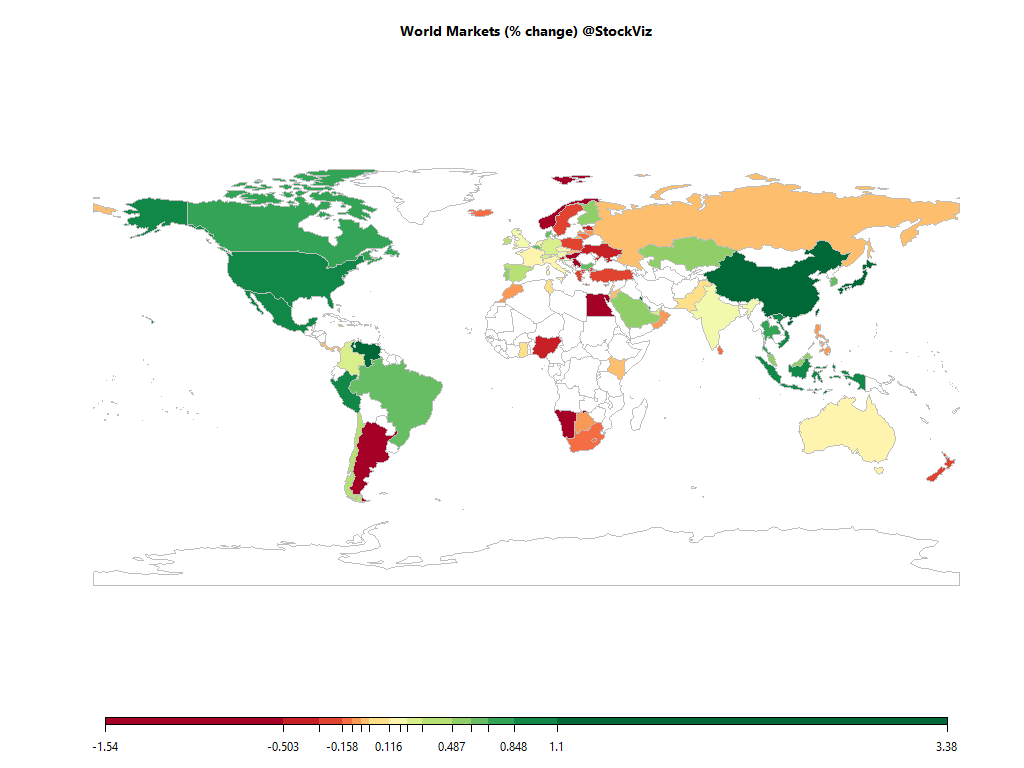 Equities
Commodities
Energy
Brent Crude Oil

+0.49%

Natural Gas

-0.38%

Ethanol

-0.63%

Heating Oil

+0.62%

WTI Crude Oil

+0.38%

RBOB Gasoline

+0.47%
Metals
Palladium

+0.54%

Platinum

+1.15%

Copper

+1.30%

Gold 100oz

+0.31%

Silver 5000oz

+0.00%
Agricultural
Cattle

-0.05%

Corn

-0.92%

Feeder Cattle

-0.49%

Lumber

-0.18%

Soybean Meal

-0.97%

White Sugar

+0.00%

Coffee (Robusta)

+0.00%

Cotton

+0.00%

Lean Hogs

-2.10%

Soybeans

-0.74%

Sugar #11

+0.26%

Wheat

-0.63%

Coffee (Arabica)

+1.83%

Cocoa

+0.00%

Orange Juice

+0.54%
Out of 43 world ETFs listed in NYSE that we track, 34 are trading above their 10-day SMA and 15 are trading above their 50-day SMA.
Must Reads
The food economy: A Catch-22 for policymakers
The Reserve Bank of India has a good case to respond to higher minimum support prices with another hike in interest rates. Illustration: Jayachandran/Mint The Narendra Modi government last week announced sharp increases in minimum support prices (MSPs) for a variety of farm products.
The curse of stigmatized capitalism
Outgoing chief economic adviser Arvind Subramanian. Addressing the curse of stigmatized capitalism is crucial for public policy. Photo: Ramesh Pathania/Mint In little less than three weeks from now, Arvind Subramanian, chief economic adviser (CEA), will formally bid adieu.
"Perhaps it is simpler to say that Intel…was disrupted"
Please read @stratechery's excellent post on Intel https://stratechery.com/2018/intel-and-the-danger-of-integration/, "Intel and the Danger of Integration" by Ben Thompson. Also you should subscribe to the newsletter.
If You Say Something Is "Likely," How Likely Do People Think It Is?
People use imprecise words to describe the chance of events all the time — "It's likely to rain," or "There's a real possibility they'll launch before us," or "It's doubtful the nurses will strike.
Mukesh Ambani is ready for his triple play close-up
Reliance Industries chairman Mukesh Ambani. Photo: Mint Mukesh Ambani is ready with his triple play of carriage, content and commerce. The richest Indian has already signed up 215 million customers in 22 months for his 4G mobile network.
Law Commission recommends regulated gambling and betting in sports to curb fraud
Representational image. The Law Commission suggests a three-pronged strategy—reforming the existing gambling (lottery, horse racing) market, regulating gambling and introducing stringent and overarching regulations. Photo: Bloomberg.
US oil sellers may look to India as China tariff war escalates
American oil producers may find a new friend in India as they brace for a trade war with China that could curb US shipments. Photo: Bloomberg New York: American oil producers may find a new friend in India as they brace for a trade war with China that could curb US shipments.
Political Moderates Are Lying
Cultural anthropologist Margaret Mead once suggested that we should "never doubt that a small group of thoughtful citizens can change the world. Indeed, it is the only thing that ever has." Mead is largely correct. Change is wrought by those willing to lead or force others toward it.
Check out our Global Macro Dashboard for currency, commodity, bonds and credit charts.
Good luck!