Your world at 9am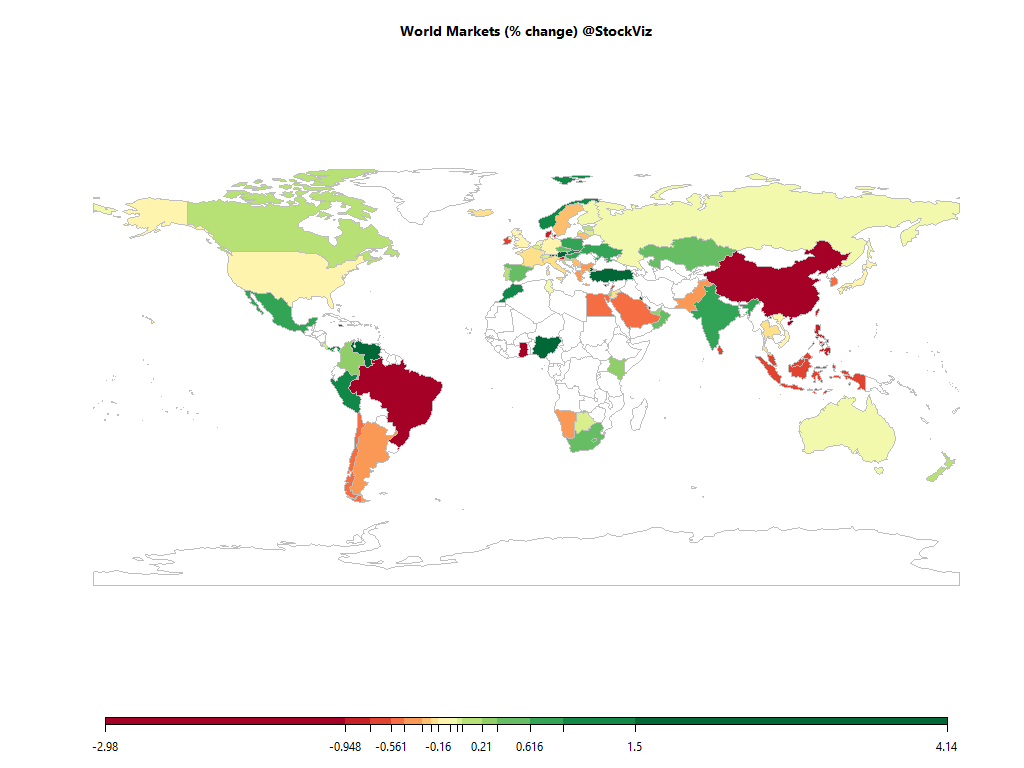 Equities
Commodities
Energy
Brent Crude Oil

-0.13%

Ethanol

+0.00%

Natural Gas

-0.41%

RBOB Gasoline

+0.16%

Heating Oil

-0.06%

WTI Crude Oil

+0.11%
Metals
Palladium

-0.20%

Silver 5000oz

+0.00%

Gold 100oz

+0.00%

Platinum

-0.02%

Copper

-0.34%
Agricultural
Cattle

+0.18%

Coffee (Robusta)

+0.00%

Cotton

+0.15%

Cocoa

+0.00%

Lumber

+0.08%

Sugar #11

+0.00%

Corn

-0.27%

Feeder Cattle

+0.17%

Lean Hogs

+0.19%

Soybeans

-0.36%

White Sugar

+0.00%

Coffee (Arabica)

+0.00%

Orange Juice

+0.00%

Soybean Meal

-0.06%

Wheat

+0.43%
Out of 43 world ETFs listed in NYSE that we track, 36 are trading above their 10-day SMA and 25 are trading above their 50-day SMA.
Must Reads
Two Asian stock exchanges tussle over market data
BUYING and selling shares in India is not for the faint of heart. Its own central-bank governor reckons equity capital is taxed up to five times. Never fear. There is a well-established alternative.
With index changes, Americans are sending billions to China (whether they know it or not)
There have been two major developments in Chinese equities this month that have the potential to rewire the world financial system.
Fed clambers back to positive real rates, now debate is when to stop
WASHINGTON (Reuters) – The Federal Reserve will likely raise its target interest rate to above the rate of inflation for the first time in a decade next week, igniting a new debate: when to stop.
How Venezuela's Implosion – and Reconstruction – Will Transform South America
"South America for the South Americans!" a confident President Hugo Chávez cried at a packed rally in Buenos Aires in March 2007. It is not without irony that, little more than a decade later, the policies of the late Venezuelan leader and his successor have achieved the exact opposite.
Useful Hacks
Someone hired a social media consultant at an old employer. During a three-hour session she walked us through hashtags, what time of day you should post on Twitter, how threading posts increases engagement, and a slew of other hacks. She was nice.
Funds like Magellan need gamblers like Bill Gross
As Bloomberg reported on Monday, the mutual fund made famous by hall-of-fame stock picker Peter Lynch is enjoying a resurgence after years of mediocre performance. The fund fell into a "15-year funk" after Mr. Lynch's successor, Jeffrey Vinik, left in 1996.
How rupee, fund outflows twisted the RBI's arm to hike repo rate
The RBI has been rather slow to react to the tightening liquidity in global financial markets unlike other central banks in emerging Asia. This has resulted in foreign funds pulling money out of Indian debt, even as they were net buyers in the debt markets of other emerging Asian countries in 2018.
Mutual funds take a new avataar
Apart from the usual large, mid, small and multi-cap categories, SEBI's scheme categorisation norms have brought in a new segment — large and mid-cap funds. These funds need to invest a minimum of 35 per cent of total assets in large-caps and a minimum of 35 per cent in mid-caps.
Please don't rate your waitress 4/5
What do Uber's star rating system and coach tickets have in common? More than you'd think. Tickets aren't to stop people fare dodging, you'll be surprised to hear, or at least, they weren't originally. They were to stop coachmen ripping off the coach owners and stealing their fares.
Check out our Global Macro Dashboard for currency, commodity, bonds and credit charts.
Good luck!