Your world at 9am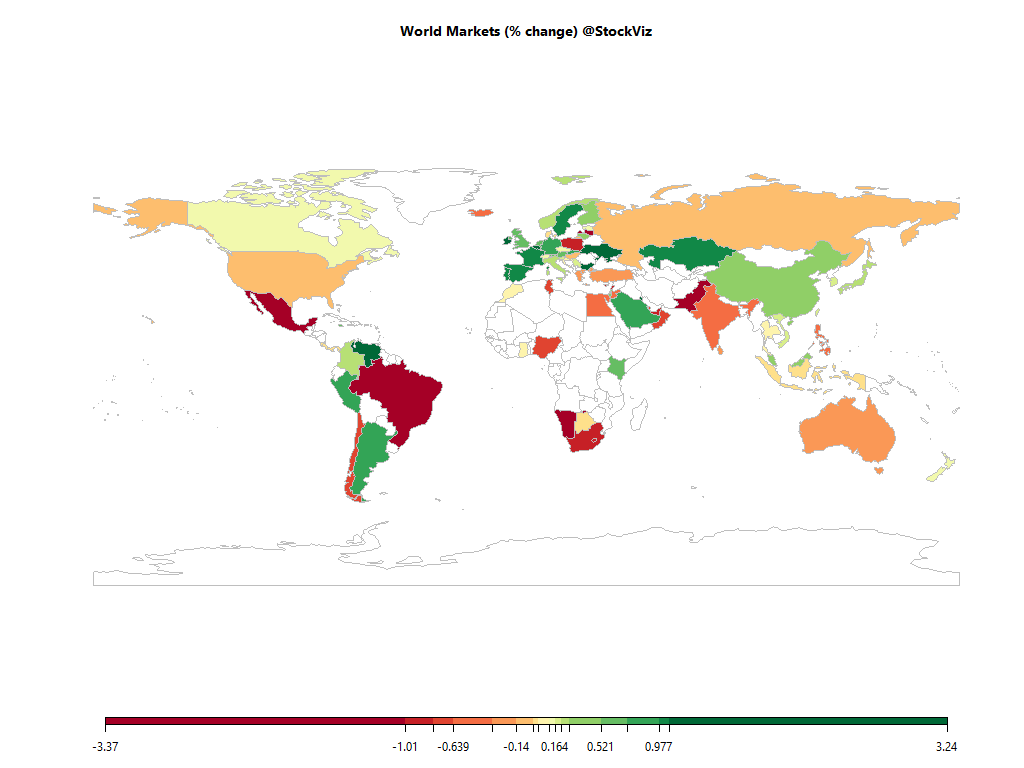 Equities
Commodities
Energy
Natural Gas

-0.42%

Brent Crude Oil

+0.33%

Ethanol

+1.37%

Heating Oil

+0.21%

RBOB Gasoline

+0.32%

WTI Crude Oil

+0.15%
Metals
Silver 5000oz

-0.20%

Palladium

-0.12%

Copper

+0.00%

Gold 100oz

+0.00%

Platinum

-0.15%
Agricultural
Cattle

+0.00%

Cocoa

+0.00%

Coffee (Robusta)

+0.00%

Cotton

+0.42%

Lumber

+0.00%

Orange Juice

+0.00%

Soybeans

+0.98%

Wheat

+1.21%

White Sugar

+0.00%

Feeder Cattle

+0.00%

Soybean Meal

+0.64%

Coffee (Arabica)

+0.00%

Corn

+0.89%

Lean Hogs

+0.00%

Sugar #11

+0.00%
Out of 43 world ETFs listed in NYSE that we track, 21 are trading above their 10-day SMA and 17 are trading above their 50-day SMA.
Must Reads
How Turkey fell from investment darling to junk-rated emerging market
MANY of the most famous hedge-fund trades have been bets that things were about to go wrong. Think of Enron's bankruptcy or the souring of subprime mortgage bonds in America. The best trade made by "the Professor" was very different. It was a bet that something was starting to go right.
China's vanished current-account surplus will change the world economy
NOT long ago China was a leading culprit in global economic imbalances. Whether blame was ascribed to its undervalued yuan or its frugal people, the problem seemed clear. China was selling a lot abroad and buying too little back.
Harvard's Reinhart Says Emerging Markets Are in Tougher Spot Than During '08 Crisis
While money managers from Goldman Sachs Group Inc. to UBS Wealth Management still tout investing opportunities in emerging markets, the asset class has one notable critic: Harvard professor Carmen Reinhart.
Goldman Sachs asks in biotech research report: 'Is curing patients a sustainable business model?'
Goldman Sachs analysts attempted to address a touchy subject for biotech companies, especially those involved in the pioneering "gene therapy" treatment: cures could be bad for business in the long run.
The brouhaha over mutual fund costs
In the past two months, the regulator has decided to slash around 30-40 basis points (bps) of mutual funds' total expense ratios (TERs); maybe guided by concern about declining alphas and realising scale economies on the back of rising profits of asset management companies (AMCs).
Did you ever think of an Ambani company going bankrupt?
NEW DELHI: Dhirubhai Ambani, who founded Reliance Industries, was an icon of India's equity culture. When he died in 2002, Reliance had over two million shareholders, the largest ever investor base for any Indian company.
Check out our Global Macro Dashboard for currency, commodity, bonds and credit charts.
Good luck!