Your world at 9am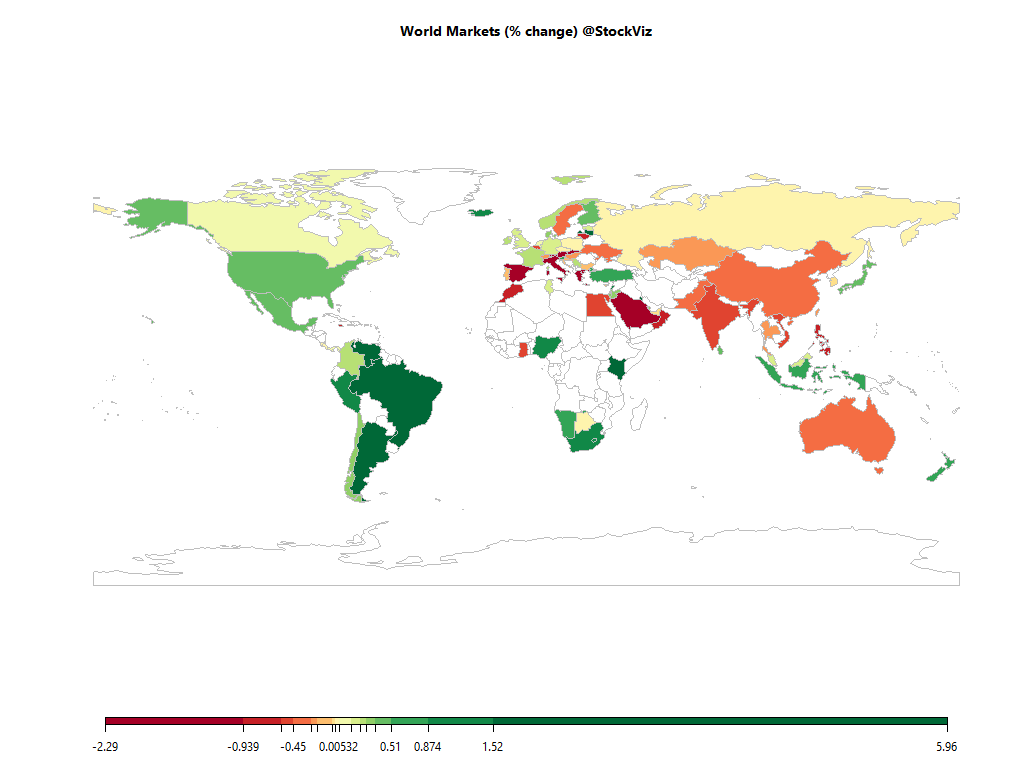 Equities
Commodities
Energy
RBOB Gasoline

+0.13%

Brent Crude Oil

+0.15%

Heating Oil

+0.10%

Natural Gas

+0.07%

Ethanol

+0.00%

WTI Crude Oil

+0.36%
Metals
Gold 100oz

+0.09%

Palladium

+0.00%

Platinum

+0.36%

Copper

+0.44%

Silver 5000oz

+0.11%
Agricultural
Cattle

+0.00%

Lumber

+0.00%

Orange Juice

+0.00%

Coffee (Robusta)

+0.00%

Corn

+0.31%

Cotton

+0.31%

Feeder Cattle

+0.00%

Soybean Meal

+0.58%

Sugar #11

+0.00%

Cocoa

+0.00%

Coffee (Arabica)

+0.00%

Wheat

+0.76%

Lean Hogs

+0.00%

Soybeans

+0.45%

White Sugar

+0.00%
Out of 43 world ETFs listed in NYSE that we track, 22 are trading above their 10-day SMA and 18 are trading above their 50-day SMA.
Must Reads
Take a Rest, Punjab National. You've Done Quite Enough
The financial institution, at the epicenter of a massive fraud allegedly committed by uncle-nephew jeweler duo Mehul Choksi and Nirav Modi, on Tuesday reported a $2 billion loss, the biggest in the history of Indian banking.
You're Not Just Imagining It. Your Job Is Absolute BS
If you voted for Bernie Sanders, have sea-punk green hair, and wear a pin declaring "Capitalism Is the Crisis," you may already be familiar with David Graeber's writings on the takeover of our lives by bulls— jobs.
Check out our Global Macro Dashboard for currency, commodity, bonds and credit charts.
Good luck!