Your world at 9am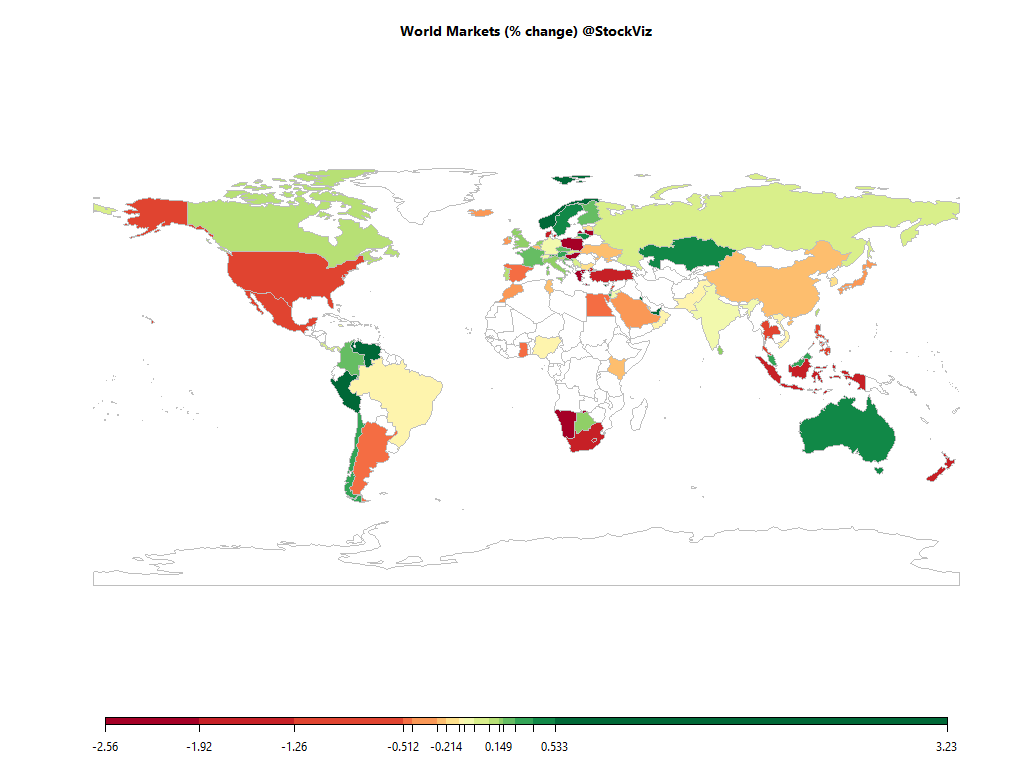 Equities
Commodities
Energy
Brent Crude Oil

-0.28%

Ethanol

+0.00%

Heating Oil

-0.29%

WTI Crude Oil

-0.35%

Natural Gas

-0.42%

RBOB Gasoline

-0.25%
Metals
Copper

+0.00%

Gold 100oz

+0.20%

Silver 5000oz

+0.00%

Platinum

+0.22%

Palladium

-0.60%
Agricultural
White Sugar

+0.00%

Cattle

+0.00%

Cotton

+0.94%

Feeder Cattle

+0.00%

Lumber

+0.00%

Orange Juice

+0.00%

Wheat

+0.20%

Cocoa

+0.00%

Coffee (Robusta)

+0.00%

Soybeans

-0.64%

Sugar #11

+0.00%

Coffee (Arabica)

+0.00%

Corn

+0.00%

Lean Hogs

+0.00%

Soybean Meal

-0.58%
Out of 43 world ETFs listed in NYSE that we track, 34 are trading above their 10-day SMA and 24 are trading above their 50-day SMA.
Must Reads
Satellite data strongly suggests that China, Russia and other authoritarian countries are fudging their GDP reports
China, Russia and other authoritarian countries inflate their official GDP figures by anywhere from 15 to 30 percent in a given year, according to a new analysis of a quarter-century of satellite data. The working paper, by Luis R.
Fired-Up Coal Rivals Oil's Rise
Crude oil isn't the only fuel on a hot streak right now. U.S. export prices for electricity-generating coal have surged by 16% in the past four weeks, according to S&P Global Platts–a period that is traditionally a seasonal lull in energy markets.
Why Blockchain is Hard
The hype around blockchain is massive. To hear the blockchain hype train tell it, blockchain will now:
18 Chart Crimes and Misdemeanors
Truth is relative, falsehoods are seductive, and shortcuts are commonplace. Chart crimes are a clear manifestation of this. These badly built graphics are blunders at best.
What The 200 Day Moving Average Does & Does Not Tell You
Trend-following is a strategy that got a lot of attention following the financial crisis. It's something my views have evolved on over the years. There are a lot of misconceptions out there about what the typical trend-following signals actually mean.
The Business of Artificial Intelligence
For more than 250 years the fundamental drivers of economic growth have been technological innovations. The most important of these are what economists call general-purpose technologies — a category that includes the steam engine, electricity, and the internal combustion engine.
With Inflation Punching Above Its Weight, HSBC Now Sees Two Rates Hikes In 2018
A rise in core inflation. Higher oil prices. A weaker rupee. A pick up in growth. The list of factors giving India's Monetary Policy Committee (MPC) enough reason to raise rates is expanding.
Check out our Global Macro Dashboard for currency, commodity, bonds and credit charts.
Good luck!