Your world at 9am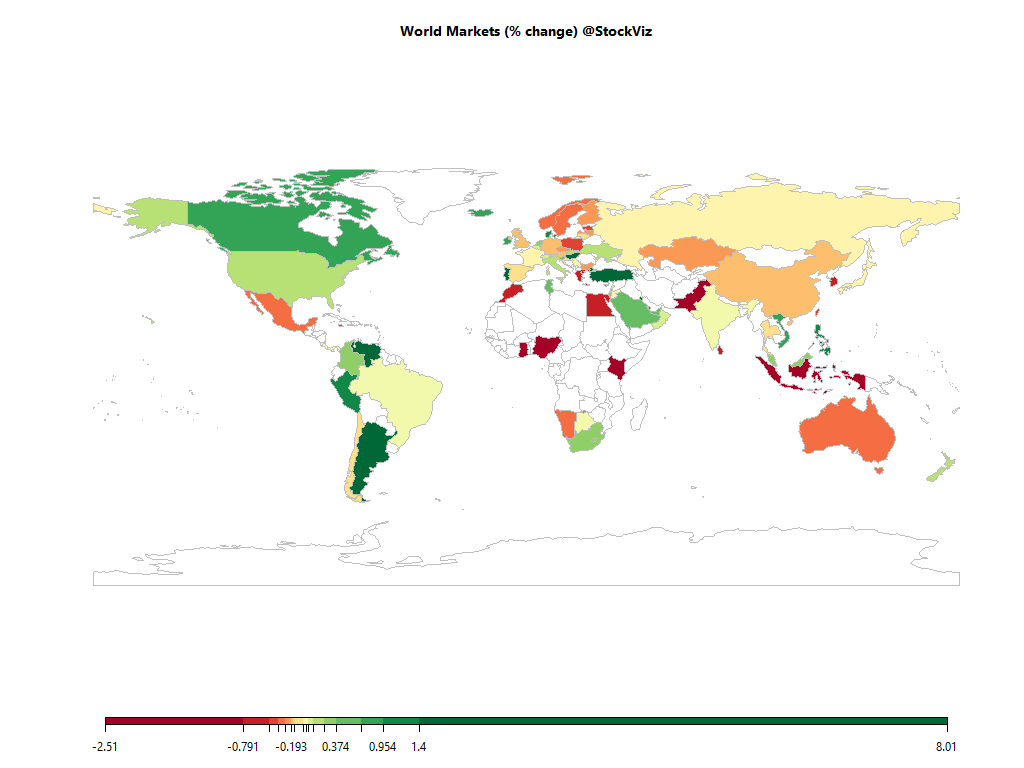 Equities
Commodities
Energy
Heating Oil

-0.04%

Brent Crude Oil

+0.01%

WTI Crude Oil

+0.03%

Ethanol

+0.00%

Natural Gas

-0.28%

RBOB Gasoline

-0.11%
Metals
Palladium

-0.51%

Platinum

-0.24%

Silver 5000oz

+0.00%

Copper

-0.11%

Gold 100oz

+0.00%
Agricultural
Lumber

+0.00%

Orange Juice

+0.00%

Soybeans

+0.00%

Feeder Cattle

+0.00%

White Sugar

+0.00%

Cocoa

+0.00%

Coffee (Arabica)

+0.00%

Coffee (Robusta)

+0.00%

Corn

+0.00%

Cotton

+0.35%

Lean Hogs

+0.00%

Soybean Meal

+0.00%

Cattle

+0.00%

Sugar #11

+0.00%

Wheat

+0.00%
Out of 43 world ETFs listed in NYSE that we track, 34 are trading above their 10-day SMA and 24 are trading above their 50-day SMA.
Must Reads
They couldn't have known
The thing very few people tell you about "overvalued" markets is that, occasionally, the fundamentals arrive to justify them. Later, of course, which is how risk takers are compensated for owning stocks selling at a higher than normal multiple.
Three Casualties Of A Recent SEBI Diktat: FPIs, NRIs And Indian Investment Managers
Bloomberg | Quint is a multiplatform, Indian business and financial news company.
It's COBOL all the way down
Before the term "information technology" existed to label the field, learning COBOL (Common Business Oriented Language) was the only sure way to ensure a lifelong career in IT.
Breakingviews – India Insight: Narendra Modi has lost the boardroom
MUMBAI (Reuters Breakingviews) – Three terms. There was no shortage of bollygarchs and financiers insisting that India's Narendra Modi would win re-election to the prime minister's office twice more after he swept to power in 2014.
Walmart-Flipkart: Young Entrepreneurs' Pride, Government's Shame

Check out our Global Macro Dashboard for currency, commodity, bonds and credit charts.
Good luck!