Your world at 9am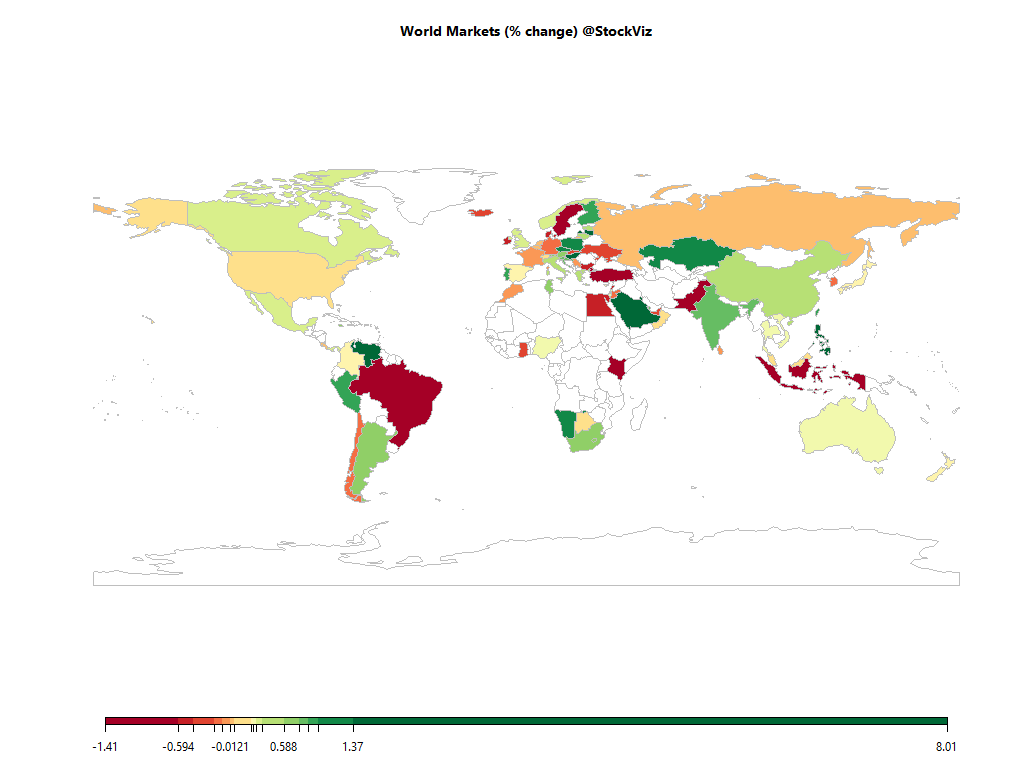 Equities
Commodities
Energy
Ethanol

-0.61%

RBOB Gasoline

-0.60%

WTI Crude Oil

-0.33%

Brent Crude Oil

-0.48%

Heating Oil

-0.27%

Natural Gas

+0.32%
Metals
Gold 100oz

+0.00%

Platinum

+0.13%

Copper

+0.00%

Palladium

+0.58%

Silver 5000oz

+0.00%
Agricultural
Feeder Cattle

-0.18%

Lumber

+1.16%

Orange Juice

-0.06%

White Sugar

+0.00%

Cattle

+0.00%

Corn

-0.32%

Soybeans

+0.00%

Lean Hogs

-0.23%

Soybean Meal

-1.69%

Sugar #11

-0.53%

Cocoa

+0.00%

Coffee (Arabica)

-1.03%

Coffee (Robusta)

+0.00%

Cotton

-0.06%

Wheat

+0.00%
Out of 43 world ETFs listed in NYSE that we track, 32 are trading above their 10-day SMA and 25 are trading above their 50-day SMA.
Must Reads
The crypto alternative
Suppose, just for a moment, just for argument's sake, that (some) cryptocurrencies are not a giant scam, and what's more, they're not just another kind of financial asset. Come on. Don't look at me like that. Work with me here.
Opinion: The surprising reason stock-market investors on higher floors take more risks
Stocks have been on a bumpy ride lately as concerns over a trade war prompt investors to rethink their appetite for risk. But what prompts people to take risks in the first place? A desire for wealth? Fear of failure? Personality?Gender?Age? Education? Race?
Reliance Jio's Rs 199 post plan likely to trigger tariff war: Experts
NEW DELHI: The new post-paid Rs 199 plan announced by is expected to hit revenue of competitors marginally and may trigger tariff war in the segment, according to market analysts.
Nobody Planned This, Nobody Expected It
The Battle of Stalingrad was the largest battle in history. With it came equally superlative stories of how people dealt with risk. One came in late 1942, when a German tank unit sat in reserve on grasslands outside the city.
Check out our Global Macro Dashboard for currency, commodity, bonds and credit charts.
Good luck!