Your world at 9am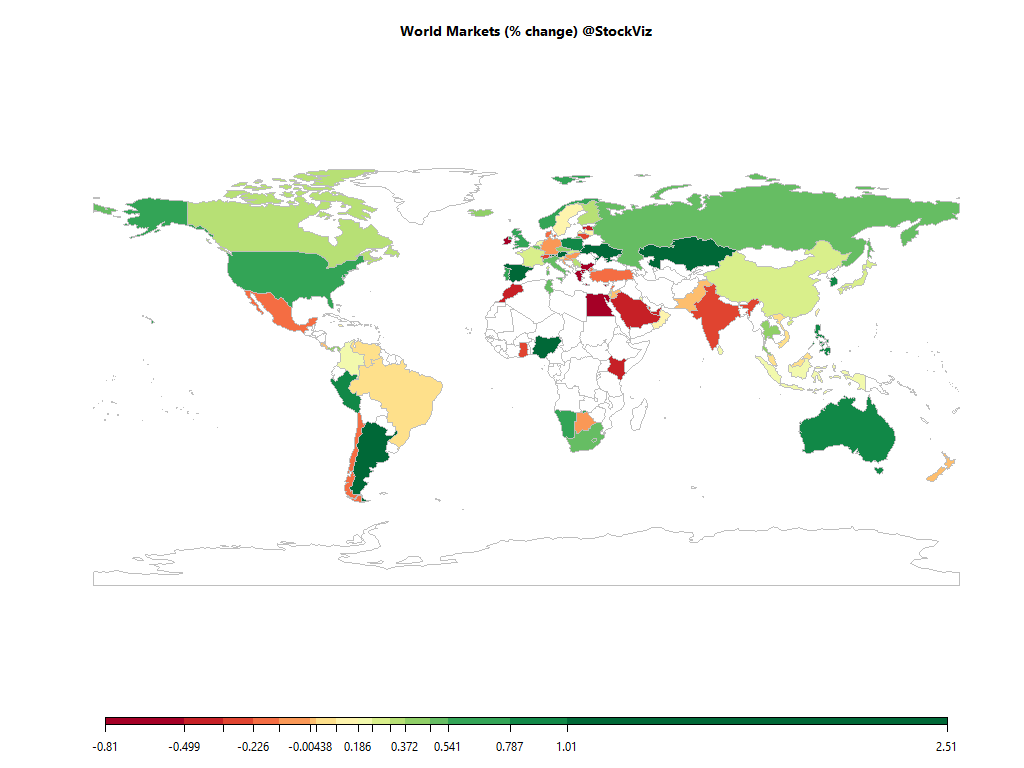 Equities
Commodities
Energy
RBOB Gasoline

+0.77%

Brent Crude Oil

-0.18%

Ethanol

+0.00%

Natural Gas

-0.68%

WTI Crude Oil

-0.16%

Heating Oil

+0.12%
Metals
Platinum

+0.04%

Palladium

+0.09%

Copper

+0.00%

Silver 5000oz

+0.05%

Gold 100oz

-0.18%
Agricultural
Coffee (Arabica)

+0.00%

Cotton

+0.00%

Lean Hogs

+0.00%

Soybeans

+0.15%

Wheat

+0.45%

Soybean Meal

+0.00%

Cocoa

+0.00%

Coffee (Robusta)

+0.00%

Corn

+0.29%

Sugar #11

+0.00%

White Sugar

+0.00%

Cattle

+0.00%

Feeder Cattle

+0.00%

Lumber

+0.00%

Orange Juice

+0.00%
Out of 43 world ETFs listed in NYSE that we track, 36 are trading above their 10-day SMA and 31 are trading above their 50-day SMA.
Must Reads
What If High Stock Values Revert to Normal Levels?
There may be many reasons to worry about the current record price levels of U.S. equities, but agonizing over the fallout from valuations reverting back to their historical averages should not in itself be high on the list.
Mergers and acquisitions often disappoint
WHEN you are the chief executive of a public company, the temptation to opt for a merger or acquisition is great indeed. Many such bosses may get a call every week or so from an investment banker eager to offer the kind of deal that is sure to boost profits.
Labour repression & the Indo-Japanese divergence
There used to be more research and debate on the negative effects of labour resistance on economic development, but that topic has been crowded out by the intense focus on inequality of recent years.
Check out our Global Macro Dashboard for currency, commodity, bonds and credit charts.
Good luck!