Your world at 9am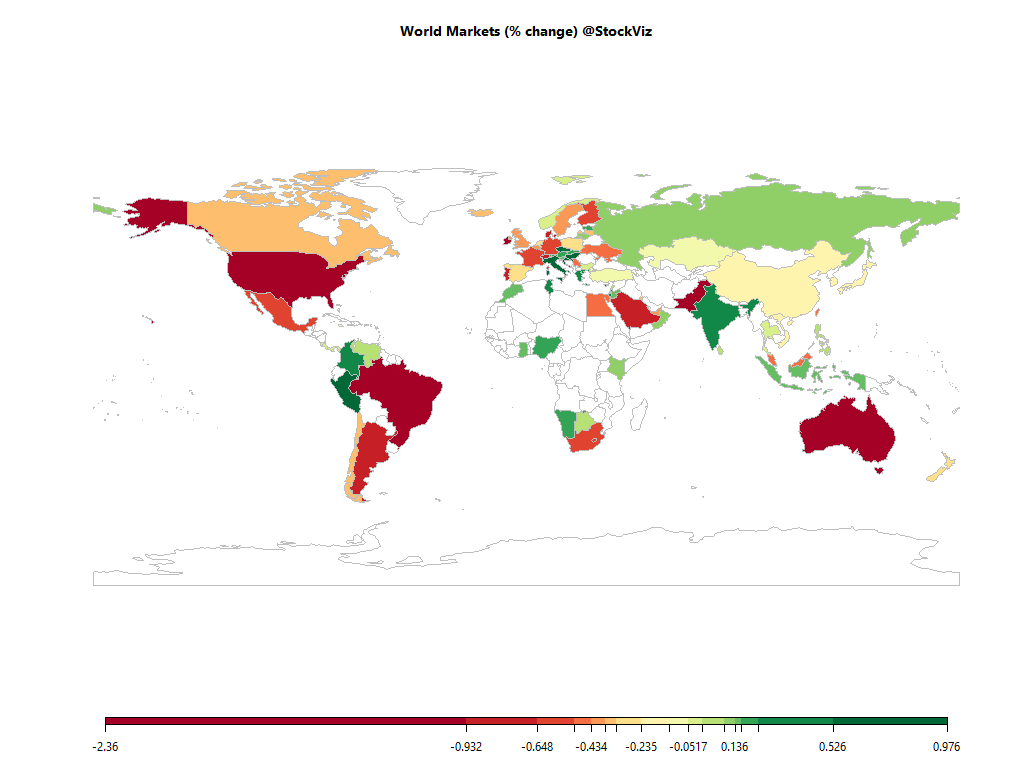 Equities
Commodities
Energy
Heating Oil

-1.23%

Natural Gas

+0.10%

RBOB Gasoline

-1.18%

WTI Crude Oil

-1.23%

Brent Crude Oil

-1.21%

Ethanol

+0.00%
Metals
Palladium

+0.03%

Gold 100oz

-0.38%

Platinum

-0.22%

Silver 5000oz

-1.14%

Copper

+0.00%
Agricultural
Cotton

+0.00%

Soybean Meal

+0.00%

Coffee (Arabica)

+0.00%

Corn

+0.00%

Lumber

+0.00%

Soybeans

+0.00%

White Sugar

+0.00%

Cocoa

+0.00%

Coffee (Robusta)

+0.00%

Wheat

-0.63%

Cattle

+0.00%

Feeder Cattle

+0.00%

Lean Hogs

+0.00%

Orange Juice

+0.00%

Sugar #11

+0.00%
Out of 43 world ETFs listed in NYSE that we track, 14 are trading above their 10-day SMA and 24 are trading above their 50-day SMA.
Must Reads
Who would buy Air India?
A FAMOUS brand in the world's fastest-growing aviation market, sitting on valuable slots at international airports and able to borrow cheaply thanks to being state-owned: Air India ought to be hugely profitable.
Essar Steel v. RBI: What lies ahead?
The Banking Regulation (Amendment) Ordinance, 2017 recently empowered RBI to issue directions to banks for resolution of stressed assets.
The American housewives who sought freedom in Soviet Russia
In the summer of 1922, Ruth Epperson Kennell, a children's librarian, left New York City for the far reaches of Siberia. She travelled with her husband Frank and 132 other 'pioneers'.
Robots employment-augmenting rather than employment-reducing
Robots are everywhere in the media again. In February 2017 The New York Times Magazine published an article titled, "Learning to Love Our Robot Co-workers" (Tingley 2017). An article in The Washington Post in March 2017 warned, "We're So Unprepared for the Robot Apocalypse" (Guo 2017).
Check out our Global Macro Dashboard for currency, commodity, bonds and credit charts.
Good luck!