Your world at 9am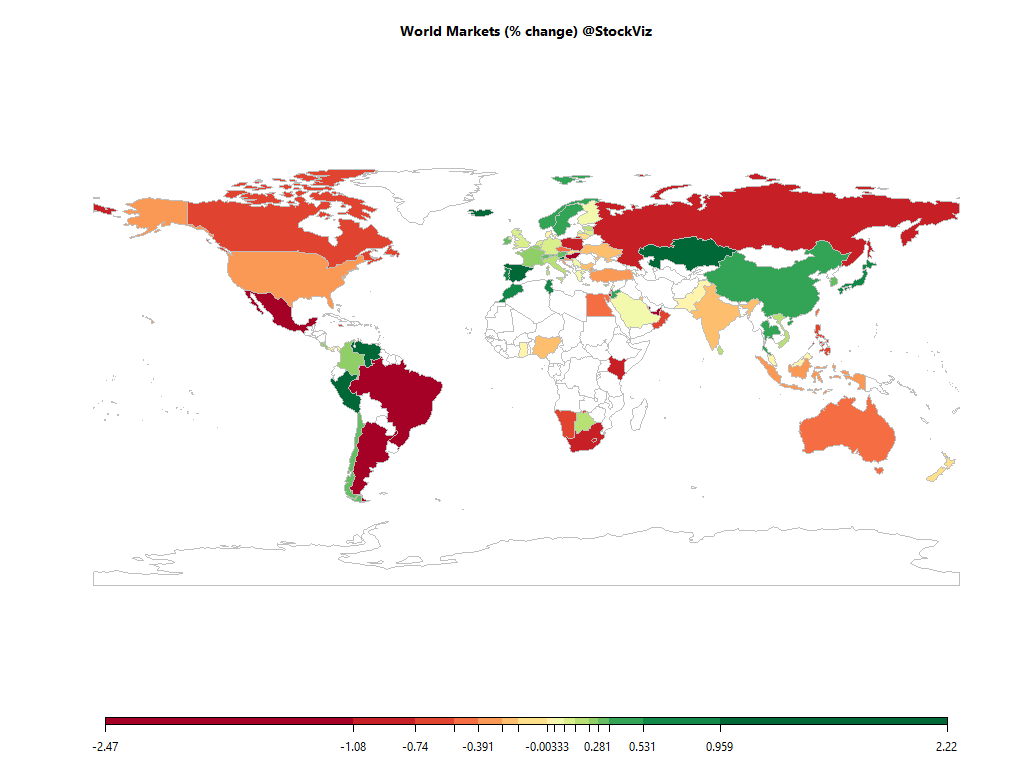 Equities
Commodities
Energy
Heating Oil

+0.15%

RBOB Gasoline

-0.66%

Ethanol

+0.00%

Natural Gas

-0.25%

Brent Crude Oil

+0.27%

WTI Crude Oil

+0.20%
Metals
Copper

+0.94%

Silver 5000oz

-0.57%

Gold 100oz

-0.65%

Palladium

+0.30%

Platinum

-0.46%
Agricultural
Cattle

+0.00%

Cocoa

+0.00%

Feeder Cattle

+0.00%

Orange Juice

+0.00%

Sugar #11

+0.00%

Wheat

-0.12%

Corn

+0.27%

Cotton

+0.00%

Soybean Meal

+0.66%

Soybeans

+0.76%

Coffee (Arabica)

+0.00%

Lean Hogs

+0.00%

Lumber

+0.00%

Coffee (Robusta)

+0.00%

White Sugar

+0.00%
Out of 42 world ETFs listed in NYSE that we track, 6 are trading above their 10-day SMA and 30 are trading above their 50-day SMA.
Must Reads
A Brief History of Existential Terror
This is a guest post by Taylor Pearson. The healthy state of humans is mild existential terror. In Frankl's words, "a certain degree of tension."
The Demand and Supply of Fines and Corruption
"Corruption is one big pain point in the economic growth of a country. I have this funny idea but would like your inputs from an economists perspective. If things get costly it reduces its demand. Can corruption be made costly? This may increase compliance. Just to illustrate.
Core sector growth slows down to 3.4% in January
NEW DELHI: The growth of eight core sectors slowed down to a five-month low of 3.4 per cent in January mainly due to contraction in output of refinery products, fertiliser and cement.
GDP growth rate plays down note ban worry, 7% growth recorded in Q3
For a country that saw 86 percent of its currency sucked out overnight, India's economy is surprisingly resilient. India's Gross Domestic Product (GDP) grew at a rate of 7% in the October-December quarter of the fiscal year 2016-17 after factoring in the note ban impact. GDP growth was 7.
India's Slow-Motion Bank Crisis
Your browser is no longer supported. You can still use the site, but some features may not work as expected. Please consider upgrading to one of the following browsers. Chrome, Firefox, Safari, Opera or Edge / Internet Explorer. The government hasn't set aside enough to recapitalize banks.
Check out our Global Macro Dashboard for currency, commodity, bonds and credit charts.
Good luck!