Your world at 9am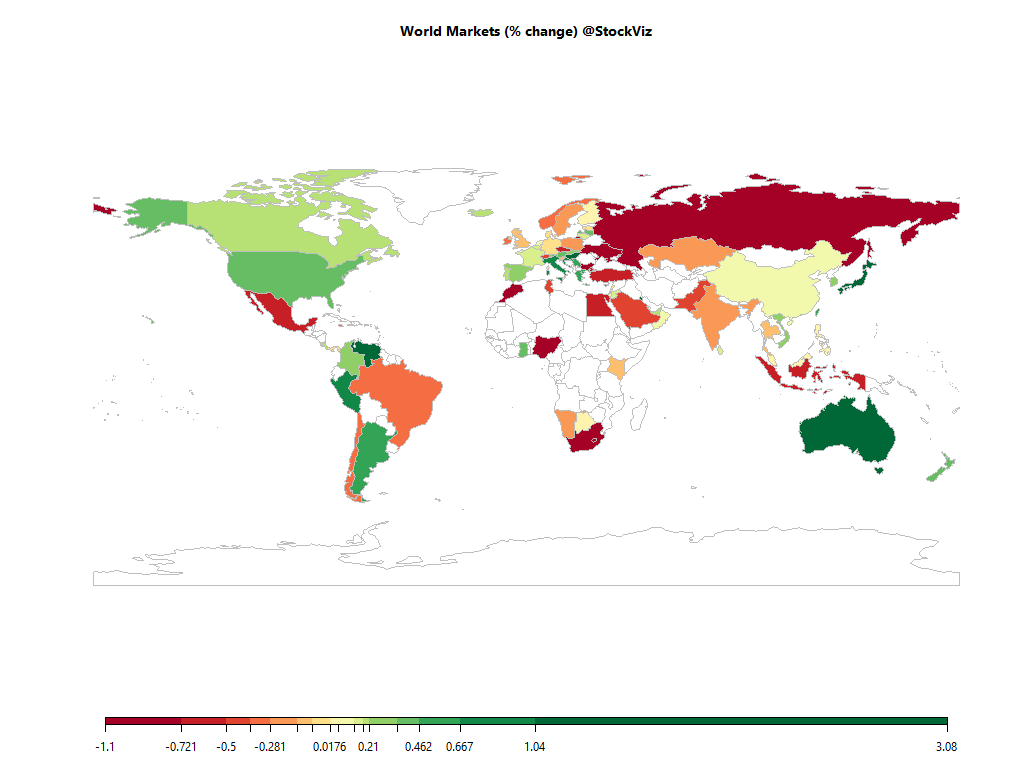 Equities
Commodities
Energy
Brent Crude Oil

-0.66%

RBOB Gasoline

-0.63%

Ethanol

+0.00%

Natural Gas

+1.45%

Heating Oil

-0.73%

WTI Crude Oil

-0.77%
Metals
Silver 5000oz

+0.00%

Gold 100oz

+0.00%

Palladium

-0.12%

Copper

+0.00%

Platinum

+0.07%
Agricultural
Coffee (Robusta)

+0.00%

Lean Hogs

+0.00%

Orange Juice

+0.00%

White Sugar

+0.00%

Cattle

+0.00%

Cocoa

+0.00%

Lumber

+0.00%

Soybeans

+0.12%

Corn

+0.00%

Soybean Meal

-0.03%

Coffee (Arabica)

+0.00%

Cotton

-0.03%

Feeder Cattle

+0.00%

Sugar #11

+0.00%

Wheat

+0.44%
Out of 42 world ETFs listed in NYSE that we track, 34 are trading above their 10-day SMA and 37 are trading above their 50-day SMA.
Must Reads
TRAI readies public wifi rules; pricing at two paise per MB
The Telecom Regulatory Authority of India (TRAI) will submit its recommendations on public WiFi networks this week, Ram Sewak Sharma, the chairman of the regulatory body, said in an interview with FactorDaily.
Traders are out, computer engineers are in, as Goldman Sachs goes digital
Startup ZestFinance says it has built a machine-learning system that's smart enough to find new borrowers and keep bias out of its credit analysis.
Blockchain enthusiasts crave a world without bankers, lawyers or fat-cat executives. There's just one problem: trust
On 20 July 2016, something happened that was arguably the most philosophically interesting event to take place in your lifetime or mine.
National Pharmaceutical Pricing Authority slashes stent prices by up to 85%
The National Pharmaceutical Pricing Authority on Monday fixed the ceiling price of drug eluting stents (DES) and bioresorbable stents at Rs 30,000 and that of bare metal stents at Rs 7,500. The prices will be effective from notification on February 14.
Check out our Global Macro Dashboard for currency, commodity, bonds and credit charts.
Good luck!