Your world at 9am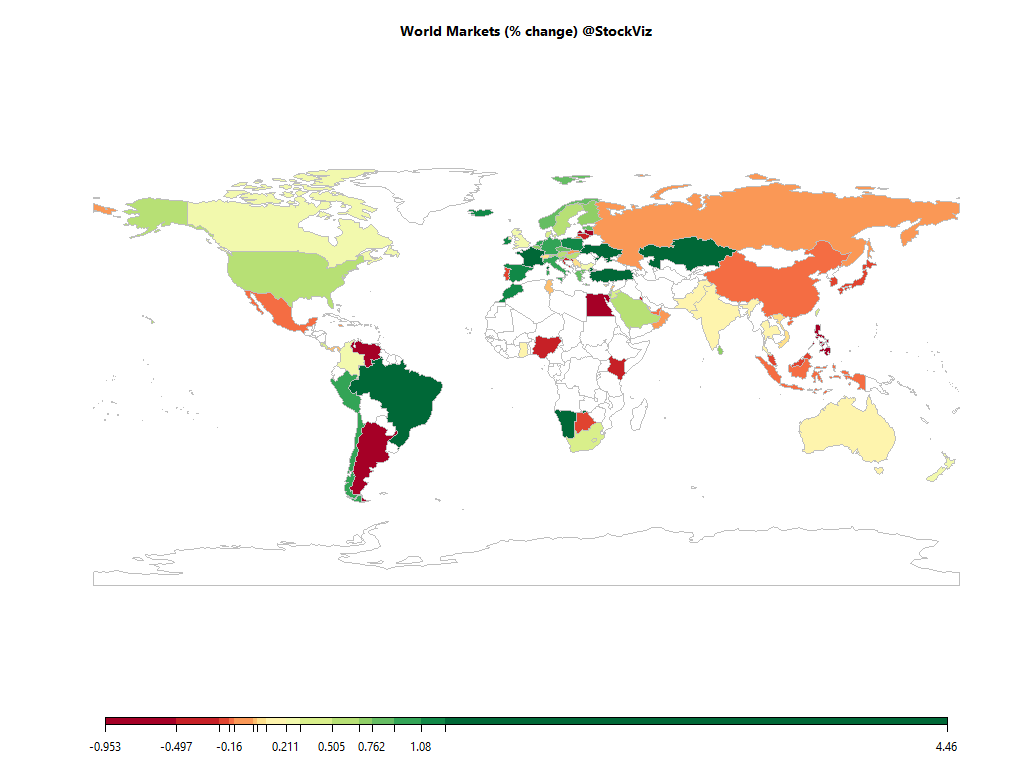 Equities
Commodities
Energy
Heating Oil

+0.26%

RBOB Gasoline

+0.25%

Ethanol

+0.00%

WTI Crude Oil

+0.36%

Brent Crude Oil

+0.41%

Natural Gas

-0.99%
Metals
Gold 100oz

+0.00%

Platinum

-0.05%

Silver 5000oz

+0.00%

Copper

+0.00%

Palladium

-0.03%
Agricultural
Coffee (Arabica)

+0.00%

Cotton

-0.47%

Wheat

-0.22%

White Sugar

+0.00%

Coffee (Robusta)

+0.00%

Feeder Cattle

+0.00%

Lean Hogs

+0.00%

Cattle

+0.00%

Cocoa

+0.00%

Corn

-0.33%

Lumber

+0.00%

Soybean Meal

-0.55%

Orange Juice

+0.00%

Soybeans

-0.43%

Sugar #11

+0.00%
Out of 42 world ETFs listed in NYSE that we track, 35 are trading above their 10-day SMA and 38 are trading above their 50-day SMA.
Must Reads
India Coal Deal Risks Burning Investors' Fingers
Fancy a truckload of the world's biggest coal miner? New Delhi is planning to sell a 10 percent stake in Coal India Ltd., the Economic Times reported Monday, without saying where it got the information. Such a deal could be worth about 197 billion rupees ($2.
Learning to frack
Technological advances and learning-by-doing have made U.S. shale oil profitable even at $55/barrel. Just 10 years ago, shale oil was expensive. Global oil prices spiked to $135/barrel in 2008 but shale oil didn't and couldn't respond. Now, at only $55/barrel, U.S.
Why the U.S. Could Suffer Deeper Economic Shock Than China in a Trade War

Bank of Baroda's Q3 equity capital shrinks on reinterpretation of RBI rules
Bank of Baroda (BoB), whose common equity tier I capital shrunk by Rs 3,517 crore in Q3 on re-interpretation of Reserve Bank of India (RBI) rules, will explore qualified institutional placement (QIP) to raise equity resources for growing business.
Check out our Global Macro Dashboard for currency, commodity, bonds and credit charts.
Good luck!