Your world at 9am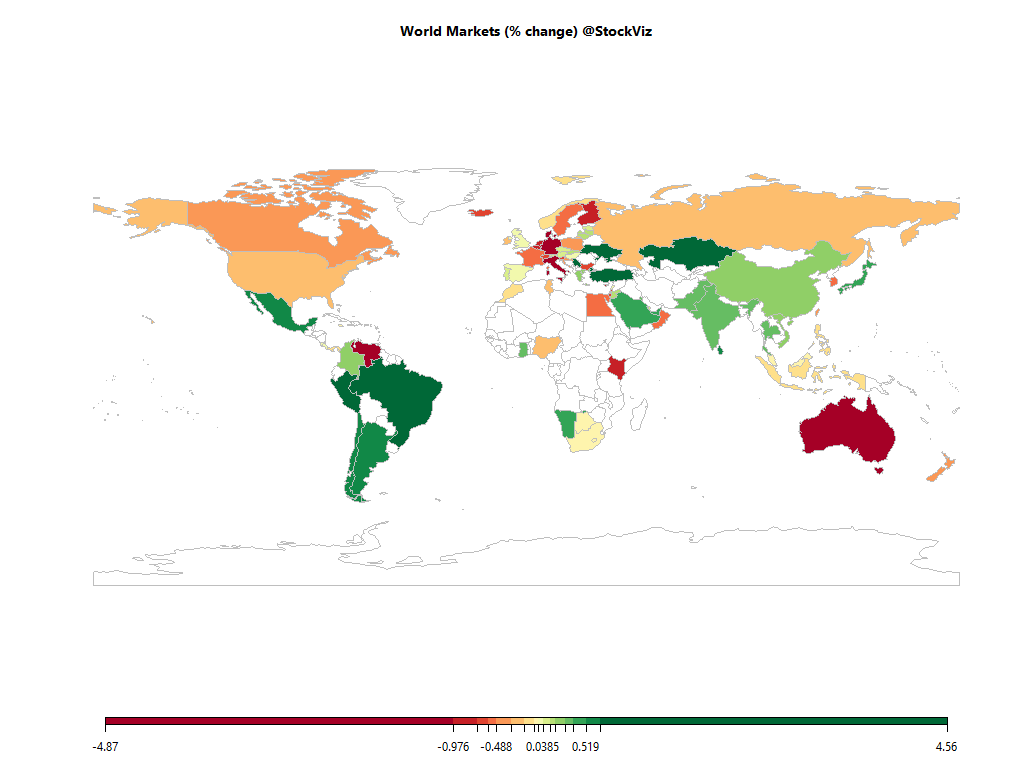 Equities
Commodities
Energy
RBOB Gasoline

+0.33%

Brent Crude Oil

+0.16%

Heating Oil

+0.11%

Ethanol

+0.00%

Natural Gas

+0.95%

WTI Crude Oil

+0.17%
Metals
Copper

+0.00%

Palladium

-1.21%

Platinum

-1.04%

Silver 5000oz

+0.00%

Gold 100oz

+0.00%
Agricultural
Coffee (Arabica)

+0.00%

Cotton

-0.25%

Feeder Cattle

+0.00%

Lean Hogs

+0.00%

Orange Juice

+0.00%

White Sugar

+0.00%

Cattle

+0.00%

Cocoa

+0.00%

Soybean Meal

+0.00%

Coffee (Robusta)

+0.00%

Corn

-0.28%

Lumber

+0.00%

Soybeans

-0.24%

Sugar #11

+0.00%

Wheat

-0.12%
Out of 42 world ETFs listed in NYSE that we track, 38 are trading above their 10-day SMA and 37 are trading above their 50-day SMA.
Must Reads
How State-Sponsored Blackmail Works in Russia
In January 1999, Prosecutor General Yury Skuratov was summoned to the Kremlin by then-President Boris Yeltsin's chief of staff, who showed him a videotape of "a man who looked like" Skuratov frolicking in bed with two prostitutes.
H-1B Visa Curbs Coming Soon, Promises Trump's Pick For Attorney General
Washington: US President-elect Donald Trump's nominee for the post of Attorney General has assured lawmakers of taking steps towards pushing legislative measures to curb misuse of H-1B and L1 work visas, significantly used by Indian IT professionals. "We have borders.
What is the Best Stock Valuation Ratio?
Value investors use a number of ratios to assess whether a stock is cheap.  Everyone has their favorite.  Everyone debates the merits of one versus the other.
Check out our Global Macro Dashboard for currency, commodity, bonds and credit charts.
Good luck!