Your world at 9am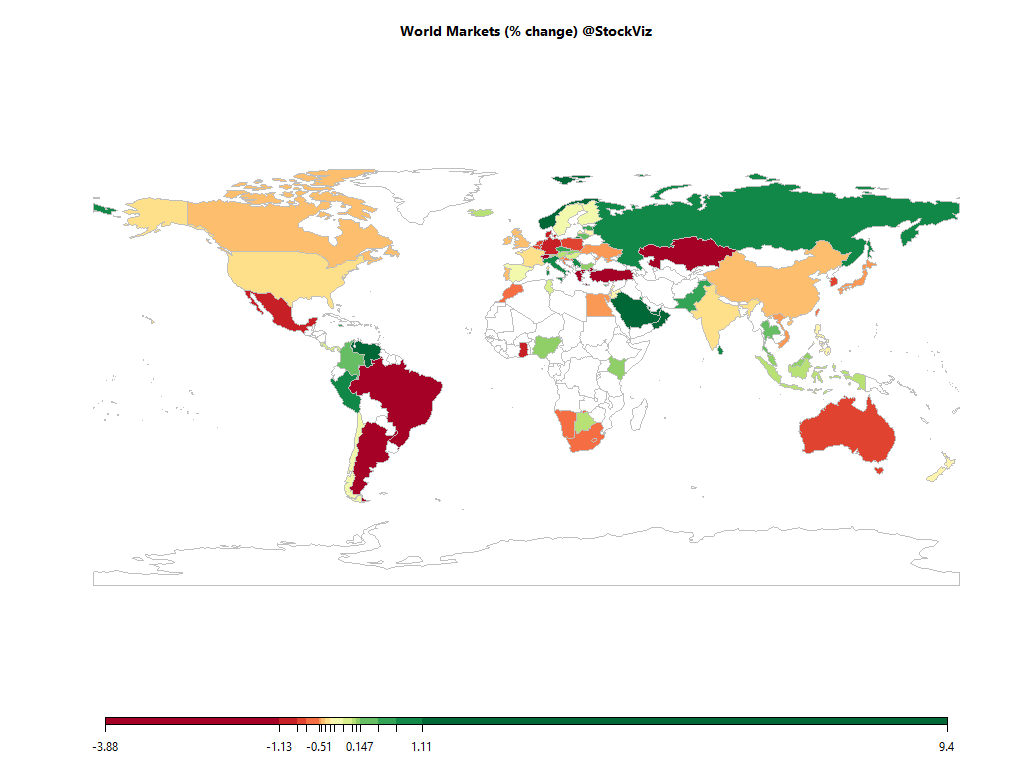 Equities
Commodities
Energy
Heating Oil

-0.40%

Brent Crude Oil

-0.70%

Ethanol

+0.00%

Natural Gas

+1.00%

RBOB Gasoline

-0.70%

WTI Crude Oil

-0.37%
Metals
Gold 100oz

+0.57%

Palladium

+0.77%

Platinum

+0.65%

Silver 5000oz

+1.30%

Copper

-0.70%
Agricultural
Corn

+0.30%

Cotton

+0.00%

Orange Juice

+0.00%

White Sugar

+0.00%

Cattle

+0.00%

Cocoa

+0.00%

Feeder Cattle

+0.00%

Soybean Meal

+0.03%

Soybeans

+0.07%

Sugar #11

+0.00%

Wheat

+0.34%

Coffee (Arabica)

+0.00%

Coffee (Robusta)

+0.00%

Lean Hogs

+0.00%

Lumber

+0.00%
Out of 42 world ETFs listed in NYSE that we track, 21 are trading above their 10-day SMA and 13 are trading above their 50-day SMA.
Must Reads
Treasury yields are spiking ahead of Friday's jobs report

China's Central Bank Is Facing a Major New Headache
People's Bank of China Governor Zhou Xiaochuan already has one policy headache with the currency falling to near an eight-year low. He could have an even bigger one next month.
The dire consequences of India's demonetisation initiative
SUPPOSE that one day the government of a large and fast-growing economy became convinced that its highest priority was to purge the country of black-economy millionaires hoarding piles of illicit cash.
Exclusive: Indian government officials propose break up of Coal India-sources
NEW DELHI Senior Indian government officials tasked by the prime minister with reviewing energy security are recommending the break up of the country's coal monopoly, Coal India Ltd (COAL.NS), within a year.
Global Bonds Suffer Worst-Ever Meltdown as Bull Market Shows Age
The 30-year-old bull market in bonds looks to be ending with a bang. The Bloomberg Barclays Global Aggregate Total Return Index lost 4 percent in November, the deepest slump since the gauge's inception in 1990. Gathering U.S.
Modi is running away with the game
Narendra Modi has grabbed the ball and is running with it while the Opposition seems absolutely clueless. In the three weeks since November 8, the Prime Minister has wrested the initiative even as the Opposition has been focussed on disrupting Parliament.
The U.K.'s Industrial Policy Is Bound to Backfire
Industrial Strategy is making a comeback. One of Theresa May's first acts as prime minister was to create a new "Department for Business, Energy and Industrial Strategy." That may sound impressive, but history is littered with equally well-intentioned but unsuccessful industrial strategies.
Check out our Global Macro Dashboard for currency, commodity, bonds and credit charts.
Good luck!