Your world at 9am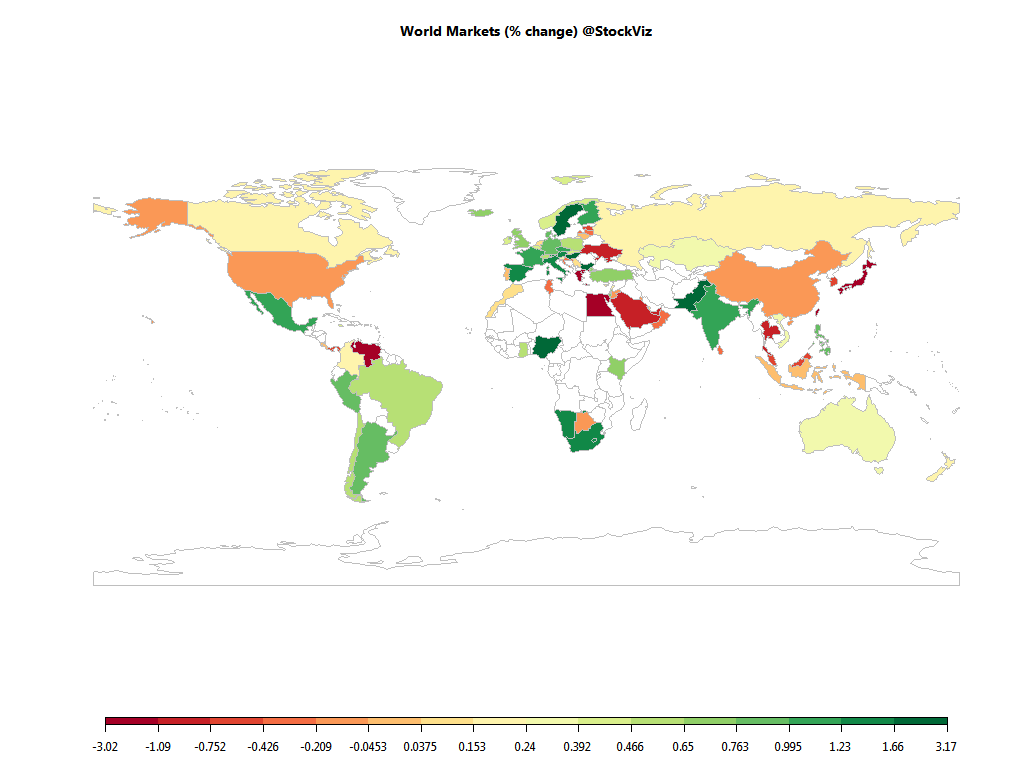 Equities
Commodities
Energy
Ethanol

-0.41%

Natural Gas

+0.12%

Brent Crude Oil

-0.63%

Heating Oil

-0.53%

RBOB Gasoline

-0.37%

WTI Crude Oil

-0.90%
Metals
Copper

+0.00%

Gold 100oz

+1.10%

Silver 5000oz

+1.03%

Palladium

+0.77%

Platinum

+1.03%
Agricultural
Coffee (Robusta)

+0.00%

Orange Juice

+0.00%

Soybeans

-0.80%

Sugar #11

+0.00%

Cocoa

+0.00%

Corn

-0.87%

Wheat

-0.42%

White Sugar

+0.00%

Coffee (Arabica)

+0.00%

Cotton

+0.02%

Lean Hogs

+0.00%

Soybean Meal

-1.01%

Cattle

+0.00%

Feeder Cattle

+0.00%

Lumber

+0.00%
Credit Indices
| Index | Change |
| --- | --- |
| Markit CDX EM | -0.25% |
| Markit CDX NA HY | -0.23% |
| Markit CDX NA IG | +2.43% |
| Markit iTraxx Asia ex-Japan IG | +3.14% |
| Markit iTraxx Australia | +3.59% |
| Markit iTraxx Europe | +6.53% |
| Markit iTraxx Europe Crossover | +25.73% |
| Markit iTraxx Japan | +0.42% |
| Markit MCDX (Municipal CDS) | +0.34% |
Out of 42 world ETFs listed in NYSE that we track, 2 are trading above their 10-day SMA and 7 are trading above their 50-day SMA.
Also, there were 18 sigma events over the last 24 hours. Details
here
.
Must Reads
Machines Beat Humans in Hedge Fund Quest to Time Market Bottom
In a historically bad year for hedge funds, one of their close relatives is thriving. Computer-driven quants, which pick shares based on factors like momentum and size, have been the only hedge fund category to buy additional stock in 2016, data from Credit Suisse Group AG show.
Modi govt disinvestment drive: Cabinet puts 10% of Hudco on block
The Cabinet on Wednesday approved a 10% disinvestment in Housing and Urban Development Corporation (Hudco) through an initial public offer, telecom minister Ravi Shankar Prasad said. Currently, the government owns 100% in the company, which has a paid-up capital of Rs 2,090 crore, Prasad said.
Civil aviation policy: AirAsia, Vistara biggest beneficiaries of 5/20 rule change
MUMBAI: The much-awaited civil aviation policy was met with much cheer in the industry although some said it should have gone the extra mile on easing international flying rules instead of replacing it with another and that some issues like an independent civil aviation authority were not addressed.
Investors Solidify Views on a Slow-Go Fed
Federal Reserve officials in aggregate still expect to raise rates twice this year, but more officials than before see just one increase. That's the takeaway from the central bank's economic dot plot of interest-rate projections, which it updates once every three months.
Fed guidance sends 10-year yields to 3-year low
10 Things I Believe About Investing
1. I believe simple beats complex, but simple is much harder to implement because complex will always sound more intelligent and feel more comfortable to buy into. 2.
Squandering India's Greatest Opportunity
"There is a tide in the affairs of men. Which, taken at the flood, leads on to fortune . . ." Shakespeare used the sailing metaphor of tides for what in modern terminology we call "a window of opportunity" or " an inflection point".
Good luck!