Your world at 9am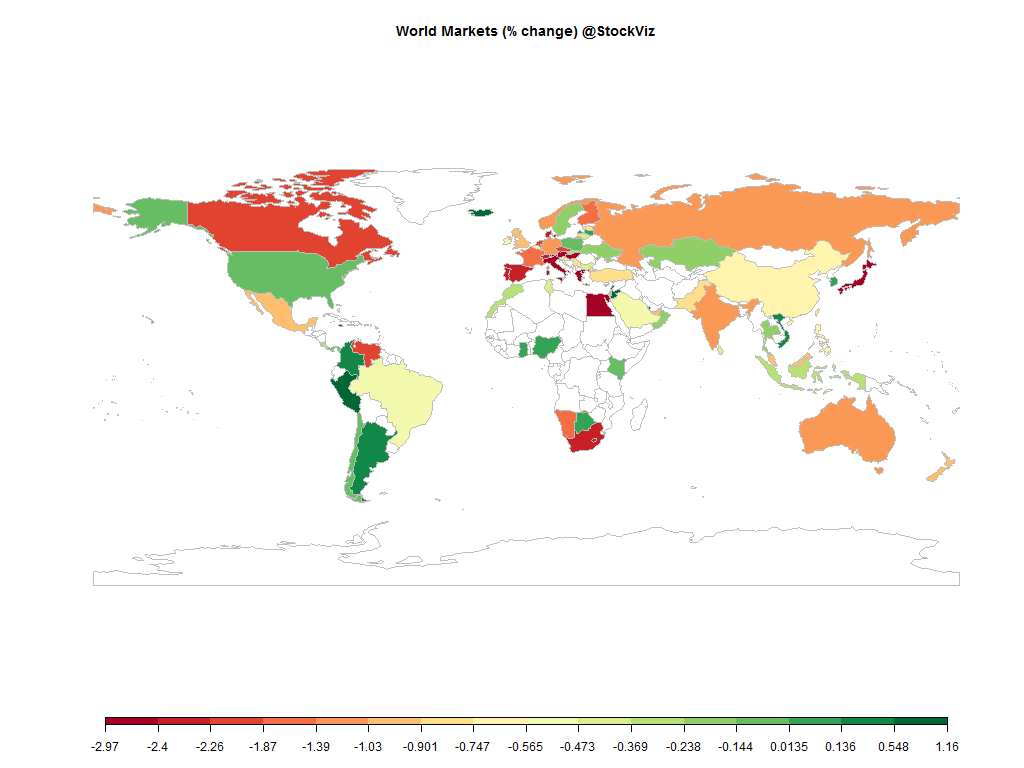 Equities
Commodities
Energy
Ethanol

+0.00%

Natural Gas

+0.10%

Brent Crude Oil

+2.31%

Heating Oil

+1.47%

RBOB Gasoline

+1.16%

WTI Crude Oil

+1.90%
Metals
Platinum

-0.67%

Gold 100oz

-0.55%

Copper

+0.00%

Palladium

+0.18%

Silver 5000oz

+0.00%
Agricultural
Cattle

+0.00%

Sugar #11

+0.00%

Cocoa

+0.00%

Coffee (Arabica)

+0.00%

Corn

+0.00%

Lean Hogs

+0.00%

Coffee (Robusta)

+0.00%

Cotton

-0.43%

Orange Juice

+0.00%

Soybeans

-0.09%

Wheat

-0.05%

Feeder Cattle

+0.00%

Lumber

+0.00%

Soybean Meal

-0.15%

White Sugar

+0.00%
Credit Indices
| Index | Change |
| --- | --- |
| Markit CDX EM | -0.45% |
| Markit CDX NA HY | -0.88% |
| Markit CDX NA IG | +5.72% |
| Markit iTraxx Asia ex-Japan IG | +0.00% |
| Markit iTraxx Australia | +2.97% |
| Markit iTraxx Europe | +11.58% |
| Markit iTraxx Europe Crossover | +37.32% |
| Markit iTraxx Japan | +2.57% |
| Markit MCDX (Municipal CDS) | +3.34% |
Out of 42 world ETFs listed in NYSE that we track, only 9 are trading above their 10-day SMA and 10 are trading above their 50-day SMA.
Must reads
Just six weeks into 2016, Goldman Sachs has abandoned five of six recommended top trades for the year. (Bloomberg)
RBI panel recommends the introduction of both over-the-counter (OTC) and exchange-traded options. (LiveMint, #rates)
"A month ago the focus was China, then oil, then the prospect of US recession, now it is European financial companies."(FT)
Europe: from "butter mountains" and "wine lakes" to "oil caves?" (WB)
Why, in the entire history of human life, did awesomeness become the great virtue of our age? (Aeon)
Good luck!