Your world at 9am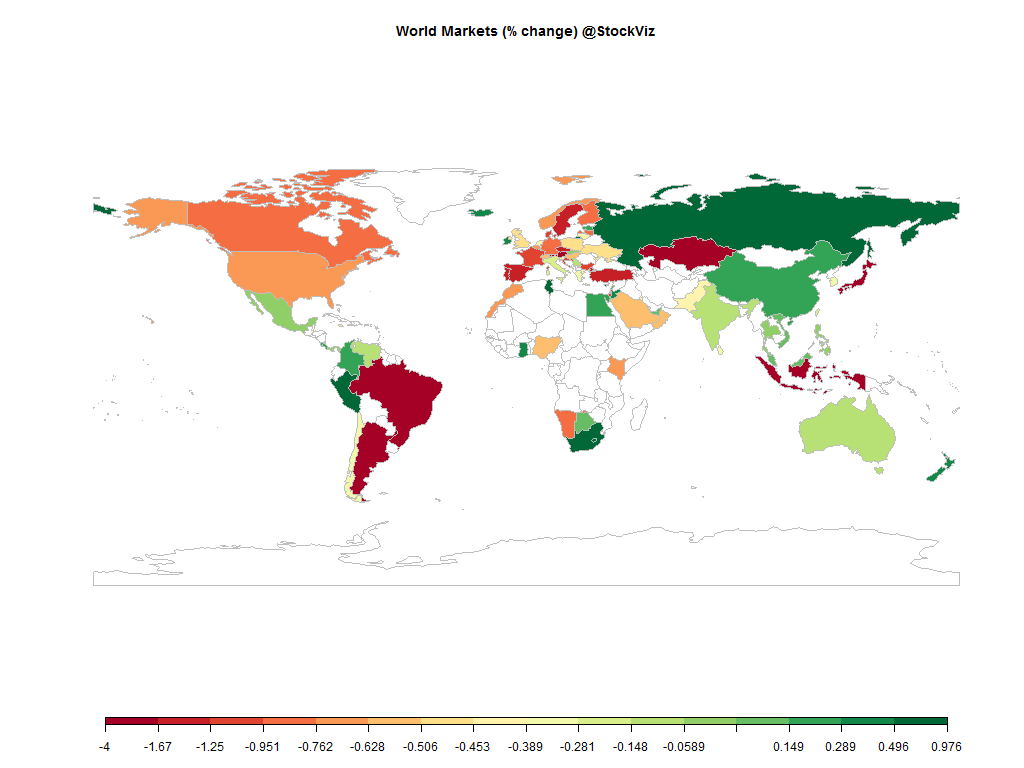 Equities
Commodities
Energy
Ethanol

+0.00%

RBOB Gasoline

+0.40%

Natural Gas

-0.08%

Heating Oil

+0.73%

Brent Crude Oil

+0.22%

WTI Crude Oil

+0.41%
Metals
Palladium

+1.08%

Copper

+0.00%

Gold 100oz

+0.64%

Silver 5000oz

+0.00%

Platinum

+0.23%
Agricultural
Coffee (Robusta)

+0.00%

Lean Hogs

+0.00%

Lumber

-0.12%

Orange Juice

+0.00%

Soybeans

-0.33%

Cattle

+0.00%

Feeder Cattle

+0.00%

White Sugar

+0.00%

Cocoa

+0.00%

Corn

-0.59%

Cotton

+0.09%

Sugar #11

+0.00%

Wheat

+0.00%

Coffee (Arabica)

+0.00%

Soybean Meal

+0.00%
Credit Indices
| Index | Change |
| --- | --- |
| Markit CDX NA HY | -0.01% |
| Markit CDX NA IG | +0.00% |
| Markit iTraxx Asia ex-Japan IG | -0.07% |
| Markit iTraxx Australia | -0.53% |
| Markit iTraxx Europe | -1.73% |
| Markit iTraxx Europe Crossover | -4.24% |
| Markit iTraxx Japan | +0.00% |
| Markit iTraxx SovX Western Europe | -0.13% |
| Markit LCDX (Loan CDS) | +0.00% |
| Markit MCDX (Municipal CDS) | +0.00% |
Risk OFF again?
Must reads
Despite back-to-back two years of weak monsoon rains, overall food price inflation in India has remained benign, and concentrated in just two commodities — onions and pulses. (Hindu, #inflation)
Finally, Ola, Uber and the like will be regulated as taxi operators. (LiveMint)
After Bank of Baroda, it is now HDFC Bank's turn. (DNA) [stockquote]BANKBARODA[/stockquote] [stockquote]HDFCBANK[/stockquote]
The unbelievably lucrative business of escape rooms. (MW)
Meanwhile, in America: Kmart and Office Depot this week are starting to roll out cards that give the recipients small amounts of stock in some of the country's best-known companies. The cards work like traditional gift cards but recipients receive stock instead of merchandise when they cash them in. (WSJ)
Good luck!