Your world at 9am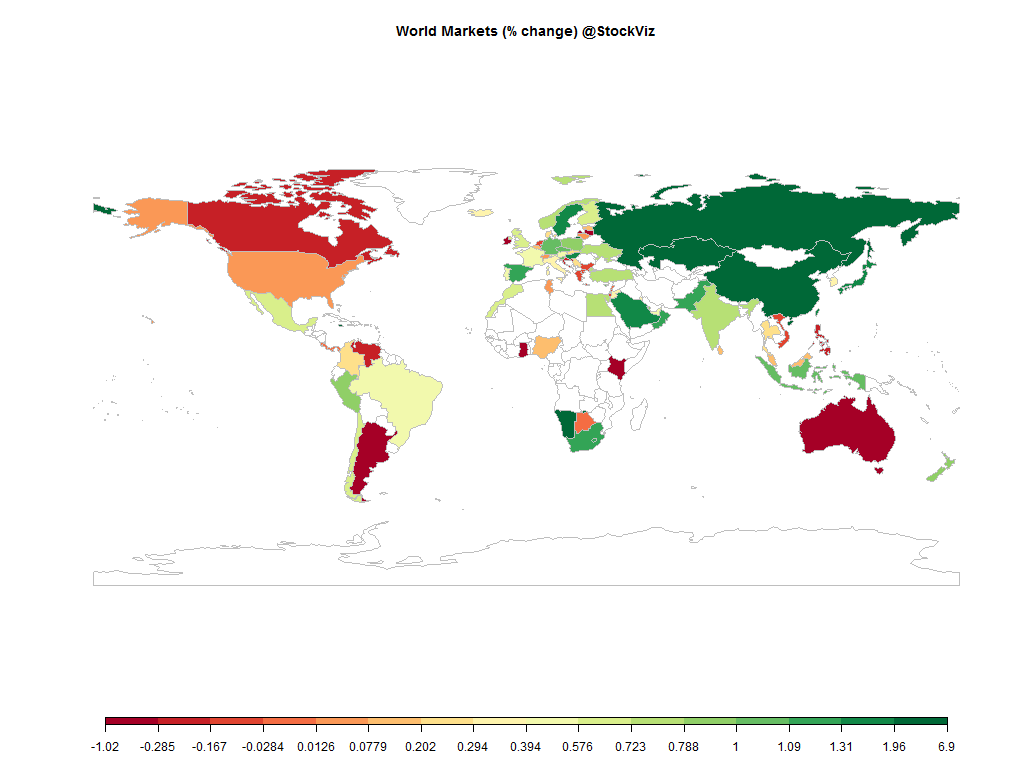 Equities
Commodities
Energy
RBOB Gasoline

+0.80%

Natural Gas

+1.12%

Ethanol

-0.64%

Heating Oil

+0.55%

WTI Crude Oil

+0.93%

Brent Crude Oil

+0.78%
Metals
Silver 5000oz

+0.00%

Copper

+0.00%

Gold 100oz

-0.03%

Palladium

+0.10%

Platinum

+0.13%
Agricultural
Coffee (Robusta)

+0.00%

Feeder Cattle

+0.82%

Wheat

-0.15%

Cattle

+0.40%

Corn

+0.20%

Cotton

+0.31%

Lean Hogs

-0.40%

Sugar #11

+0.00%

Cocoa

+0.00%

Orange Juice

+0.00%

Soybean Meal

+0.23%

White Sugar

+0.00%

Coffee (Arabica)

+0.00%

Lumber

+1.00%

Soybeans

+0.48%
Credit Indices
| Index | Change |
| --- | --- |
| Markit CDX EM | +0.00% |
| Markit CDX NA HY | +0.28% |
| Markit CDX NA IG | -1.99% |
| Markit iTraxx Asia ex-Japan IG | -2.66% |
| Markit iTraxx Australia | -3.34% |
| Markit iTraxx Europe | -3.45% |
| Markit iTraxx Europe Crossover | -13.13% |
| Markit iTraxx Japan | -1.69% |
| Markit iTraxx SovX Western Europe | -0.07% |
| Markit LCDX (Loan CDS) | +0.00% |
| Markit MCDX (Municipal CDS) | -0.25% |
Results: Infosys today, TCS tomorrow.
Full list
.
Must reads
"How is it that in so many cases they (banks) agreed to such higher amounts of escalated costs… It happened in such a large number of projects that I think scam is one way to define," Road Transport and Highways Secretary Vijay Chhibbe. (Zee)
Kingfisher Airlines had allegedly diverted a substantial chunk of Rs 4,000 crore in loans secured from public sector banks to tax havens. (TOI, #scam)
Rio Tinto has warned that it will not cut copper production, saying it would be illogical to hold back output and leave space in the market for higher-cost rivals. (FT)
THE prices of staple crops are falling fast. In August they reached their lowest level for eight years, down by over 41% from their peak in 2011. (Economist)
Piranhas in the Godavari. No, this is not a new movie. (LiveMint)
Akerlof and Shiller suggest that people can be imagined to have two kinds of tastes: those that would really make their lives better, and those that determine how they actually choose. In their view, the latter—influenced by a kind of "monkey-on-the-shoulder" who makes bad choices—often prevails. The problem is that as if by an invisible hand, companies "out of their own self-interest will satisfy those monkey-on-the-shoulder tastes." (NyBooks)
Good luck!