Your world at 9am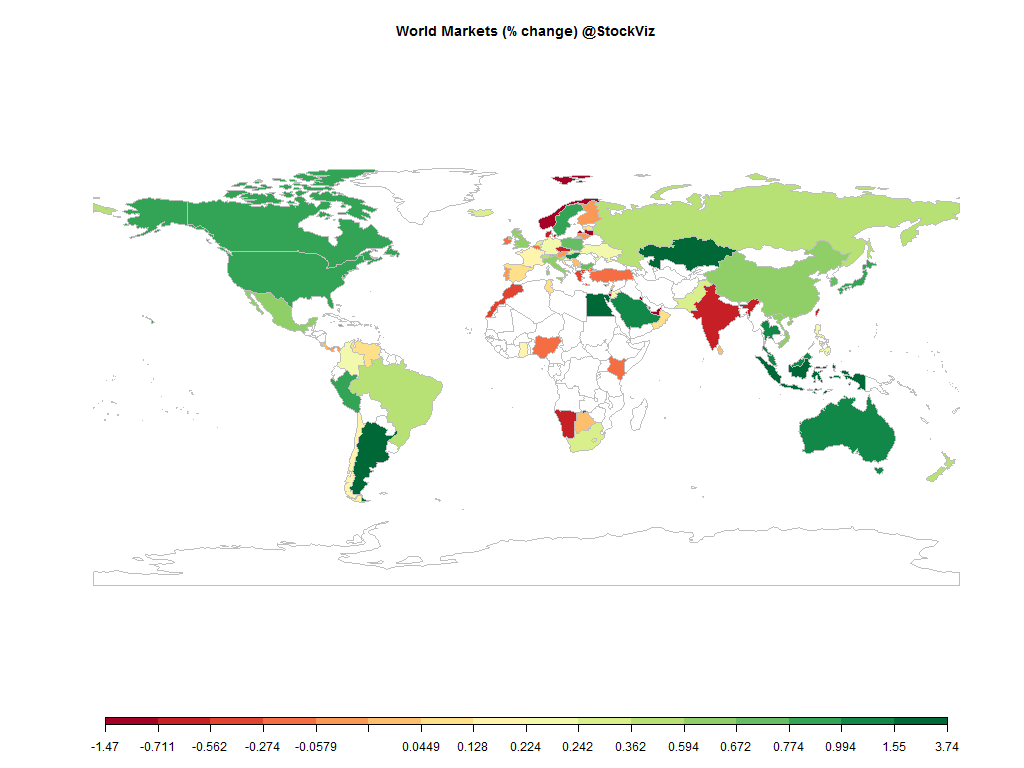 Equities
Commodities
Energy
Brent Crude Oil

+0.45%

Ethanol

+0.00%

RBOB Gasoline

+0.60%

Natural Gas

-0.84%

WTI Crude Oil

+0.51%

Heating Oil

+0.39%
Metals
Gold 100oz

+0.00%

Platinum

-0.04%

Silver 5000oz

+0.00%

Copper

+0.89%

Palladium

+0.13%
Agricultural
Coffee (Robusta)

+0.00%

Cotton

+0.00%

Feeder Cattle

+0.00%

Orange Juice

+0.00%

Wheat

+0.64%

Cattle

+0.00%

Cocoa

+0.00%

Soybean Meal

+0.03%

Soybeans

+0.34%

White Sugar

+0.00%

Lean Hogs

+0.00%

Lumber

+3.03%

Sugar #11

+0.00%

Coffee (Arabica)

+0.00%

Corn

+0.38%
Credit Indices
| Index | Change |
| --- | --- |
| Markit CDX EM | +0.00% |
| Markit CDX NA HY | +0.85% |
| Markit CDX NA IG | -3.88% |
| Markit iTraxx Asia ex-Japan IG | -8.15% |
| Markit iTraxx Australia | -3.59% |
| Markit iTraxx Europe | -1.07% |
| Markit iTraxx Europe Crossover | -2.87% |
| Markit iTraxx Japan | -0.28% |
| Markit iTraxx SovX Western Europe | -0.25% |
| Markit LCDX (Loan CDS) | +0.00% |
| Markit MCDX (Municipal CDS) | -1.81% |
The earnings season begins!
Must reads
Did ONGC's gas pass through RIL's holes? ONGC's Godavari Block is contiguous to RIL-operated KGD6. The reservoir in the two neighbouring blocks are connected, which means there exists one big gas resource several meters below sea bed and does not recognise man-made boundaries that demarcate blocks of ONGC and RIL. (ET) [stockquote]RELIANCE[/stockquote] [stockquote]ONGC[/stockquote]
Rajan: financial inclusion should not be pressed beyond a point because beneficiaries may not have the capacity to make use of funds being made available to them. (NDTV)
Now, banks can provide home loans up to 90% for properties that cost up to Rs 30 lakh (was Rs 20 lakh earlier.) (DNA, #regulation)
Most brokerages expect net profit of the 30 companies on the Sensex to grow by low single digits. (LiveMint)
China's near-term economic prospects seem to be improving. (FT)
Are zero rates the new normal? (Pieria)
Good luck!