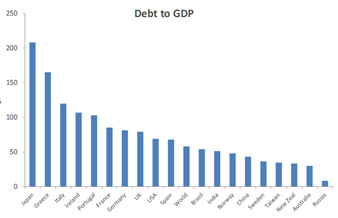 European shares close sharply lower, led by another meltdown in Spain (-3.9%), Stoxx 50 -1.7%, Germany -1%, France -1.6%, Italy -2.3%, U.K. -0.3%.
Goldman's VAR falls to the lowest level since before the financial crisis, indicating that the firm is positioning for another rough year in markets. In the third quarter of last year – just before the eurozone debt crisis went into overdrive – the bank suggested to investors and analysts that it was already "de-risking." (FT)
Maybe they read this Deutsche Bank research: The worst may be yet to come in the global financial crisis as the central bank spending that kept defaults low runs out. (Bloomberg)
Is Chinese agricultural production about to hit a wall? (BI)
Interested in startups? Read this.
Students at PESIT will empathize: Tennessee legislators want to expand their abstinence-only curriculum to discourage students from "gateway sexual activity" — maybe even kissing and holding hands. (TheWeek)