Your world at 9am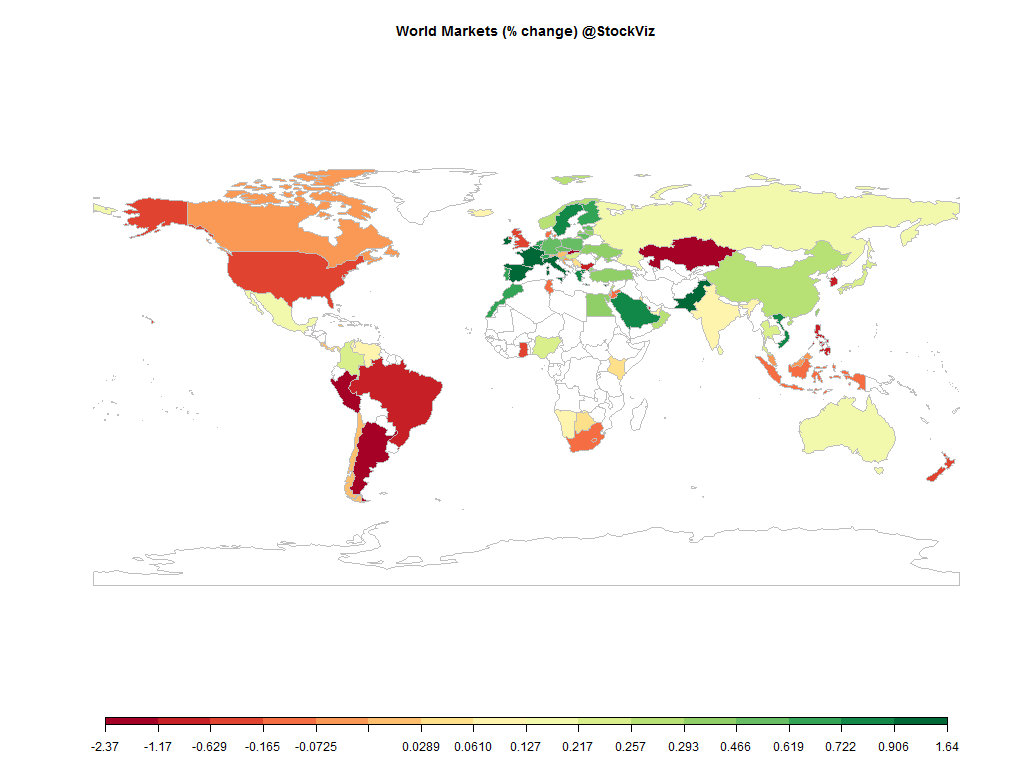 Equities
Commodities
Energy
Brent Crude Oil

+0.30%

Ethanol

+0.00%

Heating Oil

+0.44%

Natural Gas

+0.07%

RBOB Gasoline

+0.35%

WTI Crude Oil

+0.31%
Metals
Copper

+0.00%

Gold 100oz

-0.23%

Palladium

-0.65%

Platinum

-1.15%

Silver 5000oz

+0.00%
Agricultural
Cattle

-0.11%

Cocoa

+0.00%

Coffee (Arabica)

+1.62%

Coffee (Robusta)

+0.00%

Corn

-0.47%

Cotton

+0.00%

Feeder Cattle

+0.01%

Lean Hogs

-0.35%

Lumber

+0.09%

Orange Juice

+0.66%

Soybean Meal

-0.56%

Soybeans

-0.52%

Sugar #11

-2.08%

Wheat

-0.73%

White Sugar

+0.00%
Credit Indices
| Index | Change |
| --- | --- |
| Markit CDX EM | -0.71% |
| Markit CDX NA HY | -0.51% |
| Markit CDX NA IG | +2.77% |
| Markit CDX NA IG HVOL | +6.50% |
| Markit iTraxx Asia ex-Japan IG | +4.33% |
| Markit iTraxx Australia | +2.53% |
| Markit iTraxx Europe | +3.31% |
| Markit iTraxx Europe Crossover | +9.43% |
| Markit iTraxx Japan | +1.24% |
| Markit iTraxx SovX Western Europe | +1.14% |
| Markit LCDX (Loan CDS) | -0.06% |
| Markit MCDX (Municipal CDS) | +1.33% |
Credit spreads are wider and the USD rally continues. NKY up in the morning. India closed Thursday, Friday and Monday.
Must reads
The RBI decided to maintain status quo on interest rates. Targets 6% inflation by January 2016. (Hindu, #rates)
Companies have reduced the hedging of their foreign exchange exposure. And to paraphrase Rajan: Interest rate maybe a blunt tool but its the only tool I have. "You will say improve supply side on food. What is the way to magically increase food? Find a way to produce food, bring down food inflation. I have no problem. I am not standing in the way of anybody increasing the supply side." (LiveMint)
The European Union's consumer prices were just 0.3% higher than in September 2013, as the inflation rate slowed from 0.4% in August. The inflation rate has now been below 1.0% for 12 straight months. (WSJ)
Events that are tragedies at a human level turn out to be irrelevant for investors. Political change, on a global level, has done more to create opportunities than to destroy them. (FT)
Good luck and have a great long weekend. See you Tuesday!