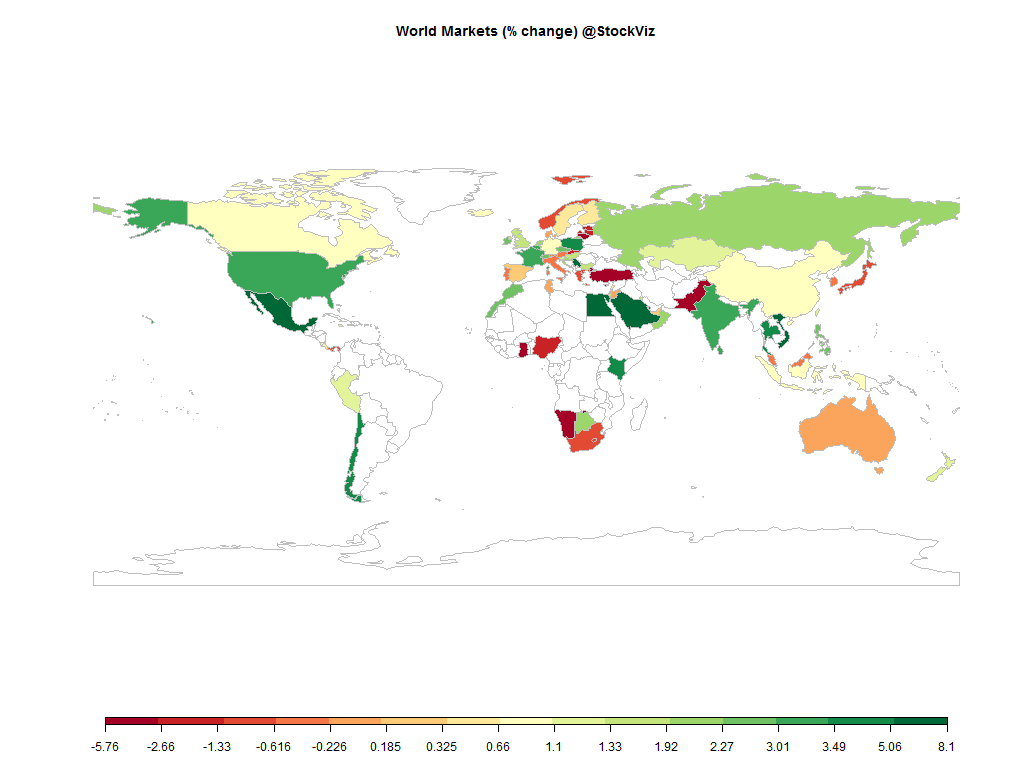 Equities
The Nifty ended the month +3.02% (+2.63% in USD terms)
Commodities
Energy
Brent Crude Oil

-2.83%

Ethanol

+4.96%

Heating Oil

-1.19%

Natural Gas

+5.86%

RBOB Gasoline

-7.51%

WTI Crude Oil

-2.81%
Metals
Copper

-2.79%

Gold 100oz

+0.26%

Palladium

+3.93%

Platinum

-2.71%

Silver 5000oz

-5.83%
Agricultural
Cattle

-1.08%

Cocoa

+1.78%

Coffee (Arabica)

-0.89%

Coffee (Robusta)

-3.00%

Corn

+0.49%

Cotton

+8.76%

Feeder Cattle

-0.88%

Lean Hogs

-16.68%

Lumber

+7.11%

Orange Juice

+6.06%

Soybean Meal

+12.51%

Soybeans

-10.93%

Sugar #11

-5.96%

Wheat

+4.01%

White Sugar

-3.31%
Credit Indices
| Index | Change |
| --- | --- |
| Markit CDX EM | -0.74% |
| Markit CDX NA HY | +0.63% |
| Markit CDX NA IG | -4.36% |
| Markit CDX NA IG HVOL | -9.19% |
| Markit iTraxx Asia ex-Japan IG | -3.92% |
| Markit iTraxx Australia | -1.64% |
| Markit iTraxx Europe | -5.20% |
| Markit iTraxx Europe Crossover | -16.58% |
| Markit iTraxx Japan | -1.29% |
| Markit iTraxx SovX Western Europe | -1.68% |
| Markit LCDX (Loan CDS) | -0.18% |
| Markit MCDX (Municipal CDS) | -5.31% |
EM credit was an under-performer when compared to investment grade credit. Brazilian equity markets were on fire, clocking in more then 9% this month.
Index Performance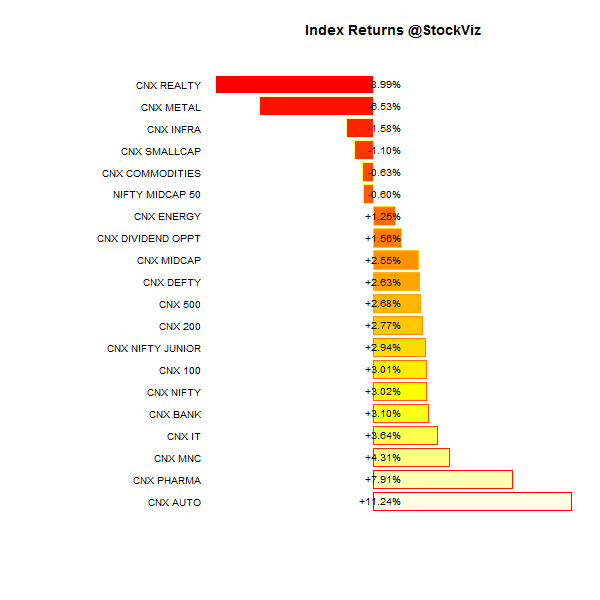 Sector Performance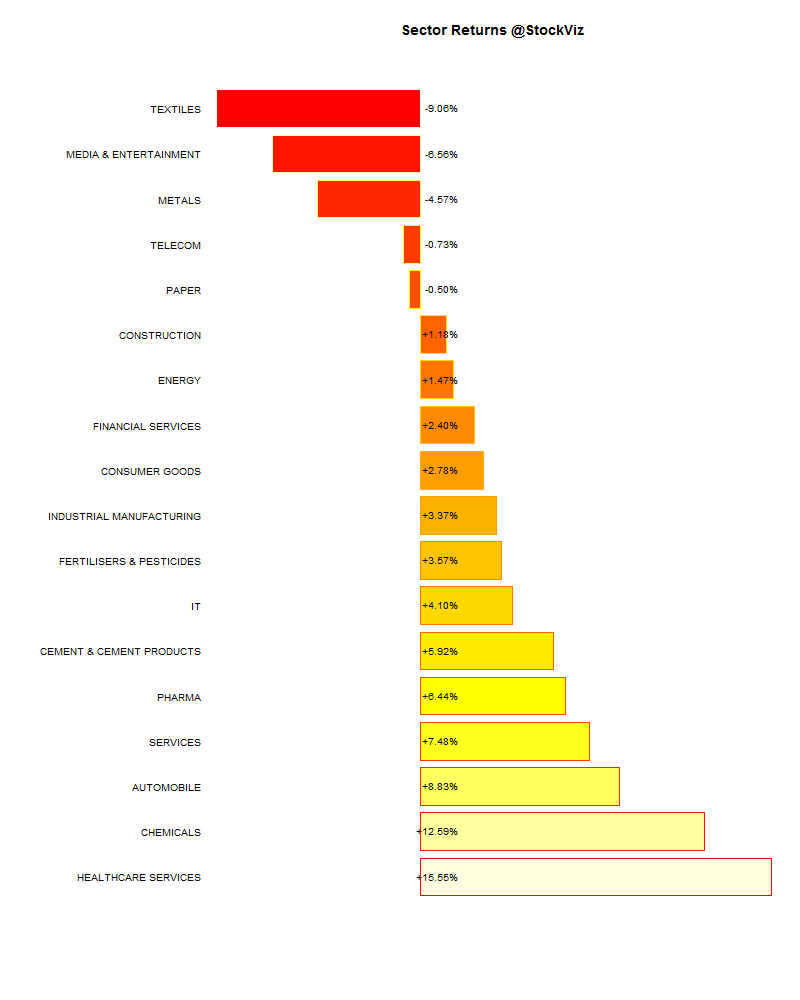 Top winners and losers
Tata Motors had a whopper of a month, thanks to its mass-marketization of JLR. The coal scam finally caught up with power and steel companies.
ETFs
Gold's under-performance continued…
Yield Curve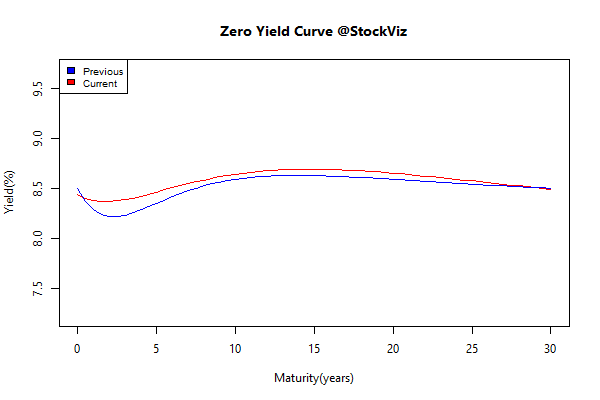 Inter-bank Lending Rates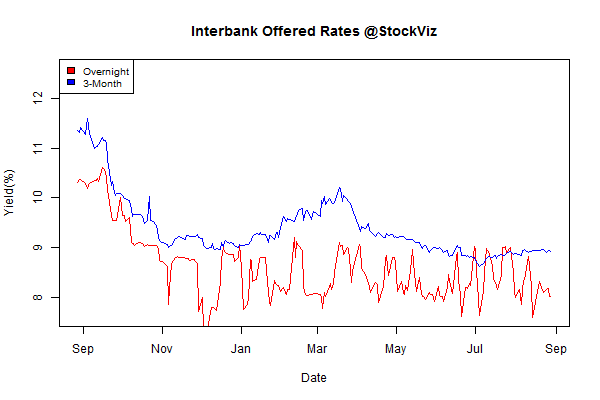 Total return bond indices
| Sub Index | Change in YTM | Total Return(%) |
| --- | --- | --- |
| GSEC TB | +0.13 | +0.62% |
| GSEC SUB 1-3 | +0.10 | +0.32% |
| GSEC SUB 3-8 | -0.17 | +0.63% |
| GSEC SUB 8 | -0.17 | +0.37% |
Long bonds continued to get compressed and the yield curve continued to flatten out…
Investment theme performance
It was not a good month or week for high-beta strategies. Quality and value continued to outperform.
Thought to sum up the month
Some "truths" stick around long after they have been debunked simply because they get repeated often enough. For example, Malcolm Gladwell's "10,000-hour rule", spinach being a good source of iron, and the myth about "educating" the investor.
Take Ponzi schemes for instance. In the US, in the first six months of 2014, at least 37 Ponzi schemes were uncovered, with a total of more than $1 billion in potential losses. In India, people bought "Certificate of Goat Keeping" in a polled livestock breeding racket. And in spite of abundance of literature, investors continue to chase performance.
"Attempts to correct irrational investor behavior through education have proved to be futile. The belief that investors will make prudent decisions after education and disclosure has been totally discredited. Instead of teaching, financial professionals should look to implement practices that influence the investor's focus and expectations in ways that lead to more prudent investment decisions."
Source: