Your world at 9am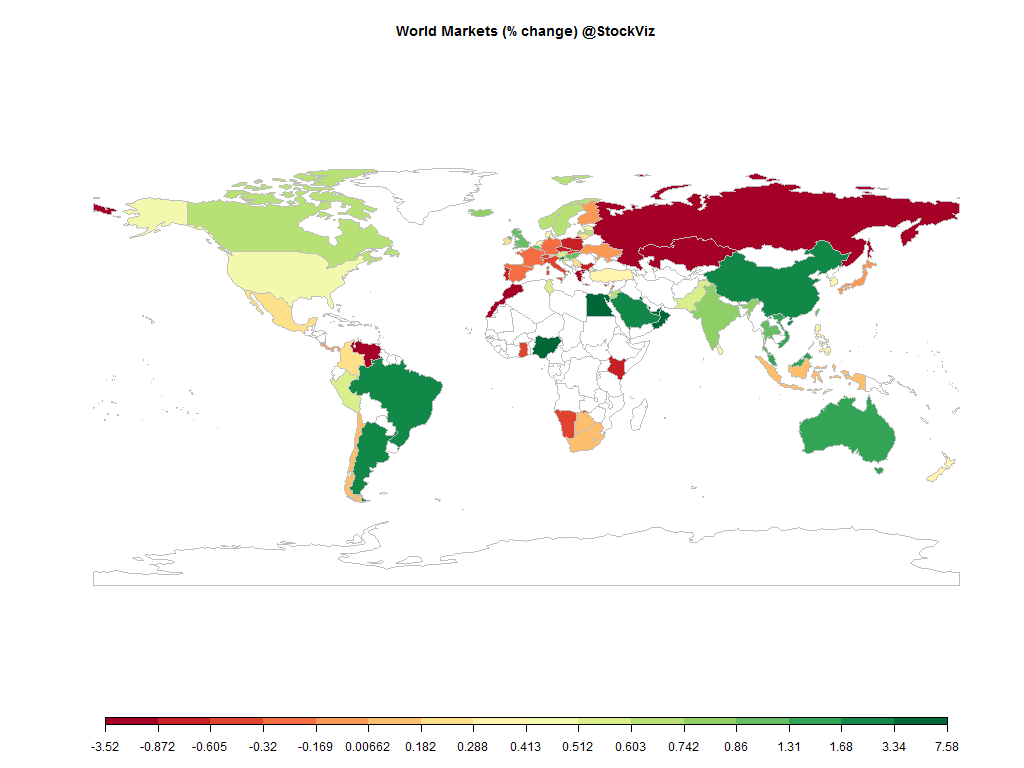 Equities
Commodities
Energy
Brent Crude Oil

+1.42%

Ethanol

-1.22%

Heating Oil

+1.22%

Natural Gas

-3.35%

RBOB Gasoline

+0.91%

WTI Crude Oil

+1.16%
Metals
Copper

+0.00%

Gold 100oz

+0.18%

Palladium

+0.21%

Platinum

+0.11%

Silver 5000oz

+0.00%
Agricultural
Cattle

+1.37%

Cocoa

+0.00%

Coffee (Arabica)

+0.37%

Coffee (Robusta)

+0.00%

Corn

-0.06%

Cotton

-0.36%

Feeder Cattle

+0.80%

Lean Hogs

+0.09%

Lumber

+1.03%

Orange Juice

-1.31%

Soybean Meal

-0.33%

Soybeans

-0.44%

Sugar #11

-0.33%

Wheat

-0.16%

White Sugar

+0.00%
Credit Indices
| Index | Change |
| --- | --- |
| Markit CDX EM | +1.62% |
| Markit CDX NA HY | +0.88% |
| Markit CDX NA IG | -5.20% |
| Markit iTraxx Asia ex-Japan IG | -7.85% |
| Markit iTraxx Australia | -7.35% |
| Markit iTraxx Europe | -2.44% |
| Markit iTraxx Europe Crossover | -12.54% |
| Markit iTraxx Japan | -7.27% |
| Markit iTraxx SovX Western Europe | -1.94% |
| Markit LCDX (Loan CDS) | +0.08% |
| Markit MCDX (Municipal CDS) | +0.82% |
The 'V' in the SPX last week can be used as a steak-knife. Where do we go from here?
Must reads
Marginal costs — the expense of retrieving oil once the holes have been drilled and pipelines laid — is between $10 and $20 a barrel in the Persian Gulf, and about the same for U.S. shale-oil producers. $20 oil? (Bloomberg)
Finding a strategy that can beat the market over a reasonable period of time is relatively easy. It's sticking to it that is the challenge. (IrrelevantInvestor)
Growth at any cost. At any cost is usually a bad idea (LiveMint):
This government believes that India can afford a fiscal expansion now.
Public sector investment is likely to be the preferred mode of investment for growth.
The resources for investment can be found by switching the structure of spending from subsidies to capacity expansion.
Budget plans for the world's major economies in 2015 show that for the first time since 2009, fiscal policy won't be a drag on economic growth. The combination of favorable monetary and fiscal policy is likely to continue to push asset prices higher around the world in 2015. (Schwab)
The rise of miserabilism in the west: "a society of old people, living in old houses, ruminating about old ideas." (FT)
Good luck!