Your world at 9am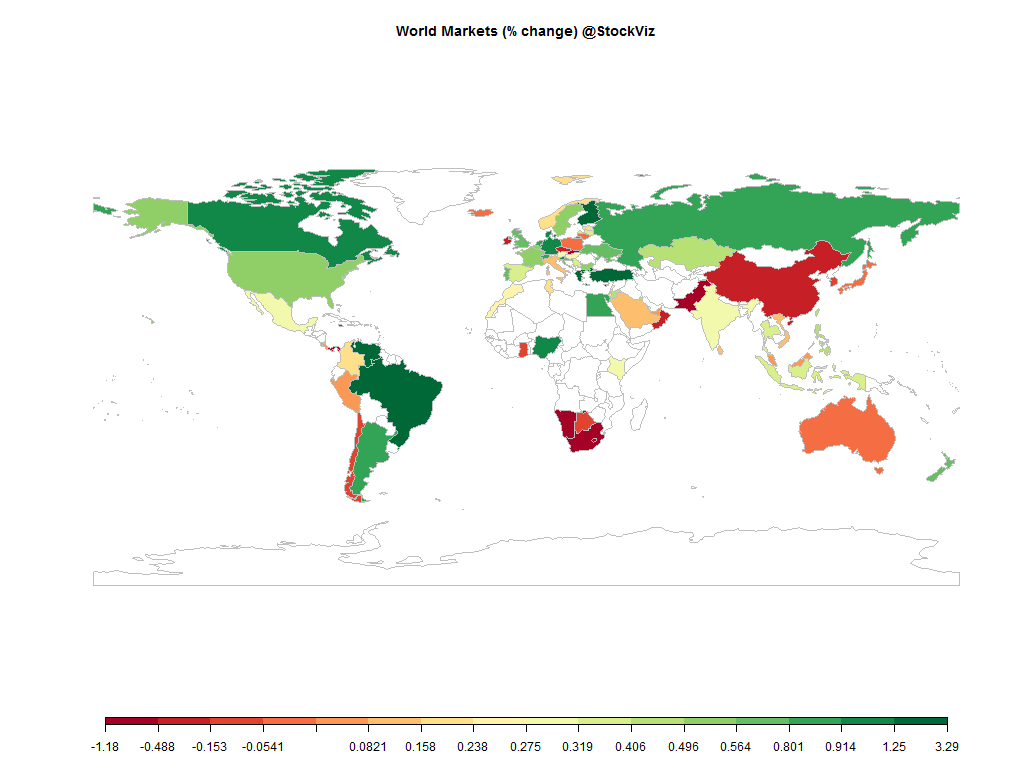 Equities
Commodities
Energy
Brent Crude Oil

-0.05%

Ethanol

+0.00%

Heating Oil

-0.05%

Natural Gas

-0.49%

RBOB Gasoline

+0.58%

WTI Crude Oil

+0.52%
Metals
Copper

+0.00%

Gold 100oz

+0.02%

Palladium

+0.24%

Platinum

+0.13%

Silver 5000oz

+0.00%
Agricultural
Cattle

-0.43%

Cocoa

-1.20%

Coffee (Arabica)

-3.20%

Coffee (Robusta)

-0.36%

Corn

-0.69%

Cotton

+0.19%

Feeder Cattle

-0.53%

Lean Hogs

-0.32%

Lumber

+0.54%

Orange Juice

-1.09%

Soybean Meal

+0.35%

Soybeans

+0.11%

Sugar #11

-1.40%

Wheat

-0.14%

White Sugar

-1.25%
Credit Indices
| Index | Change |
| --- | --- |
| Markit CDX EM | +0.20% |
| Markit CDX NA HY | +0.34% |
| Markit CDX NA IG | -2.58% |
| Markit CDX NA IG HVOL | -3.55% |
| Markit iTraxx Asia ex-Japan IG | -0.61% |
| Markit iTraxx Australia | -0.23% |
| Markit iTraxx Europe | -4.47% |
| Markit iTraxx Europe Crossover | -18.59% |
| Markit iTraxx Japan | -0.02% |
| Markit iTraxx SovX Western Europe | +0.09% |
| Markit LCDX (Loan CDS) | +0.00% |
| Markit MCDX (Municipal CDS) | -0.40% |
Credit markets continue to signal "risk on." Although western markets ended in the green, NKY seems to have opened in negative territory this morning. Will the NIFTY rally continue today? How many successive +1% days can we sustain? Stay tuned!
Must reads
Sebi has proposed that all listed companies should intimate within 15 minutes of closure of the board meetings about decisions on dividends, bonus, fund raising and buyback, among others. (ET)
The key to active reading is finding the basis for any factual assertion to determine if it is logically valid or not. Data provides a start for understanding market events. But without context, we lose meaning. Lacking that, the alternative is often assumptions, myths and bias. (BV, #behavioral-finance)
"Governments need to reform their labour markets, reduce taxes that weigh on business, free companies from red tape and continue to repair their public finances. Merely talking about such reforms is not enough…" Is he talking about India? Think again! (FT)
Good luck!