Your world at 9am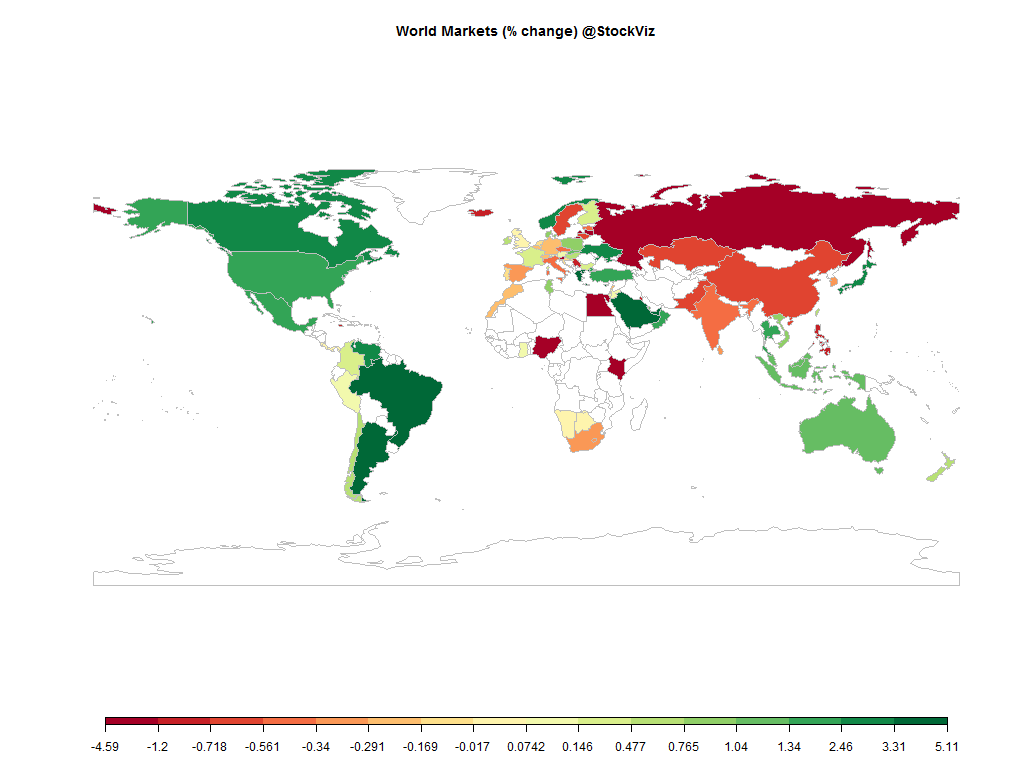 Equities
Commodities
Energy
Brent Crude Oil

+0.29%

Ethanol

+0.00%

Heating Oil

+0.00%

Natural Gas

+0.11%

RBOB Gasoline

+0.32%

WTI Crude Oil

+0.14%
Metals
Copper

+0.00%

Gold 100oz

-0.10%

Palladium

+0.33%

Platinum

+0.23%

Silver 5000oz

+0.00%
Agricultural
Cattle

+0.00%

Cocoa

+0.00%

Coffee (Arabica)

+0.00%

Coffee (Robusta)

+0.00%

Corn

+0.18%

Cotton

-0.15%

Feeder Cattle

+0.00%

Lean Hogs

+0.00%

Lumber

+0.00%

Orange Juice

+0.61%

Soybean Meal

+0.17%

Soybeans

+0.10%

Sugar #11

+0.07%

Wheat

+0.08%

White Sugar

+0.00%
Credit Indices
| Index | Change |
| --- | --- |
| Markit CDX EM | -1.44% |
| Markit CDX NA HY | -0.48% |
| Markit CDX NA IG | +3.62% |
| Markit iTraxx Asia ex-Japan IG | +10.61% |
| Markit iTraxx Australia | +5.35% |
| Markit iTraxx Europe | +3.09% |
| Markit iTraxx Europe Crossover | +11.95% |
| Markit iTraxx Japan | +6.36% |
| Markit iTraxx SovX Western Europe | +1.38% |
| Markit LCDX (Loan CDS) | -0.18% |
| Markit MCDX (Municipal CDS) | +3.67% |
The S&P500 +2.04% last night and follow through action on the NKY this morning is encouraging. Is this the bottom?
Must reads
The Fed "can be patient in beginning to normalize the stance of monetary policy."
Analysts can now spend the holiday season debating whether the Fed will merely be patient or will be patient for a considerable time, or some combination thereof.
"At this phase in the relationship between markets and Fed communication, we have become trapped in minutia. Investors are dissecting the rearrangement of a few sentences to try to determine whether stocks are a buy or a sell." (Bloomberg, WSJ)
Cabinet clears bill for nationwide goods and services tax. (Reuters)
Kingfisher, part deux? (FP)
Auto firms would like to forget 2014. Hopefully, a combination of rate-cuts, low oil and an improving economy will bring a brighter 2015. (LiveMint)
Good luck!