Your world at 9am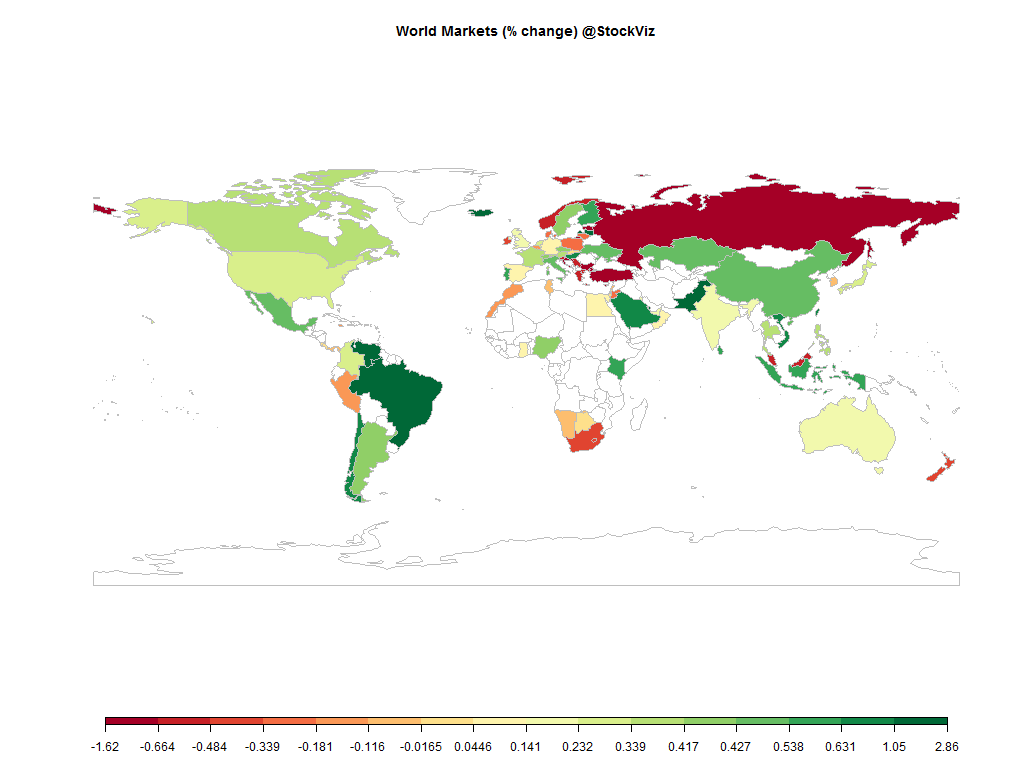 Equities
Commodities
Energy
Brent Crude Oil

+0.09%

Ethanol

+0.55%

Heating Oil

+0.05%

Natural Gas

-0.66%

RBOB Gasoline

+0.28%

WTI Crude Oil

-0.20%
Metals
Copper

+0.33%

Gold 100oz

+0.00%

Palladium

-0.13%

Platinum

-0.07%

Silver 5000oz

+0.04%
Agricultural
Cattle

+0.81%

Cocoa

-0.92%

Coffee (Arabica)

-0.18%

Coffee (Robusta)

+0.10%

Corn

-0.49%

Cotton

+0.74%

Feeder Cattle

+0.18%

Lean Hogs

+2.36%

Lumber

+0.49%

Orange Juice

-1.75%

Soybean Meal

+2.26%

Soybeans

+1.44%

Sugar #11

-0.64%

Wheat

-0.85%

White Sugar

-0.61%
Credit Indices
| Index | Change |
| --- | --- |
| Markit CDX EM | -0.26% |
| Markit CDX NA HY | -0.18% |
| Markit CDX NA IG | +0.81% |
| Markit CDX NA IG HVOL | +0.99% |
| Markit iTraxx Asia ex-Japan IG | -2.89% |
| Markit iTraxx Australia | -2.37% |
| Markit iTraxx Europe | +3.12% |
| Markit iTraxx Europe Crossover | +11.53% |
| Markit iTraxx Japan | -0.73% |
| Markit iTraxx SovX Western Europe | +0.12% |
| Markit LCDX (Loan CDS) | +0.00% |
| Markit MCDX (Municipal CDS) | -1.21% |
A bit of a wobble in credit markets but NKY is in the green this morning and most equity markets ended on a positive note on Friday.
Must reads
Today, the Supreme Court will decide what to do with captive coal blocks. (ET)
Rajan: Bad loans not all that "scary." (FP)
15 million bank accounts opened on a single day. Why? (LiveMint)
The Enforcement Directorate (ED) has begun a comprehensive probe against a dozen popular online retail companies in the country for alleged violations of foreign direct investment rules. (TTI)
Good luck!